We're up to 89 and close to 2,500
Wednesday 25 September saw another gathering of expectant graduates of e-Learning courses. Not everyone on the course had completed their qualification and their certificates will be awarded later.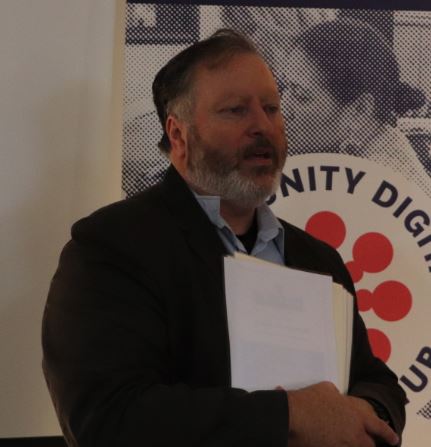 Tim Davies-Colley mentioned that another course was running concurrently with this one in Miramar where nineteen participants, mainly Samoans, would soon be graduating.
He gave everyone a warm welcome and congratulations. 'This graduation', said Tim, 'will bring the numbers of e-Learning graduates close to 2,500 and that number is significantly higher when the families of those graduating are counted as well. e-Learning is the only programme in the country that has run continuously since 2000 despite funding difficulties from time to time'.
He introduced and thanked Wendy Betteridge who had come to represent the Board, and acknowledged the valuable contributions of Peter Lynch for assisting with the tutoring (and taking the photos!), and Karen Lambert, Nicole Smith, and Karen Grace, all previously graduated themselves, for their help and assistance.
Invited by Tim to present the certificates, Wendy offered a few words of warm congratulations and reminded the graduates of the many doors that they could now pass through to grasp opportunities which might not have been available before they achieved their new technical skills.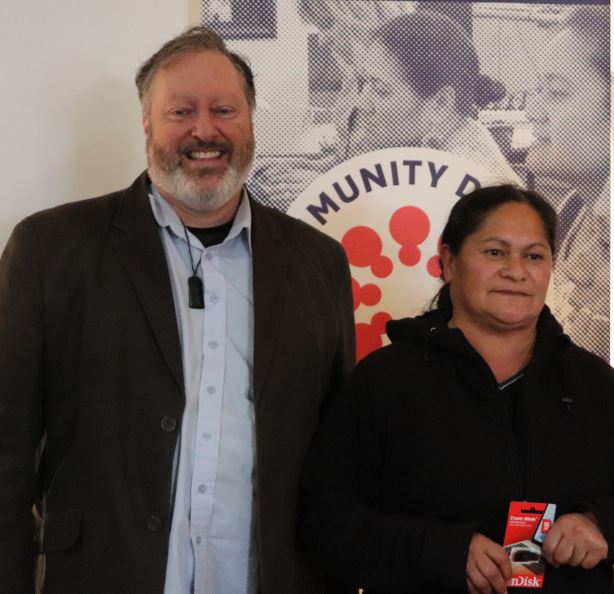 Tim also announced the winners of the 'personal story' that each graduate had written. Unfortunately, the winner, Sonya Satiu-Perese had been unable to attend and she would be presented with a webcam at a later date. Meanwhile, Sharli-Jo Solomon, who had been placed second, was awarded a 32gb flash drive and Eaudelle Oosterwijk in third place (shown here with Tim) was awarded a 16gb flash drive.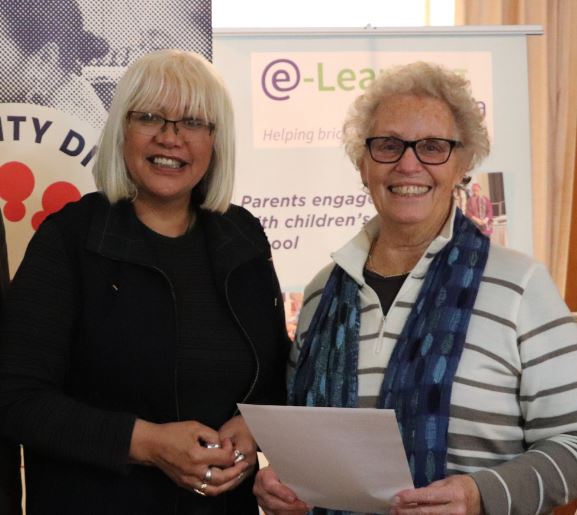 Sharli-Jo had written the story about her computer journey in the form of a poem, and Wendy asked permission to read it to the group.
What manner of class Is this, I ask, If I cannot get my calendar to sync
Poor Tim and Pete It's got them beat
Let's hope they don't end up turning to drink
And in the end I've learned a lot I've missed some classes but it matters not.
I've taken computer classes more than once In fact I thought I was a dunce
I've been asked to leave three classes before it's true.
The tutors showed me the door
"I was a luddite" one of them said,
"there's no hope for you, Stick to paper and pen instead"
But now I have a Gmail and Google is my friend
I can traverse the internet. For me there is no end.
I've learned to make a slideshow And do a google doc
I know where to find the toolbar and the myriad of things it's got.
But best of all, when I stop to think, Where do I go from here?
I know my new knowledge of computers can take me anywhere
For now, I have the confidence to do another course Who knows....?
One day my card may read ...
Miss Computer Know-it-all. The One! Extraordinaire!
With formalities over, a group photo sealed the deal and everyone ate pizzas for lunch while they networked with each other and revelled in their special achievement.