e-Learning Porirua, the charitable trust that over 20 years has delivered
the Computers in Homes programme to almost 3,000 families across the Porirua basin,
will close at the end of October.

Other digital literacy programmes run by the trust will also be affected. You can read the full Media Release dated 11 August 2021 here.
Slipped through the net!
Posted 18 August 2019
Janine Dean joined the Board in 2017 but for some reason, her 'credentials, have not graced our pages until now. She has an extensive background in education and brings valuable insights to the Board. Keep reading >>
Board welcomes new member
Posted 3 July 2019
The Board welcomed Geoff Hayward, a resident of Titahi Bay, to the Board at its meeting on 1 July. His background and skills will be a great addition to those of other Board members. Keep reading >>
Branching Out
Posted 27 June 2019
e-Learning responded to a cry for help for training in digital literacy in Wellington's Eastern Suburbs. Keep reading >>
What is the answer?
Posted 27 November 2018
New Kiwis (former refugees) settle well, but how well do they integrate? School / family partnerships and community engagement in learning are collaborative and promote mutual relationships among school personnel, families, and community liaisons and organizations. These kinds of partnerships have positive effects on students' academic performance, attendance, and discipline. Keep reading >>
There's still hope
Posted 27 September 2018
The 2017-2018 Annual Report contains both good and not so good news. The good news is that the graduation of 2,316 students since 2000 has positively affected the lives of over 14,0000 adults and children living in the same households. Meanwhile, the Trust is holding out hope that Government funding will be restored. Keep reading >>
A gathering of United Nations
Posted 1 July 2018
The 20/20 Trust is one of four partners with whom e-Learning provides this refugee programme and includes the Ministry of Education and the Red Cross. This graduation brings the numbers of refugee families who have graduated through e-Learning over the past three years to 147. Keep reading >>
Another supporter captured
Posted 24 April 2018
Graham Kelly, Chair of the Trust, caught up with Murray McNae on Monday 23 April 2018 and was finally able to present him with a certificate to recognise his contribution to the Trust over the years. As we said in our article following our 14 August 2017 celebrations, Murray McNae was a foundation Trustee, having worked in the IT industry and served on the Board for many years. Keep reading >>
Where would we be without our partners and supporters?
Posted 15 February 2018
Our funding and programme partners make it possible for us to continue to increase the digital inclusion levels among the more disadvantaged areas of our community. Keep reading >>
The first of the second 2000
Posted 16 October 2017
As she congratulated the graduates, Deputy Mayor Izzy Ford said, 'When you succeed, your family succeeds, your children succeed, the whole community succeeds and, in turn, our city succeeds'. Keep reading >>
A true 'Red Letter Day'
Posted: 23 August 2017
The Who's Who of Porirua City came to share in the success that e-Learning Porirua has achieved over the past seventeen years. This was a stellar occasion as the Trust set out to celebrate, not only the achievement of having influenced the lives of 2,000 low-income families in Porirua, but also to honour those who have supported the Trust during its journey or been valuable sponsors. Keep reading >>
Former Minister presents certificates
Posted: 13 July 2017
It was a privilege for the Board and graduates alike when Former Minister of Education, Russell Marshall, agreed to present the certificates to the graduates from Course 72 on Wednesday 5 July 2017. Russell expressed his congratulations to all the graduates and wished them well for their future journeys. Keep reading >>
A refugee family from Ecuador
Posted: 24 March 2017
Colombian Refugee, Beatriz Buitrago Aguidelo arrived from Ecuador in 2014 with her two children. Read Beatriz's journey to March 2017 when she was awarded a Bachelor of Social Work degree. Keep reading >>

Annual Report tells of success
ARTICLE: 20 November 2016
Read the report here.
Chair receives Civic Award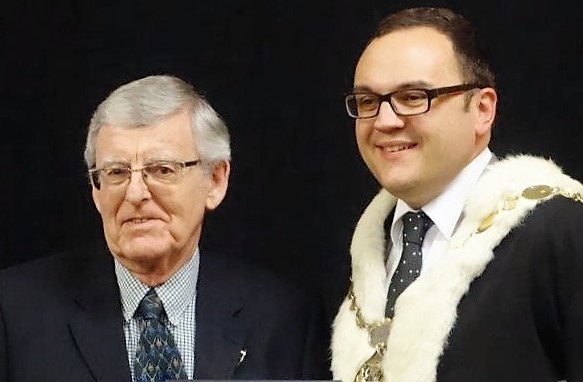 Posted 28 September 2016
In presenting Graham Kelly with his Award, the Mayor said, 'Graham's vision to create Porirua e-Learning stemmed from his desire to help disadvantaged families in Porirua, with a particular focus on improving educational achievement levels and job prospects.Keep reading >>


e-Learning goes to Samoa
Posted 11 March 2016
Early last year, e-Learning Porirua were approached by the Office of the Catholic Archbishop of Samoa to supply computers to two of their schools in Samoa. So began an exciting adventure. Keep reading >>

Best in Sustainability
Posted: 25 November 2015
e-Learning Porirua won the "Best in Sustainability Sector Award" at the Westpac Porirua Business Excellence Awards which took place on Friday 20 November at Pataka in Porirua. You can read the full story here.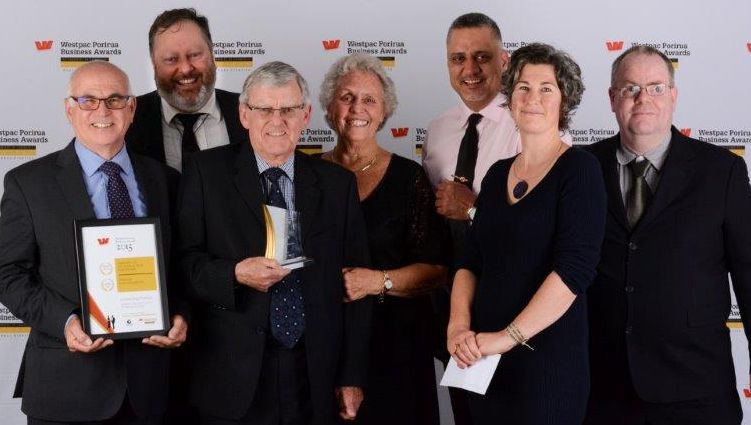 Photo courtesy of Vision Photography / www.visionphotography.co.nz
The job of my dreams
Posted: 21 February 2015
Cheryl Browne, mother of two daughters and unemployed for seven months when she came to study at Computers in Homes in Canons Creek, was one of our graduates in 2014. At the end of Course 56, Cheryl won our Learning Story graduation prize and is seen here receiving her prize from Jordan Carter, Chief Executive of InternetNZ (right) with our Executive Project Manager, Tim Davies-Colley.
She has just updated us on what has happened since she completed the course. She has achieved the job of her dreams, one she never dreamed she would get. Keep reading >>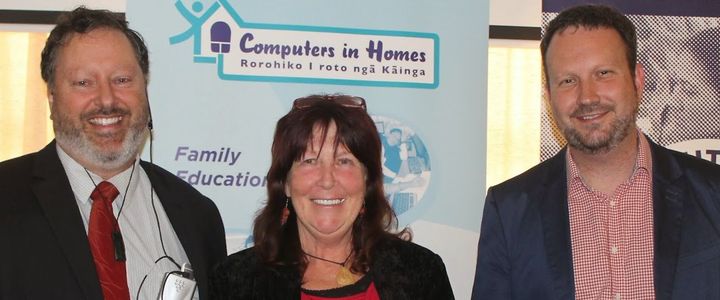 Minister and MP count the benefits
Posted: 7 May 2014
"1523 families have now been trained by the e-Learning Porirua Trust and have received a computer in their home and tonight we are honouring the 1500th family", said Acting Chair, Phil Major, at the celebrations held on Monday 5 May 2014. Keep reading >>
Reaching another milestone
Posted: 10 April 2014
Another stellar day at e-Learning Porirua's training facility at the RSA in McKillop Street, Porirua on 9 April 2014. 40 families graduated, not only from the basic 10-week course but many were also graduating from Stepping-Up Programmes. Keep reading >>
Executive Project Manager honoured
Tim Davies-Colley reached the national finals of the Local Heroes Awards and was honoured at a Gala Dinner in Auckland on 26 February 2014. Read the story here.
More families take to the clouds
Another 31 families graduated at an exciting ceremony at the RSA on Wednesday 11 December. This ceremony brings the number of graduates of the e-Learning training to 1485. Not only does this mean that there are that many families who now have a computer in their house and the basic knowledge of how to use it effectively, it also means that more and more people are better equipped to progress to higher education and to find jobs that suit their new qualifications. Keep reading >>
Boost to digital literacy funding
MEDIA RELEASE: 2 July 2013
The 2020 Communications Trust welcomes the funding boost for Computers in Homes digital literacy programme with this media release.
Content sharing websites aim to give Porirua a new voice
MEDIA RELEASE: 14 June 2013
e-Learning Media Release launches the Our Porirua Online Community. Keep reading >>
e-Learning stories from 10 April 2013 graduation
If ever proof is needed of the difference e-Learning can make in peoples' lives, take a look at a recent graduation and the stories the graduates tell.
Mohammed Wazid says "I've learnt a lot from the beginning and wish to thank everyone for their assistance."
Sandra Tuara is a stranger to the whole technical side of computers, is dyslexic and wants the best for her children and grandchildren. She's determined to make a difference to their lives. "For me this is the key to a new world which is exciting and life-changing. I sincerely thank you all so much" says Sandra.
Miimetua Campbell tells us "this course is amazing, such a friendly atmosphere and a lot of support from all the tutors. And it's taught me how to be a confident person using a computer."
--------------------------------------------------------------------------------
If you would like to do our course please download and print this application form. Application form After you have filled out the form you may either post it to us at e-Learning Porirua, PO Box 50-303, Porirua 5240, or drop it off to the Porirua RSA in McKillop St, Porirua East.