Porirua City assists e-Learning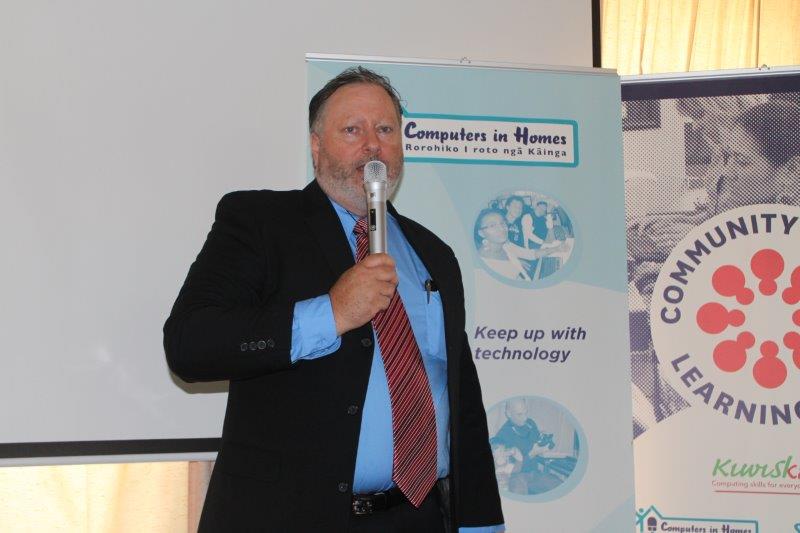 Tim Davies-Colley introduced the gathering and apologised for one or two graduates who were not able to be present for a variety of reasons. This, he explained, was the 83rd graduation for Computers in Homes, here in Porirua.
Tim thanked Porirua City Council for donating some old computers which has meant that we have been the happy recipients of their old ones. The Council, instead of having to pay a company to get rid of their old computers, have given them a second life and saved e-Learning Porirua money, a win-win for the whole community.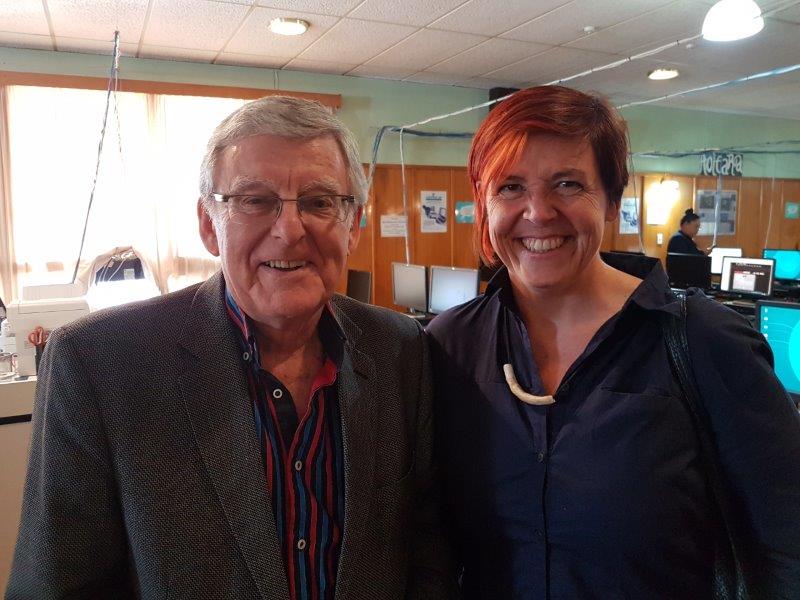 Tim welcomed special guests, Minister Jan Logie, Green Member of Parliament and Chanel Pilcher-Landgraf, Manager Business Technology Operations at Porirua City Council. He also acknowledged Graham Kelly and Wendy Betteridge, present on behalf of the e-Learning Trust Board. In addition, he acknowledged the work of Peter Lynch who has provided all the technical support and some of the tutoring, Ibrahim Raouf-Morton who has done some tutoring for our Refugee Connect course, and Karen who has also assisted with some of the tutoring. He also acknowledged one of our successful graduates, Beatrice, and her daughter, who had kindly produced the lunch.
Graham Kelly shared the good news that the Government had just reintroduced funding of $1 million for Computers-in-Homes nationwide. 'We are thrilled about you people qualifying and getting a computer for your home', he said. 'We can guarantee, from our experience over eighteen years that, not only will you get a better-paid job, but your kids will be using the computer too. Encourage them because they will do better at school. Our statistics show that 65% of the children from the low-income families who have done our computer courses have achieved average attainment levels at school. 7% were below average but 28% were above average and that was when compared with every other child in every other school in New Zealand. Computers in Homes have revitalised our families and their children and grandchildren.'
'There are still more families in New Zealand who haven't got a computer', Graham went on to say. 'Employers these days want to employ people who know how to operate a computer. Over 1,000 households in Porirua still do not have a computer. Their children are seriously disadvantaged in the education system. When our Trust started in 2000, only six families in every hundred in East Porirua had a computer, compared with eighty families out of every hundred in Whitby. We have changed all that and there's still more to do. You are part of that success story. You are going to do better in life because of this course.'
Jan Logie was invited to speak and she said it was really lovely for her to help the graduates to celebrate their achievement. 'I live in Cannons Creek' she said, 'and one of the strengths is the people. The challenges we face will enable us to grasp some of the opportunities out there. This scheme and your qualifications will help you to grow these numbers so that we can all get the benefit. I understand that there are now 2,330 graduates in this community who have gone through this programme. That is totally amazing. Years ago, I dropped out of a course when I was given a computer. It was a step too far for me. I couldn't do that now. Jobs and everything else now involves computers and that is something we cannot ignore any more. Having these skills will make a huge difference for you and your family.'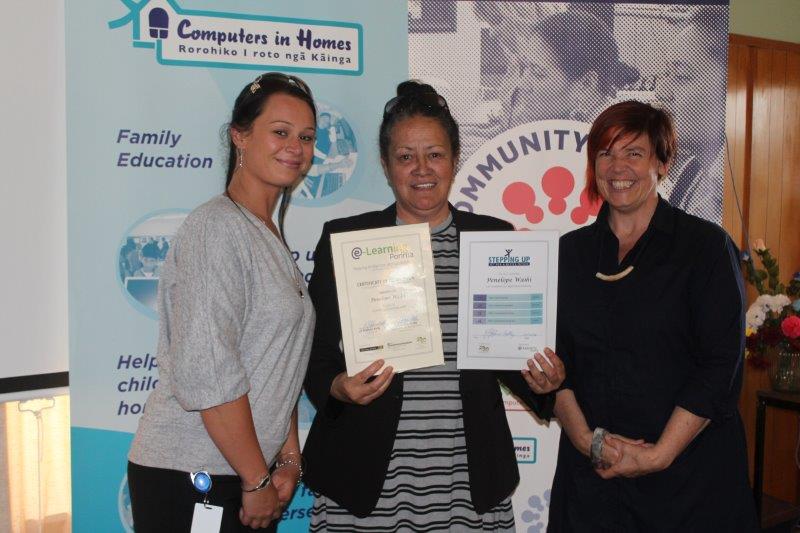 Jan and Chanel then presented certificates to all the graduates.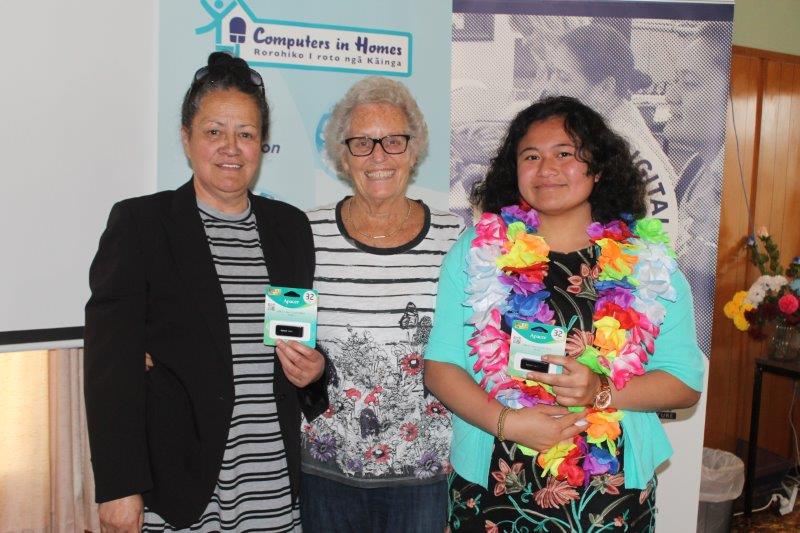 Following this presentation, Wendy presented the prizes to those who had written the best 'learning stories'. The two runners-up, Penny Waihi and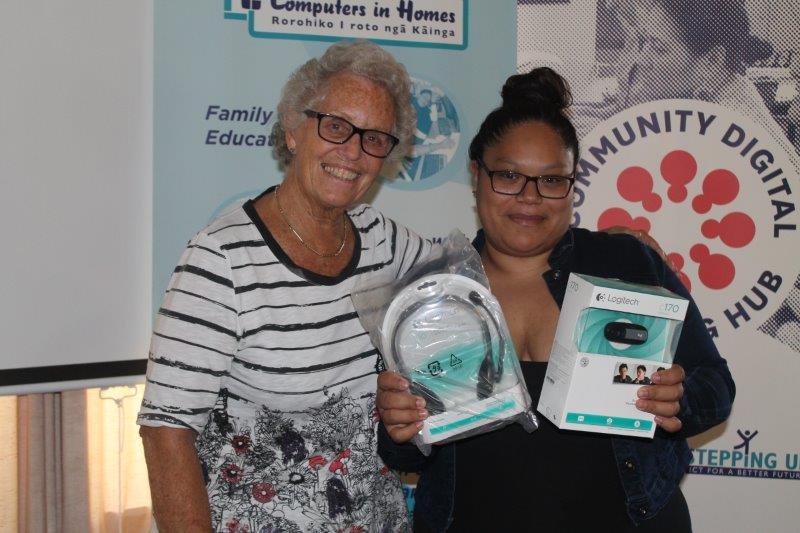 Chevelle Leota, received a 32gb usb stick each and Wendy presented Keita Miller, the winner, with a Skype pack.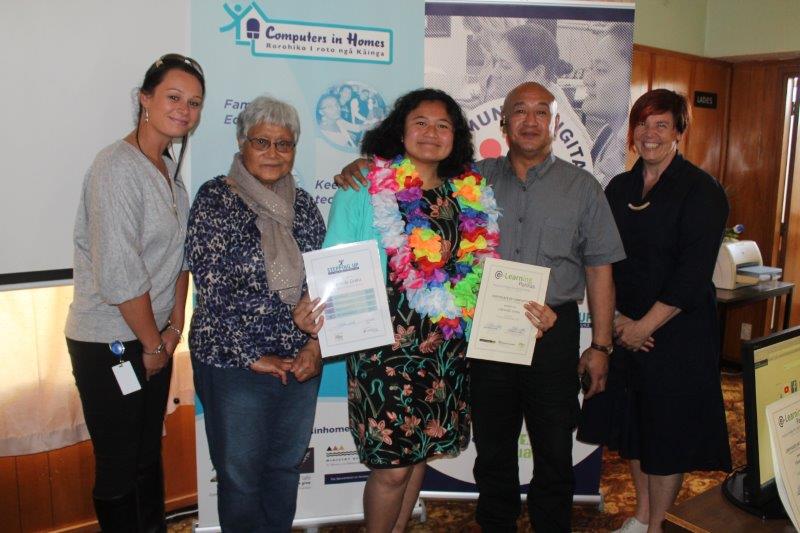 Chevelle, who had been supported by her father and grandmother during the ceremony, responded for the group, saying, 'Thanks to all the tutors and especially to Karen. She slowed down her words to help me to understand and she showed me how to bookmark pages on the internet'.
Following a group photo, families took home their computers to start the journey into their exciting new future.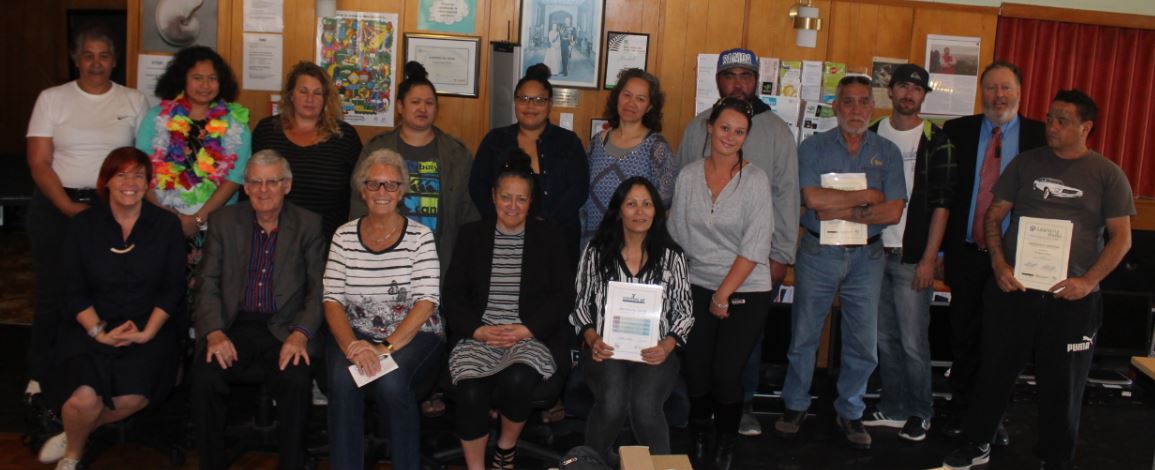 Here are the three learning stories for which their authors received prizes.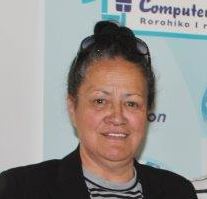 Kia Ora. My name is Penny Waihi. The course has given me the opportunity to improve my technique, competence in computer skills, keyboard skills, web navigation and e-mail communications. I appreciate that when I finish this course I will have free internet access to educational websites which will be of great use to mokopunas. I recommend to anyone who wishes how to use a computer or advance existing skills to enrol in this course. I will be taking home enrolment forms to hand out to whanau and friends over the Christmas period. Finally I wish to thank Tim, Peter, Karen and fellow students. It's been great to meet you all. Merry Christmas and all the best for 2019.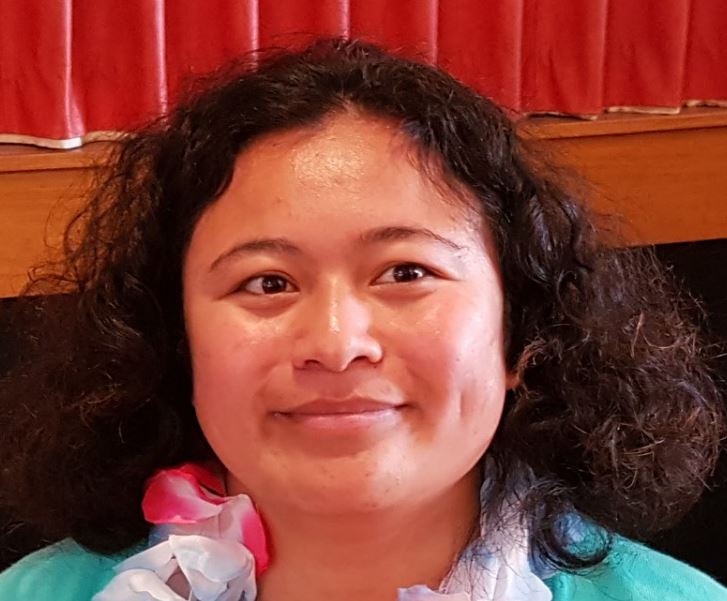 My name is Chevelle Leota. On the first day at the course I learned emailing by sending attachments and emails to people. I also learned about inserting pics on email as attachments. I really enjoyed myself by bookmarking my things on a computer. It was very easy for me to save my things that I wanted on a computer and I can find it and also I'll know it's there because I saved it the last time I went on the computer. My fave part of my Learning journey so far is my tutor when she's teaching me how to use my computer, probably because it was very easy because she made sure to slow down her words and tell me what she was actually talking about every step of the way. I've really enjoyed myself on the course so far when I get to know more new things in computer technology. I'm gonna give thanks to the tutors for giving me encouragement it made me more confident.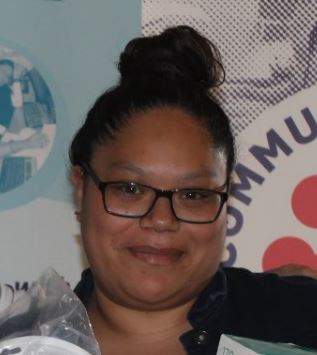 My name is Keita Miller and I have lived in Porirua all my life. I am the mother of five children under 6 years old and I just recently gave birth to my 5th child in November. I have heard so much about the Computers in Home course from family and friends who have also completed it and it has inspired me to tag along and do it myself and here I am starting on 31 October 2018. This course has taught me a lot about how to use the google applications in my gmail account and all the other sites that help me and my children learn about the education they are learning in schools today. I have also learnt how to use and maintain a computer and what kind of software to use. I am so very proud of myself for partaking in the Computers in Homes course this year and I thank all the tutors for guiding and teaching me all these new things on how to take care of my computer.