Oh what a night
It's fair to say that the room was filled with the Who's Who of Porirua City as many came to share in the success that e-Learning Porirua has achieved over the past seventeen years.
This was a stellar occasion as the Trust set out to celebrate, not only the achievement of having influenced the lives of 2,000 low-income families in Porirua, but also to honour those who have supported the Trust during its journey or been valuable sponsors.
Chair of the Trust and former member of Parliament for Mana, Graham Kelly, welcomed Kris Faafoi, MP for Mana, and Mayor Mike Tana who would be presenting the awards. He also welcomed former Mayor of Porirua, Jenny Brash, and former Board member, Winne Laban. He introduced and thanked the Board of Trustees, Phil Major, Wendy Bettridge, Douglas Harre, Chris Lipscombe, Kris Faafoi, Martyn Newman Hall and Tim Davies-Colley. He also acknowledged and thanked the Trust's hard working and long-serving contracted staff, Ibrahim Raouf-Morton, Peter Lynch, Noel Evans and Executive Director, Tim.Davies Colley.
In his speech, Graham Kelly sketched out how the Trust began, in particular, the work done by Phil Major and Linda Sollitt from Sun Microsystems before the Trust was ever formed. The Trust was set up initially with the goal of reducing unemployment in Porirua by giving computer skills to parents to get jobs. The initial target had been to train 600 families.
Fundraising had not been easy in the first five years but eventually, some government money came the way of the Trust which helped the efforts of the Trustees and contracted staff. This government funding continued until 30 June 2017 when the government stopped all grants to the nineteen Computers in Homes organisations around New Zealand, including e-Learning Porirua. Graham predicted that this decision would cause many CIH organisations to close down, leaving thousands of families unable to obtain computer skills.
When the Trust was formed in 2000-2001, 80% of Whitby's households had computers compared with only 6% in eastern Porirua. The 2007 census showed that the percentage in Whitby remained the same but Porirua East's figure jumped to 26%, a statistic that e-Learning Trust would like to take some credit for.
The numbers of households owning a computer have continued to improve, but Graham estimates that there are still up to 2000 families with dependent children, who do not have a home computer in Porirua City and Linden out of a total of over 200,000 nationally, nearly all in deprived areas.
'Since the formation of the eLearning Trust, said Graham, 'we have given, or financed, interest-free loans to the 25 low decile schools in our city to enable them to obtain new computers, to the value of over half a million dollars. This has lifted their ratio of computers to pupils and it has materially affected their combined roll of over 7000 students. In addition, the 2000 home computers we have given to parents have benefited more than 500 other adults in those households who have got jobs as a result. We have lost count of the number of parents who have completed our courses and with their new skills, now have jobs as teachers, nurses, forecourt managers, social workers and IT professionals.
'But what about the 2,000 parents in Porirua and Linden, and the over 200,000 in New Zealand, who have now been left high and dry without the prospect of obtaining computer skills to get a job. There are 18,000 homes in Porirua and 6,000 of these are in low decile areas. This means that we have now put computers in around 30% of low-income homes.The most significant thing our adult students achieve by the end of a ten-week course, including those on our special refugee courses, is confidence. They are able to write their own CVs and front up to job interviews, or go onto further training or education. 32% of our students get a job within a year.
'Our ongoing research shows the dramatic impact our Computers in Homes programme is having. The most unexpected bonus is that because families have a home computer, 33% of the children of these adult students from our low decile schools are achieving above average attainment levels in education compared to the levels in the country as a whole. This comparison includes students at all the high decile and private schools. Another 62% are reaching average attainment levels and only 5% are achieving below average.
'By putting these families on the first rung of the ladder they are able to achieve so much more and look far beyond their previous horizons. If our graduates are obtaining higher paying jobs than they would have otherwise obtained, as well as improving their economic and social outcomes, that has to be good for our city and our society. The Government lets this disappear at its peril'.
Following Graham's speech, he welcomed both Mike Tana and Kris Faafoi to the microphone. Both praised the work of the Trust and congratulated it on its achievements over seventeen years, culminating in this special celebration.
And then it was time to present the awards to those who had supported the Trust in one way and another over the years.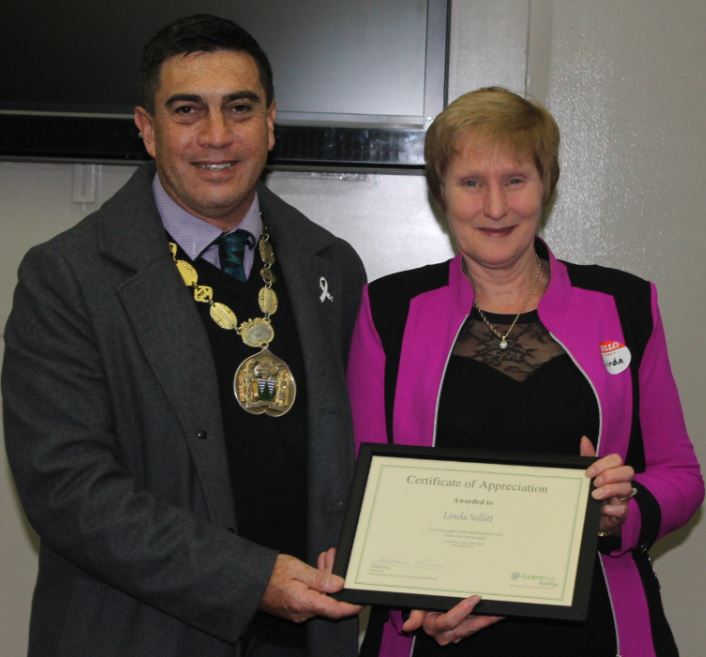 Linda Sollitt was one of a small group of people who were instrumental in making it possible for our Trust to be formed. She worked with Phil Major and Graham Kelly for a year prior to this, in planning how a Computers in Homes and a Computers in Schools organisation might work. Because Linda worked in the IT industry, for Sun Microsystems, she brought technical, logistic skills and experience to us, that were invaluable in developing and making this project possible.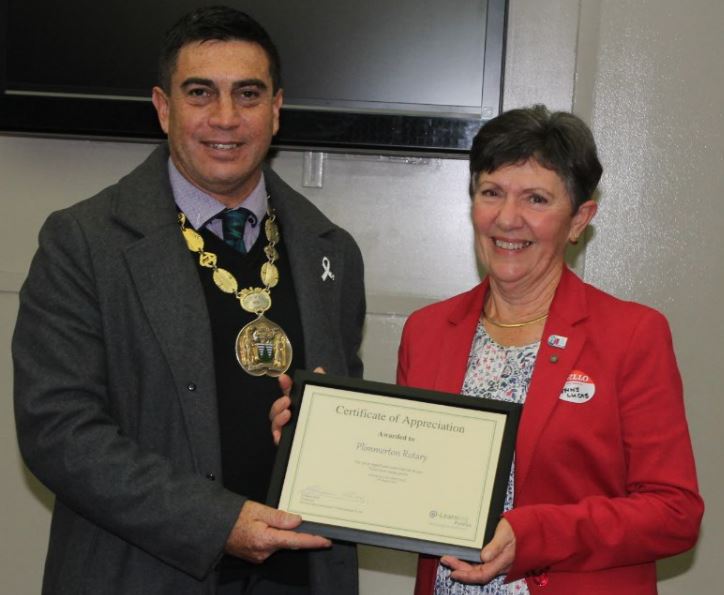 The Rotary Club of Plimmerton (accepted by current President, Jenny Luca), hosted an initial meeting of Rotarians at the home of Alan and Barbara Nichols in 2000 at the request of the then MP for Porirua, Graham Kelly, to seek their support for a Computers in Homes project in Porirua. They agreed to support the establishment of a Trust and subsequently assisted with volunteer mentors at training courses, including supporting Wendy Betteridge in becoming a Trust Board member. Rotary members also offered second-hand computers for use by families in the early stages of the project.
Murray Woodley became the Trust's first Treasurer in 2001 and held this position until August 2016. His accounting experience enabled the Trust to have detailed monthly financial reports and accounts of the highest standards and to always know the number of courses we could run on the scarce and valuable funds we raised. The thousands of hours of Murray's significant contribution to the Trust's has been outstanding.


Deidre Dale was a foundation Trustee from 2001 and served as a Board member for five years. She was Chief Executive of Whititeia Community Polytechnic and collaborated in finding tutors for the Trust as part of their outreach programme until this was stopped by the Government in the mid-2000s. Because of her vision and support, this allowed many of our students who had completed our courses to move to higher training at this and other tertiary institutions.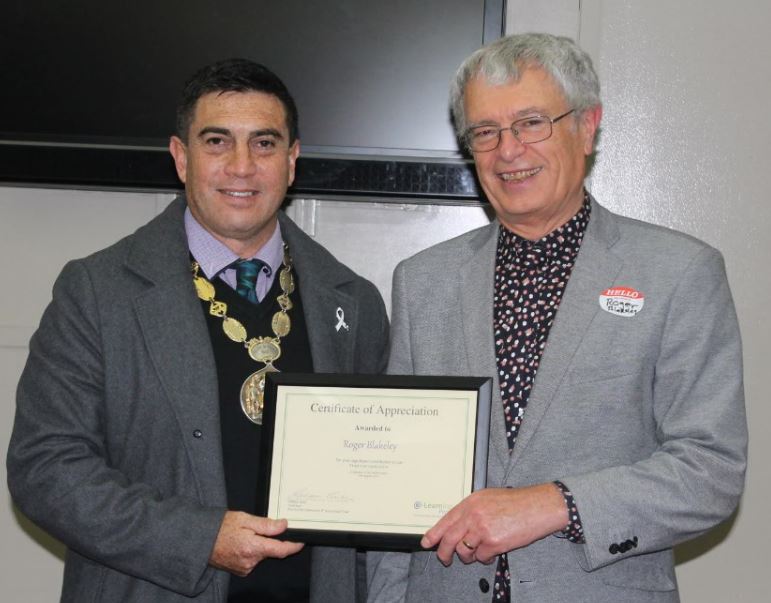 Roger Blakeley's role as Chief Executive of the Porirua City Council, coupled with his interest and experience in information technology, made his contribution, as a foundation member of the Board, extremely important. His active promotion of a digital strategy for Porirua City; his work in founding the Porirua Digital Trust to help Porirua citizens close the digital divide, allowed our Trust to dovetail its work to help meet the needs of the city. Roger remained an active Board member until his departure to work for the new Super City in Auckland.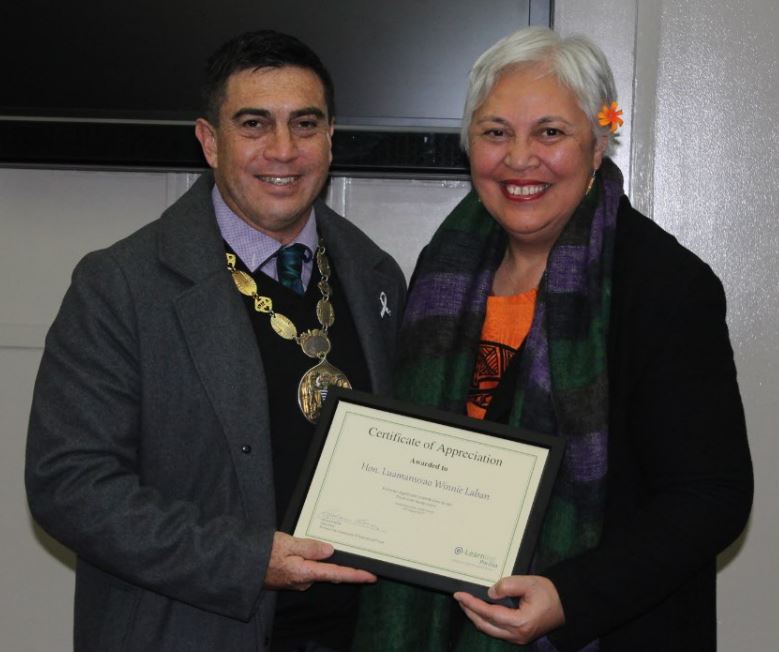 Hon Luamanuvao Winnie Laban was an active Board member of our Trust for the years she served as Member of Parliament for Mana. Her encouragement for lower income, and particularly the 40% of Pacific families who participate in our courses, coupled with her strategic approach to issues of governance, was invaluable to our decision making. Winnie's encouragement, her lobbying within Government for our issues, was an added bonus for the work of our Trust.
From the formation of our Trust in 2001, the Porirua City Council's elected representatives, particularly its Mayors - John Burke, Jenny Brash and Nick Leggett - were supportive of the Trust's objectives to reduce unemployment in Porirua City by giving families the computer skills to get a job. Its Digital Porirua Trust, worked with our Trust, to establish Community Access Points (CAPS) throughout lower-income areas of the city to provide net pods of computers to community organisations, Marae, youth groups, and some church groups. Our Trust eventually took over this role. These computers were part of over half a million-dollar grant from Hewlett Packard. Our Trust provided the tutor and technician to train their clients. This successful project ran for approximately 5 years. The Council supported its CEO and then its Economic Development Manager to be Board members of our Trust. Here the tables were turned as MP Kris Faafoi presented the certificate to Mayor Mike Tana on behalf of Porirua City Council.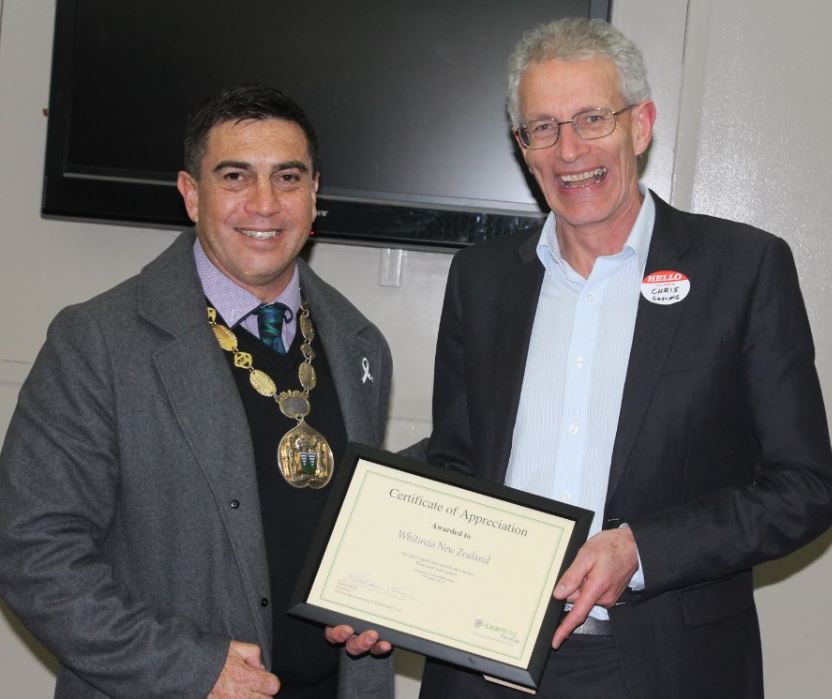 In addition to providing a foundation trustee in its CEO, Diedre Dale, and subsequently, several staff members from Whitireia New Zealand's IT Department to be Board members of our Trust, this community Polytechnic has given our Trust the free use of its Board Room for the past 17 years for our Board meetings. For the first few years of our Trust's operations, the Polytechnic provided tutors for our courses from their Outreach Programme, without charge, together with a building in Elsdon to run our training courses. In addition, in our first few years, their IT students, as part of their courses, refurbished the second-hand computers that had been donated to us by individuals and companies, so that they could be used by the families who had completed our courses in their homes. The certificate was accepted by the current CEO, Chris Gosling.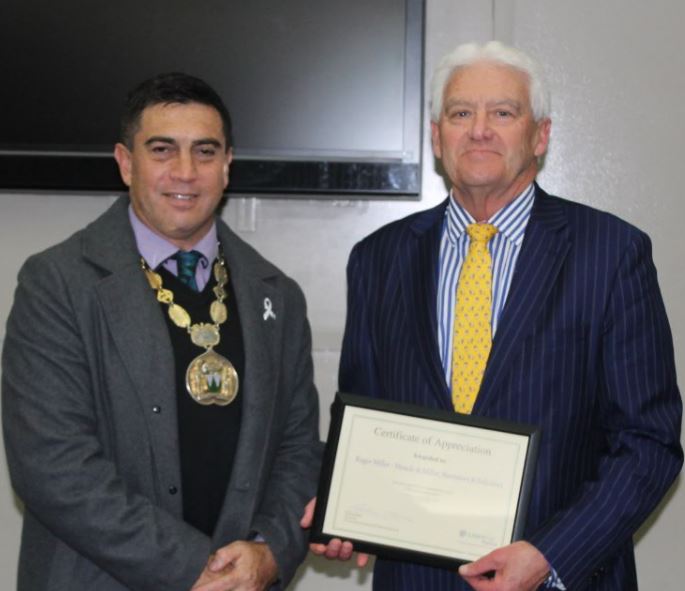 Roger Miller, a solicitor with a successful practice in Porirua, has provided, pro bono legal advice and services in the formation of and subsequent establishment of our Trust. His contribution to our Trust over the past 18 years has been significant. Roger has undertaken this work willingly and with enthusiasm and we are extremely grateful for his ongoing contribution.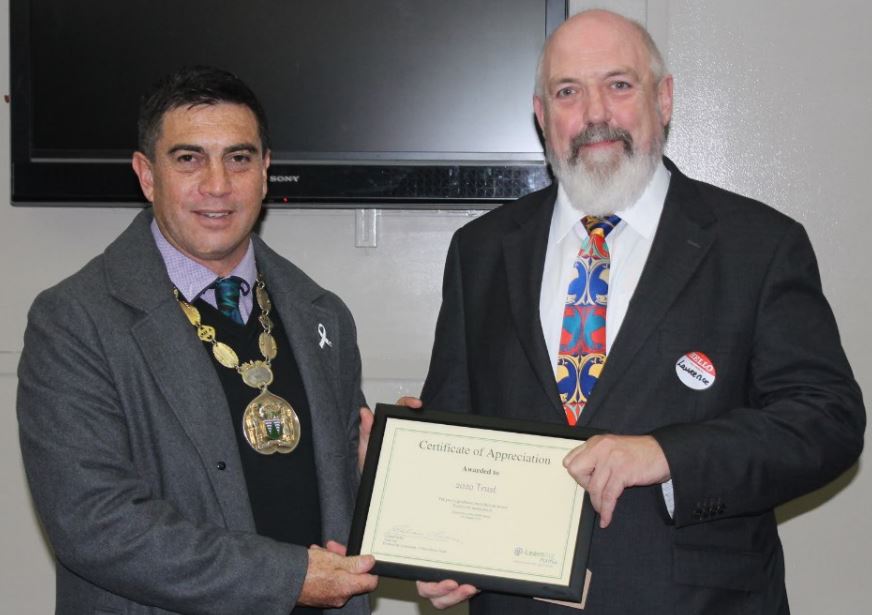 Our Trust has worked closely with the 2020 Trust, particularly over the past 10 years following the signing of an agreement between the two organisations on working collaboratively. Their contribution has included valuable research on the outcomes of our work with families, reports and publications and negotiating contracts with internet providers to benefit our families. Around a decade ago we gave them the authority to receive money directly from the government and Microsoft and to disburse this to all computers in homes organisations in the country, including our Trust. The certificate was accepted by Lawrence Millar.
Neither Murray McNae, nor Pamela Meekings Stewart was available to receive their awards, but their certificates will be presented as soon as possible.
Murray McNae was a foundation Trustee, having worked in the IT industry and served on the Board for many years. He brought management, governance and technical skills to the Trust to allow it to make sound decisions about its development and operation. His experience in these fields was invaluable to the Board and helped set a solid foundation for its future direction and success.
Pamela Meekings Stewart was a member of the Board of e-Learning Porirua for five years. In that time she introduced strategic goals for the Trust governance which focused the Board on a clear path and direction for its future. She also bought her considerable skills from the film production industry to public events held by the Trust.
Certificates were also presented to those who had provided sponsorship over the years.
Tim Findlay has provided our Trust with refurbished used computers for approximately the past 12 years through his Tawa business – Remarkit Solutions. He has been a strong supporter of our work and he has taken a close interest in what we do. In addition to giving us very competitive prices on approximately 200-300 computers a year for each of our students to take home, Tim has given us prizes that we have awarded to students at the completion of courses and for special occasions.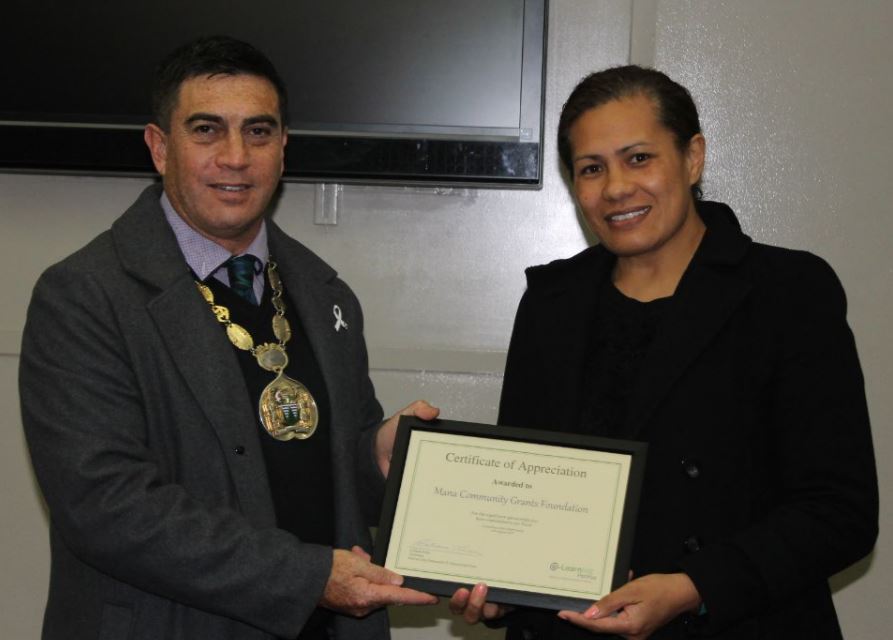 The Mana Community Grants Foundation grew from the Porirua Licensing Trust which was our original funder with three grants of one hundred thousand dollars each over the first three years of our existence. Since then we have received several other grants. We were been able to leverage off these amounts to attract other funders. Without this initial level of financial support, it would have been extremely difficult to achieve our vision of reducing the digital divide in Porirua. Foundation Board member and Deputy Mayor, Izzy Ford, accepted this certificate on behalf of the Trust.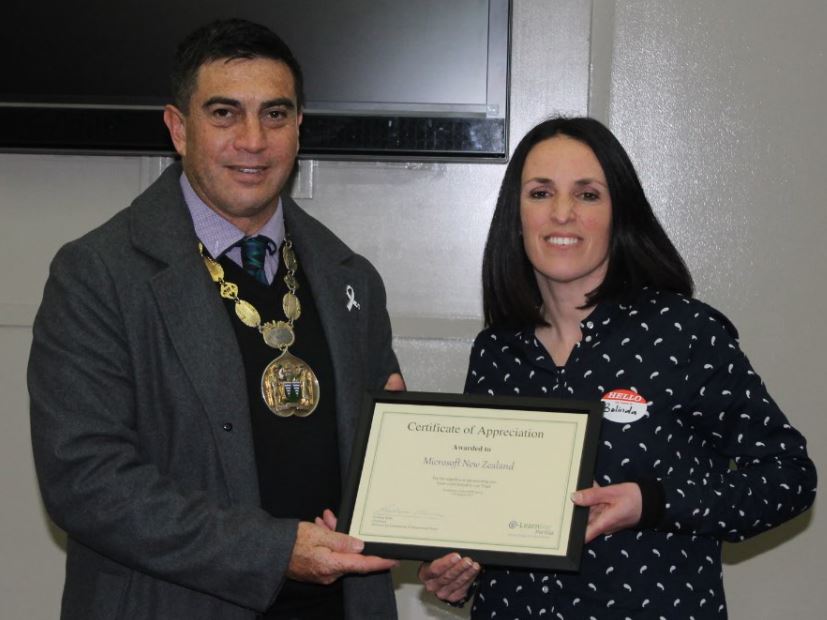 Microsoft New Zealand, represented by Belinda Gorman, provided a substantial grant of software and cash to fund our new Stepping Up Programme in 2009 through their Unlimited Potential Programme, which was to encourage our students to "step up" to further learning and job opportunities. Ten, two and a half hour long modules were introduced as part of our courses to include web design, managing finances, word processing, spread sheets, employment readiness, and much more. There are now over 30 modules. The Stepping Up programme continues to be an integral part of our courses.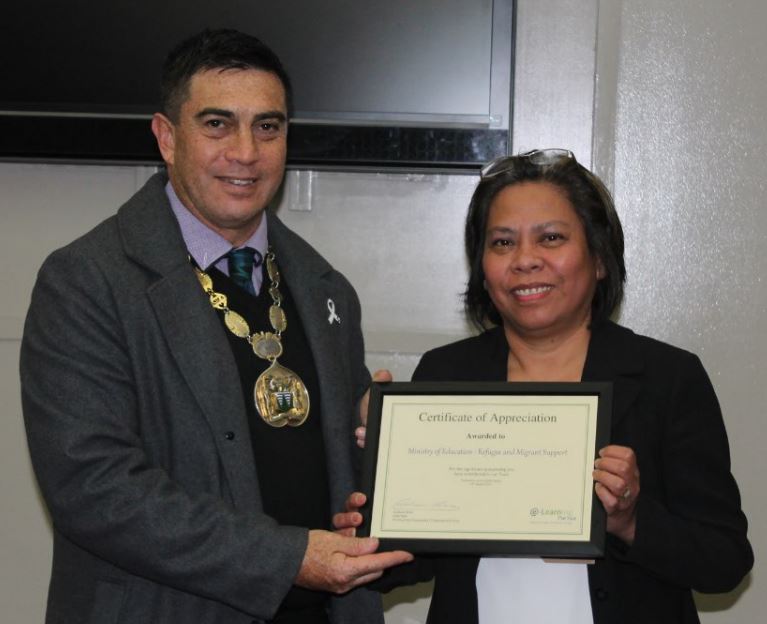 Ministry of Education Refugee Services were represented by Gina. For the past nine years our Trust, in addition to running between four and seven courses each year on a regular basis, has been running special courses for refugees. Attendees have come from Burma, Columbia, Vietnam, Sri Lanka, Iraq, Egypt, Afghanistan, and more recently, Syria. Over the past three years, we have been the preferred training provider for the Wellington region for refugee Computers in Homes courses. More recently we have developed a new training concept where our multilingual tutor goes to refugee homes to teach where other refugee families gather. On each visit, we are training four times the number of people in that household. This has been an outstanding success.
None of the following organisations was available to receive their awards but their certificates will be presented as soon as possible.
Hewlett Packard NZ made a significant grant to our Trust in 2009 of $588,646 in new computers, and associated equipment and cash for use in community organisations throughout low-income areas of Porirua City. As a consequence, we were able to ask the newly formed Porirua Digital Trust to place these computers in 11 newly established ethnic, cultural, community, educational and religious organisations together with a mobile training unit. Additionally, the Trust placed netpods of 8 computers in each of 7 low decile schools in Porirua. This grant made a significant difference to reducing the digital divide in our city.
Karen Bain has been the Manager of the Porirua WINZ office for a number of years. She is one of those valuable public servants who offers a practical approach to solving our unemployment issues, by organising training for WINZ clients and getting people into jobs.
In 2009 our Trust negotiated an agreement with Karen to use their clients' annual training funding so that our Trust could train them on how to use a computer to get the skills to get a job. This amount is a third of the cost for each person to attend our courses. The concept was extended nationally, following the excellent results achieved in Porirua.
Internet New Zealand made a substantial grant to our Trust four years ago towards establishing the Cannons Creek Free Wi Fi Project. This was to allow our former students and the public access to free Wi-Fi which otherwise many could not afford. The reason for the project, which we had originally wanted to extend to other low-income areas of the city, was to allow people access to the internet, which would not have occurred under the government's roll-out of broadband for many years into the future. The grant was paid over to the Smartlinx3 company, who provided the infrastructure and operating costs to run the project. The service closed in June 2017.
The Lottery Grants Board has provided grants to our Trust in recent years for funding an important component of our courses. The Stepping Up programme component teaches students advanced skills such as digital photography, how to write a CV and how to set up a smart phone.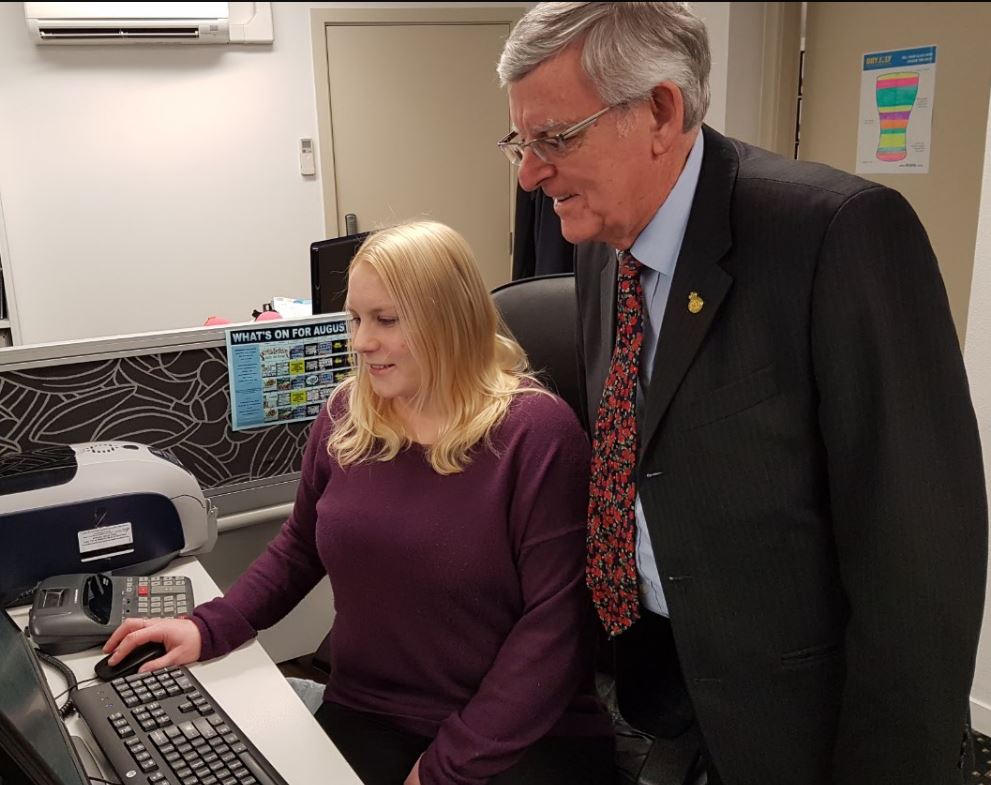 Finally, it was time to make the presentation to Sarazita Boyd (seen here confidently showing Graham Kelly some computer skills), the 2000th family members to come through the doors of e-Learning to study on Course 72.
Sarazita expressed her heartfelt thanks to the Board and to the tutors for everything they had given her on her learning journey. You can read what she wrote when she won the prize for the best 'Learning story' at the end of Course 72 here. Tim Davies-Colley presented Sarazita with a hard drive as well as with three memory sticks for herself, her partner and her daughter. Sarazita told us that she was now on track to realise her dream of becoming a massage therapist, to run her own business and to give her family a better future.