e-Learning stories from 10 April 2013 graduation
The team at e-Learning Porirua Trust do a fabulous job. They transform lives.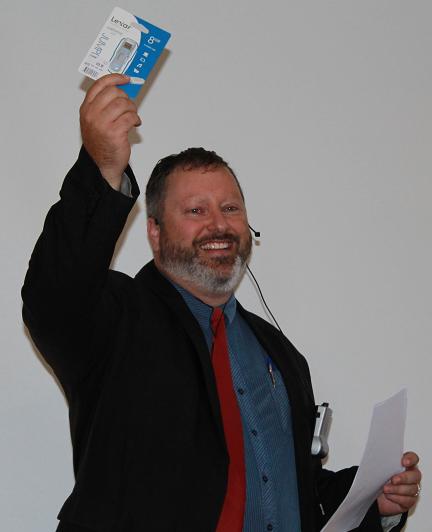 There's Tim Davies-Colley (far left), the Executive Project Manager, whose tasks are just too numerous to mention. And in university holidays there's also his son, John (left), who earns a few pennies mending computers but also does heaps of other things out of the goodness of his heart.
There's (L to R below) Peter Lynch, Michael Sefo and Ibrahim Raouf-Morton, wonderful tutors who make the learning great fun, and assistant tutor - Tekira Marsters (not shown here).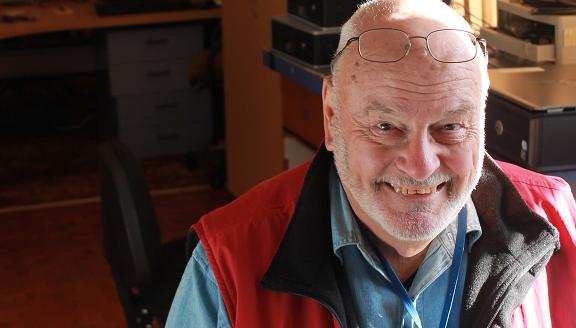 And there's Noel Evans (right) who works tirelessly to make sure that the computers work and people stay connected via the internet.
Over the past 12 years, nearly 1500 families have graduated here. Their confidence has increased and they've signed up for more advanced courses or applied for, and achieved, better jobs. Families say they're able to communicate better with each other and with their children's schools. School attainment levels have been raised.
Every term more and more people graduate.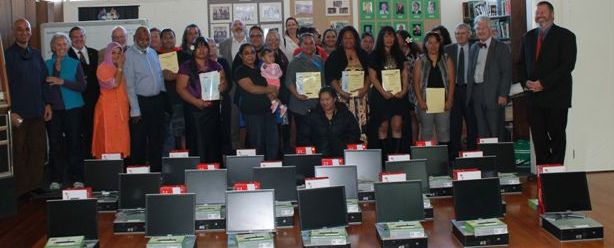 Here are some stories from the 'Class of April 2013'. The Hon Peter Dunne came to present the certificates which gave the students quite a thrill.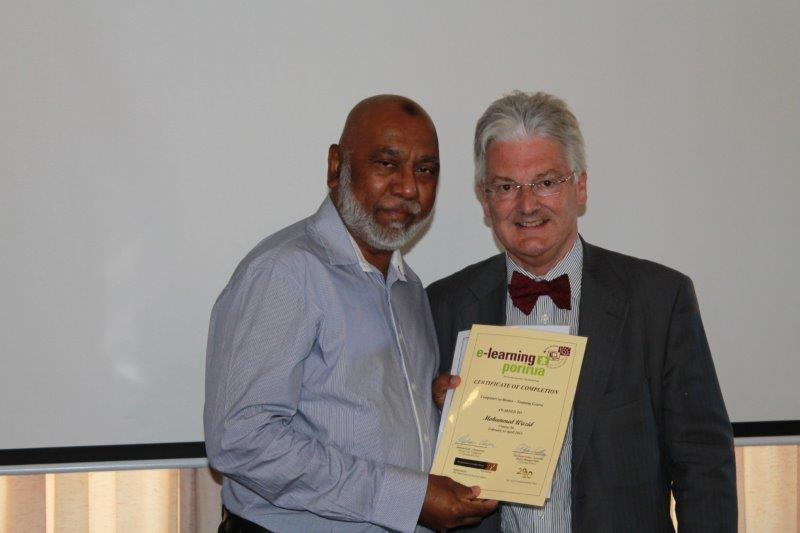 'My name is Mohammed Wazid. I'm unemployed and have been looking for a job for the last couple of years'.
Last year Mohammed was told by WINZ to attend a course at Trade & Commerce but soon realised that he needed computer skills. He heard about e-Learning where he could attend a 10-week course at the end of which he'd be given a computer and six months free broadband.
'I realised that the computer could be useful, both for me and for my family, especially my daughter who, after going to a special needs school, is at home doing nothing.
'I learnt about using Microsoft Word, Power Point, etc. And I learnt to use the internet to look at websites and make my cv.
'I've learnt a lot from the beginning and wish to thank everyone for their assistance. So, from my family and me, I wish a happy life for all of you in the future and hereafter. May God bless you all. Thank you.'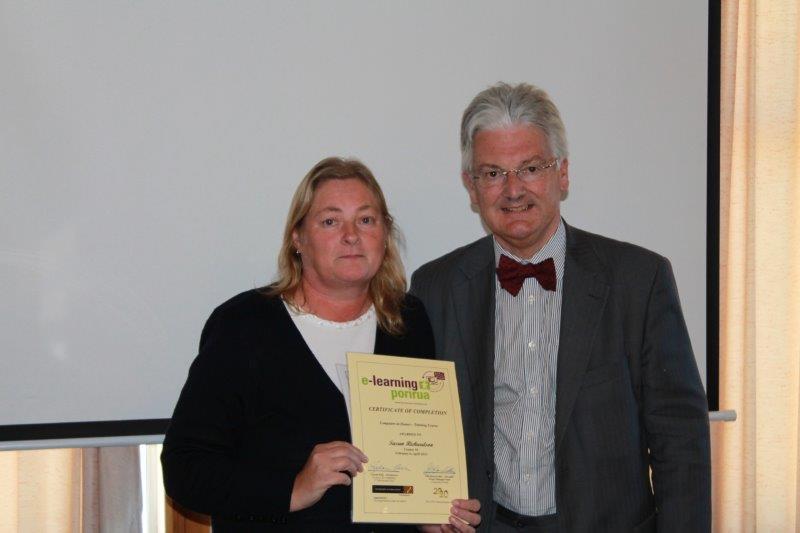 'My name is Susan Richardson. I decided to come to Computers in Homes, Porirua because I have been trying to learn about computers for about five years but I don't have the patience for them.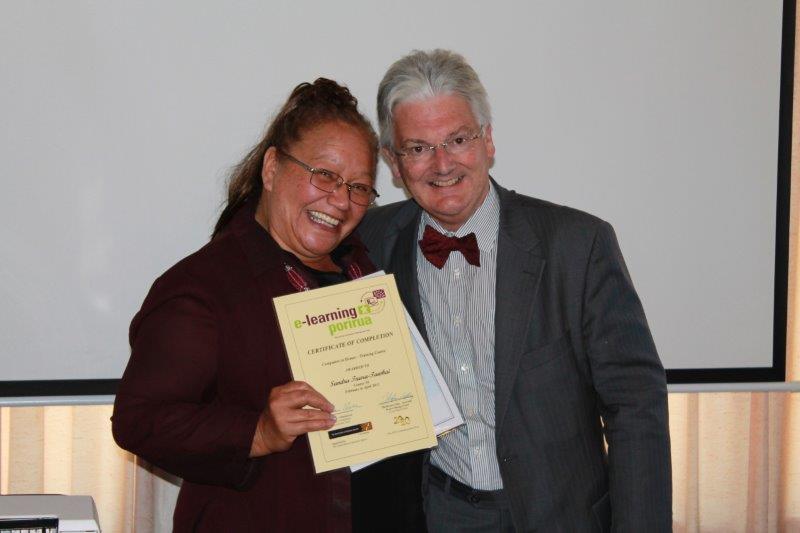 'I'm Sandra Tuara, a stranger to the whole technical side of computers.
'I'm dyslexic and I want the best for my children and grandchildren. I'm determined to make a difference to our lives.
'It feels as if there's discrimination against the poor with regard to the high tech world we live in because it's hard for us to access cell phones, i-pads, etc. When you think about it, how isolating is that as every aspect of our lives is run by computers?
'I am so grateful to Graham Kelly for his insight and vision. Also to Tim and the team for presenting the programme in a way that people like me and others can understand.
'For me this is the key to a new world which is exciting and life-changing. I sincerely thank you all so much.'
'My name is Rebecca. I've lived in the area for a good many years and had heard about your course. Joining was just a matter of timing. I think when you first came out you were the talk of the Creek because you gave people free computers in their homes. I had friends who'd done this course and they'd nagged at me to give it a go.
'I found the course hard but also lots of fun. It helped that we had a good bunch of classmates who laughed heaps and took everything in their stride. Learning to email, and attach stuff was exhilarating and 'kool'. It gave me a sense of accomplishment.
'The Computers in Homes Course is also my time away from the outside world where I get to just learn, laugh and enjoy the day with other people. So Wednesday was a day to look forward too. So thank you to Tim, Michael, Noel, Tekira, and Ibrahim, for having the patience and time. Thank you.
'Scary!', says Ivy Green. 'My friend scored herself a computer and told me to have a tutu (touch). NO WAY, I said, I'm still afraid to touch the video recorder. I watched her rule this computer, fascinated, but I didn't want to touch it. My children were using computers at school and by then everyone had one, so we got a computer.
'The kids cracked it. I observed, but after a while I got my daughter to show me how to get to the card games. Well, they've all grown up now and left me. My daughter did me a facebook page to stay in touch. I needed my 8-year-old grandson to help his Nan log onto Facebook on her phone and direct me.
'Anyway, I heard about this course last year and thought I'd better get on it, learn the computer, stop annoying my grandson and up-skill.
'Thanks to the tutors for being patient and for providing a comfortable learning environment. I can get an office job eventually.'
Keep reading more stories from 10 April 2013 graduation here.