Connecting New Kiwis
Jaqs Wilton, Manager of English Language Partners, Porirua, was our guest for the graduation of our latest Kiwi Connect Programme, run for refugees.
Speaking, Jaqs Wilton said that it was a real honour to talk to the group. She encouraged the graduates to give themselves 'time', time to come to terms with their new country, to develop the skills they needed to participate successfully in the new society. 'Many people', she said, 'are desperate to get their lives back on track but it is really important to give yourself time to get the skills you need, such as the English language and computer skills under your belt first and to learn about the culture of your new country, while ensuring that you maintain your own'. She warmly congratulated everyone.
The refugee families on the course came from Wellington and Lower Hutt (none, in fact, from Porirua on this occasion, and had been collected by Peter Lynch in the van so that they could attend on time.
Titus Lian was present to translate for the Burmese refugees as was Viviana Zuruala to translate for the Columbian refugees. There was also a refugee family from Iraq and one from Iran but their English was advanced enough for them to be able to understand the proceedings.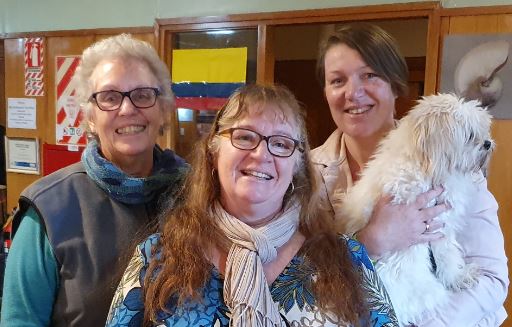 In addition to Jaqs Wilton, Ibrahim's wife, Sally Ratchford (and Orinoco, their poodle/Shih Tzu/Tibetan terrier) were also there to support the families, as was Wendy Betteridge, a member of the e-Learning Board since its inception in 2001.
Executive Director, Tim Davies-Colley welcomed the group and thanked the e-Learning tutor, Ibrahim, for the in-house training he had carried out. He also thanked Peter for his help behind the scenes and Beatriz, herself a former Colombian refugee graduate who had cleaned the centre in preparation for the graduation and also provided hospitality and catering for the event.
'A few years ago', said Tim, 'the Trust' made a decision about how to deliver this Programme. In the past, a refugee had to wait, sometimes up to a year, for a sufficient number of refugees who were in need of the course to be ready to be trained together in class. Now that we carry out the training in the homes of families the results are so much better. Families are given their computer at the outset and get their training in digital literacy within a few weeks of arriving in the country. Carrying out the Programme in homes had provided unexpected benefits. Instead of one refugee attending a course, whole families can now gather around the computer, asking questions and being able to practise between sessions'. An additional benefit is that refugees from outside the family join in and, whereas twenty-five families were enrolled, twenty-seven families were, in fact, trained'.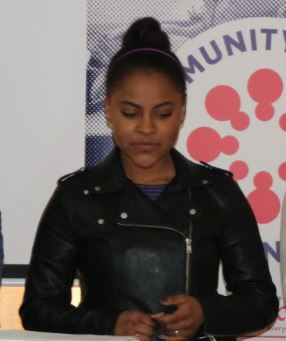 During the lessons, families do some research and presentation work which increases their ability to interact with others in their new country.
Following the presentation of the certificates by Jaqs Wilton, Ma Soe, a refugee from Myanmar, was presented with a Skype pack. Responding in English, she said how much everyone had appreciated the time that Ibrahim had given to them. 'Thank you from our country', she said. 'You helped me and I can use this for my school work'.
Maria Valeria from Columbia thanked everyone for helping her family and for the opportunity.
A group of very happy refugee families left the graduation, safe in the knowledge that they were better prepared to face the future in their new country.