Minister and MP count the benefits
By Wendy Betteridge
9 May 2014
On Monday 5 May, Phil Major stood in for Graham Kelly who's currently recovering in hospital following a heart attack. Graham has been Chair of e-Learning Porirua Trust since it started 14 years ago and has done a wonderful job.
Phil welcomed Minister of Education Hekia Parata, Mana MP, Kris Fa'afoi, local counsellors, and others who had supported the Trust and thanked them for coming along to help celebrate. Phil said:
"1523 families have now been trained and have received a computer in their home and tonight we are honouring the 1500th family. I'd like to thank the Board, the tutors, the technicians and Plimmerton Rotary in particular, who has helped with training in the past. I'd also like to thank the Trust's sponsors and particularly the Mana Community Grants Foundation (formerly the Porirua Licensing Trust) who gave us $300,000 in the first three years and we were very grateful for that.
"In the last 5 years we have been helped by the DIA and the Ministry of Education and we are very grateful for the money that has been given to the Trust. Minister Parata was responsible for ensuring that last year's budget allocation has enabled the 20/20 Trust to continue to survive. All in all, we have received just on $1 million in the last 13 years to keep our programmes going.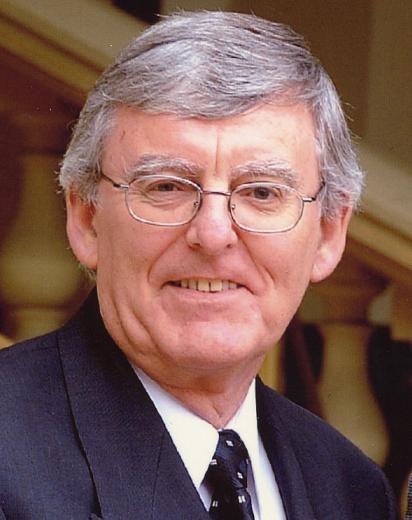 "Giving a bit of background history, the Trust began in 2000/2001 following Graham Kelly's visit to the States where he saw possibilities for Porirua. At this time, 80% of Whitby households had computers compared with only 8% in eastern Porirua when the Trust was started. The 2007 census showed that the percentage in Whitby remained the same but Porirua's figure climbed to 26% and our Trust would like to take some of the credit for that. There are 18,000 homes in Porirua and 6,000 in low decile areas so we have now put computers into 25% of low decile homes.
"The information revolution that has seized the world is as big, or bigger, than the industrial revolution that started in the 18th century. The changes are getting faster and bigger. We all have to be prepared to face and deal with these changes and up-skill, and we cannot leave anyone behind.
"We believe that our programme opens the eyes and minds of the children and parents we help to the opportunities that are out there, letting them know that they can achieve and we get them started on the first rung of the ladder. The changes our simple programme provides produce the 'wow' factor".
Each member of the Board spoke very briefly about their reason for joining the Trust and continuing to work on the vision. One of the Trustees, Winnie Laban, said,
"We are passionate about our children and we are passionate about our families in Porirua. No culture is born without a brain and the beauty about access to computers in homes is that we build strong citizens but also people who can connect with each other that can lead to best educational, economic and social outcomes. We are absolutely thrilled to see our families and children so empowered with CIH and it is a pleasure to serve all of you."
Minister Parata was introduced and welcomed everyone. She acknowledged the Trust and thanked each and every member of the Board for the work they do and everyone present for supporting the Trust in its work to build a stronger more connected community and giving access to all. She congratulated the Trustees for the excellent figures for Porirua that had appeared in the January 2014 Computers in Homes Half-year Report.
She said:
"Our Government has been serious about this. One of the first things we committed to doing was to introduce ultrafast broadband, and in the schools area which I can talk more authoritatively about, we have invested about $700m. By 2016 almost every school will have fibre to the gate and will be SNUPped (School Network Upgrade Programme). That will mean 24/7 high speed good quality free data into every school. Much of this is thanks to the work of my Associate Minister, Nikki Kaye. The Government has also announced that it is exploring ways to make the schools 'hubs' in order to create opportunities for the wider community so that they also have access.
"However, we know that it isn't just the technology. It is about the leadership, it is about the pedagogy and the way children learn and it is absolutely about strong parental and family engagement.
"The four things that I've been committed to as Minister of Education is that the two in-school factors that make the most difference to quality of learning and achievement is the quality of teaching and leadership. And the two out-of-school factors are the strength of parental engagement in their children's learning and the expectations that the community holds for them. Those are the four top factors of about 159 effects coming out of thousands of pieces of worldwide research to find out what it is that really makes a difference to learning in our classrooms carried out by John Hattie, Professor or Education at Auckland University.
"This is an 'and/and' approach therefore. It is not either technology in schools or working with parents. It is about how we do all of those things.
"The second thing is, how do we do this in a way that follows the learning journey of children?
"How do we make sure we get higher participation in early learning whether that's teacher-led and centre-based or parent-led and home-based? How do we get more of our children participating in really good quality early childhood education? How do we help them transition really effectively into their first formal learning environment at primary school and so on – from primary to intermediate – from intermediate to secondary – from secondary into tertiary choices, whether that's more education, training, employment - whatever it might be? We've got quite a challenge because the sector lives in their sector and they focus on their particular part.
"What I'm focused on is the child and their experience as they travel their learning journey and how we empower parents and whanau to feel engaged, to feel respected, to feel included so that it is a whole of community learning.
"Phil mentioned the industrial revolution in passing. Actually, one of our biggest challenges is that our education system is still very much built on a whole lot of principles that come from the industrial age which is centralise and control for the period from 9-3 - and by batch numbers – the year you were born. And that is how our schooling system has been set up. One of the biggest challenges to that, of course, is learning without limits. It is digital technology - the idea that the brain doesn't only engage from 9-3.
"We have fabulous resources in this country but the biggest resource we have is the one between our two ears. My job as Minister of Education is to do all within my power to make sure that we create an environment within which that resource gets the best care and nurturing possible. Digital technology and really capable teachers and principals, and parents, are going to be the next quantum leap.
"It is not enough to say that we have gone from the blackboard to the whiteboard to the video producers, to the data shows and now to this new piece of technology as if it is only about those movements. It isn't. All of you who work in this space know that you can get quantum shifts in learning and in confidence the more we explore the opportunities of this technology.
"For the work you do - thank you very much. It gives confidence to the people. The e-Learning Board is justly proud of how well Porirua has done in the Computers in Homes half year Report. There are cultural ways of learning and I think e-Learning in Porirua has shown the deepest respect and care and commitment to the communities here who are participating in Computers in Homes.
"I acknowledge the 1523 families who have had that connection through this technology to limitless learning in the 21st century. Congratulations to each and every one of you and I will do my best to continue to support you as long as I possibly can".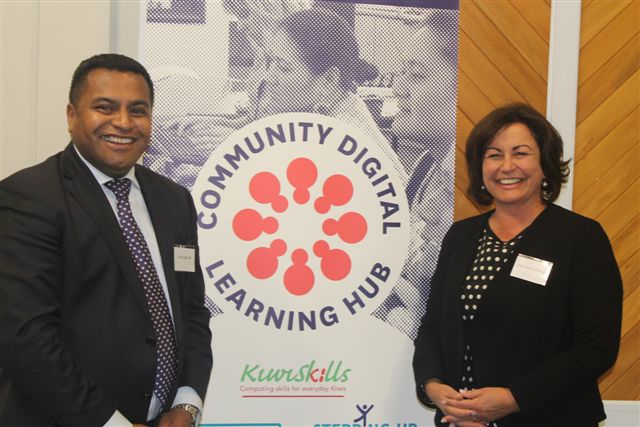 MP Kris Fa'afoi took the microphone and said that: "The members of the Board should be very proud and the personal stories really hit home. Thank you to Graham for his vision. Twenty years ago Graham knew that technology was going to be a big part of the success for Porirua but he also knew that the whole of Porirua had to be on board with that for the city to succeed.
"We can succeed even more. In September Porirua is going to be all about whether we are going to be one of the five finalists for getting the fastest broadband in the southern hemisphere to one of the cities here in New Zealand. The difference that would make to our community would be immense. We should try to push this as hard as we can. It is one thing to have a computer and the skills to use it but if we, as a city, can have the fastest broadband in the southern hemisphere right here in Porirua it will make a huge difference to us, educationally, economically and culturally.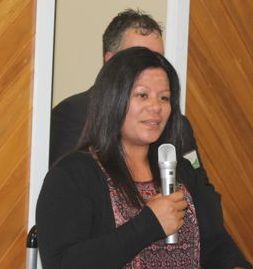 "Congratulations to everyone who has been through the programme, and congratulations to all the team who have done the hard work over the last 13 years. I hope that e-Learning goes from strength to strength".
Kris then presented a 2014 Samsung Galaxy tablet to Monica Ioane, the 1500th family trained by e-Learning. He also presented each of her children, Harmony 12, Natalia 13, Jamie-Rhys 14, Larissa 20 with an 8gb flash drive. These gifts had been generously donated by Tim Findlay from Remarkit, the company that supplies the refurbished computers to the Trust.
Monica thanked Minister Parata and MP Kris Fa'afoi and everyone who had come to celebrate. She said that receiving a computer at the end of the ten week training course had helped her children tremendously with their homework and given them access to awesome on-line education programmes that provide a lot of different learning games. She said that she felt more confident and that Google had become her best friend and she thanked the tutors for their patience in helping her.
"I am very privileged', said Monica, "to be the 1500th student from the Computers in Homes course and I intend to carry on with level 2".