The Porirua Civic Awards recognise and show appreciation to Porirua citizens for their outstanding voluntary service to the community. The awards were first established in 1993 and the latest Awards took place on Monday 26 September 2016.
Before the ceremony began, Passcode, a girls' barbershop quartet from Aotea College treated the audience to some beautiful barbershop music.

Among the very worthy recipients for a Civic Award was Graham Kelly. In the citation, Mayor Nick Leggett, saying that this would be the last time he would officiate at this event in Porirua City, read out the following citation.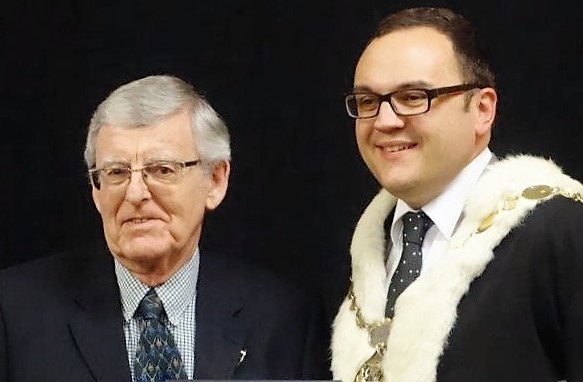 "Graham was the original driving force behind establishing the highly successful Porirua City Community IT Educational (e-Learning) Trust and has held the position of Chair for the last 15 years.
'Porirua e-Learning aims to support low-income communities to gain computer access and skills to strengthen their education and job options through the community-driven Computers in Homes programme. This programme provides computers in homes, schools and Community Learning Centres and provides families with the necessary skills and internet access to support their children's learning, obtain employment and engage more fully in society.
'Graham's vision to create Porirua e-Learning stemmed from his desire to help disadvantaged families in Porirua, with a particular focus on improving educational achievement levels and job prospects. The e-Learning concept emerged when Graham met the Chief Executive of Bell Atlantic during a visit to the United States of America in the 1990s in his Labour MP role as Opposition Spokesperson on Communications. He learned about the success of an initiative to raise student achievement and family cohesion in a low-income neighbourhood in Union City, New Jersey, which Bell Atlantic sponsored through getting computers into homes. During 2000, Graham worked with Phil Major to establish and launch Porirua e-learning in 2001, including working hard to bring in the funds and sponsorship necessary to operate the Computers in Homes programme.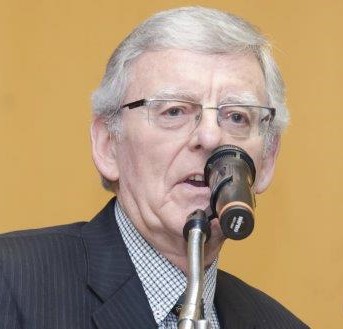 'Since formation, Porirua e-Learning has distributed computers, or finance for computers, to 24 low-decile schools in Porirua City with a combined roll of 7,000 students to lift their ratio of computers to pupils. In addition, e-Learning has now trained and given 1926 home computers to families, benefiting over 2,300 adults and 6,070 children in Porirua.
'Graham was a Member of Parliament for 16 years, from 1987-2003. He represented the Electorates of Porirua for 9 years and Mana for 6 years and was a Labour List MP for one more year before retiring and being appointed New Zealand's High Commissioner to Canada, Barbados, Guiana, Trinidad and Tobago and Jamaica for 3 years from 2003.
'During his time as a local MP he was instrumental in strongly promoting Porirua City's needs, particularly in the area of social housing.'
In thanking the Mayor for the honour, Graham mentioned the support he had received from his loyal Board, many of whom had remained with the Trust since its inception.
And, not to be outdone, the evening concluded with more beautiful music, this time from Eclipse, a boy's barbershop quartet, also from Aotea College.