Branching Out
Lynda Murray, Community Development Officer for Wellington City Council, oversees the Strathmore Park Community Initiative. Discussions began locally many years ago about the need for local training opportunities for people living in the Eastern Suburbs, suburbs such as Strathmore Park, Miramar, Mapuia, Seatown, Kilbirne and Lyall Bay. For a lot of people living in these suburbs who wanted to enroll in training courses, they had to go into central Wellington, or into Porirua or the Hutt.
At that time, discussions had taken place with Scots College about using their facilities as a training venue.
In 2018, Lynda contacted Graeme Yule, Headmaster of Scots, and found that the College was quite interested in exploring this more fully. He organised a meeting with Weltec/Whitireia and representatives from the College and decided that it was something that the College would like to support.
Weltec/Whitireia then worked out ways in which they could support the initiative and came up with some solutions.
In 2018, Welltec/Whitireia began to provide beginner Te Reo classes at the College. When it was found that this initiative was a success, they approached e-Learning to ask if they would consider providing a digital literacy course alongside the Te Reo classes. E-Learning has been running such courses in Porirua for many years and agreed to start in term 1 2019 with some 'Stepping Up' classes. Students were soon hard at work, using Chromebooks (e-Learning's mobile classroom resource) with help from some younger helpers!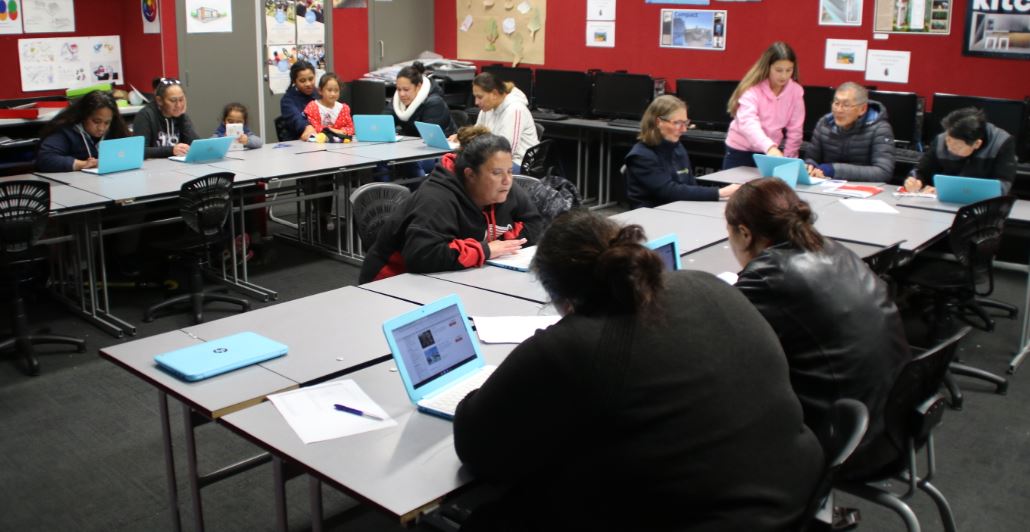 Rebecca Burton, Marketing Manager at Scots has been the liaison for the College. The reason why the initiative has succeeded is because of the collaboration and everyone making a contribution. Scots College provides the venue, Wifi and marketing support. Weltec/Whitireia and e-Learning provide the tutors and knowledge and Lynda's role has been to help spread the word and encourage local people to participate in the free training opportunities.
Courses provided by e-Learning are free for beneficiaries but those who can afford to pay may be required to pay a contribution of $50.
Lynda is really excited about the difference the courses are making. A basic understanding of Te Reo is very important and the opportunities provided by the computer training are huge. In many pockets of the eastern suburbs there is a real digital divide. Helping families to bridge that divide is great for adults and kids alike. Everything these days is online, so people who don't have some computer literacy or don't have access to the internet, are at a real disadvantage.
Lynda has had really good feedback from participants saying how much they enjoy the courses, how fantastic the tutors are and that they can't believe how much they are learning.
The real strength of this initiative is the collaboration between different organisations, contributing and working together to provide a free environment for people in the eastern suburbs. The whole thinking is about the collaboration, accessibility, and affordability.