What is the answer?
New Kiwis (former refugees) settle well, but how well do they integrate?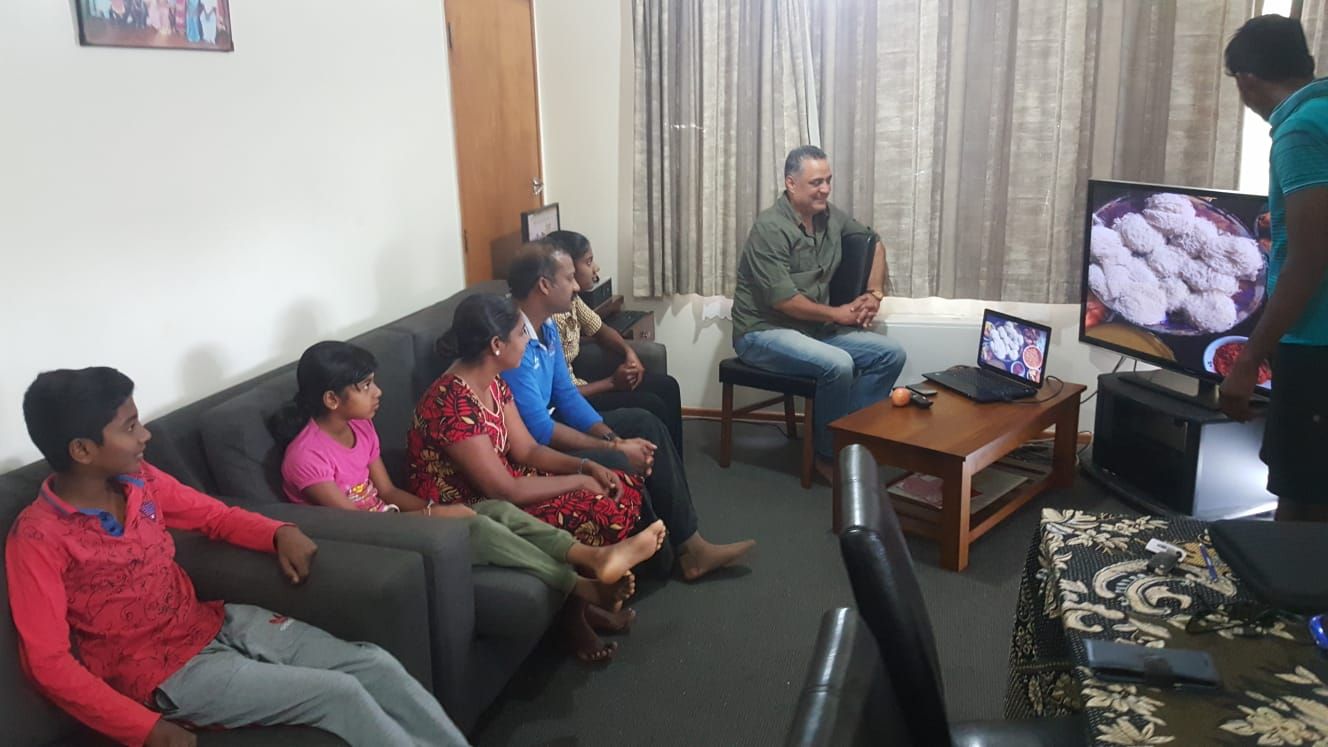 As we said on this site following one of our refugee graduations in July this year, 'e-Learning's work with the refugee families is very different from the usual training régime practised in Porirua and in different parts of New Zealand. Using the new approach, the whole family can participate. When classes are held in the training room, only one member of the family can come. By running the programme in homes, everyone can learn together. Ibrahim travels to the homes of the refugee families so that everyone in the family can participate'.
We often hear the success stories and we will tell some of those stories during the course of 2020.
It appears that in New Zealand we do an excellent job of settling refugee families. Organisations such as Red Cross do an amazing job. When we hear of a family's success it is very encouraging and heart-warming. Such was the case last week, when one of our students came to thank Ibrahim for his help in gaining full-time employment as a chef (a job he had had previously in his former country). He also thanked Ibrahim for his help in getting his wife part-time employment. I would like to say this is a regular occurrence, but sadly it is not. I wish we were better at integrating our new kiwis and maximising their human potential – for them and our society.
School / family partnerships and community engagement in learning are collaborative and promote mutual relationships among school personnel, families, and community liaisons and organizations. These kinds of partnerships have positive effects on students' academic performance, attendance, and discipline. For these partnerships to happen more effectively it would be helpful if all involved were more aware of the cultures of those they are interacting with. At the very least, stakeholders could learn about Geert Hofstede's Cultural Dimensions¹ and where they, and those they were interacting with, scored in these cultural dimensions. In relation to cultural dimensions, New Zealand is very high in individualism and masculinity and low in power distance and uncertainty avoidance. When we compare these with Middle-Eastern and South East Asian and South American countries such as Syria, Iraq and Lebanon, Myanmar, Colombia and Ecuador - they have a more collectivist culture where people appreciate harmonious relationships and have a high score in the power distance dimension. In a collectivist culture, family members learn together and manifest a level of collective intelligence that is greater than the sum of the individual members.
Fortunately, through the Refugee Connect Program that is funded by the Ministry of Education, e-learning Porirua took the initiative and has succeeded in turning the immediate needs of the refugees into learning opportunities. The vehicle for that success is always the collaborative relationships with schools, families, and the wider community in addition to the full awareness of the cultural dimensions and the differences between cultures or the blind spots, if you like. The problem is that this is only for a very small number of the refugee families and only for a limited time.
The government and its organisations generously provide families with refugee backgrounds with all means of support with the objectives of getting those families fully integrated into our society and helping them to be self-sufficient, which is great. For example, with English language, the adult refugees are provided with English courses that extend to 15 hours per week for some and 25 hours for others, for more than three years for many of them.
What is the problem then?
The problem is that, after three years and more, too many of the refugees still cannot hold a conversation, and struggle to communicate with the new society. All those families have something in common; they come from a collectivistic culture which is completely different from NZ culture, which is an individualistic culture. Families who come from a collectivistic culture background have a different way of perceiving knowledge. If you ask any ESOL teacher why refugees don't show the required progress, you may get one of the following answers if not all of them:
they tend to speak their mother tongue in the class
they are not consistent in attending the class
they bring their own problems to the class, or
they are illiterate in their own language.
In our observation many agencies (not just ESOL providers) tend to put all the refugees into one box, ignoring their experiences and their immediate needs and missing the opportunity of turning these experiences into learning opportunities. They use resources and materials that don't fit well with these particular cultures, they depend on data that doesn't reflect the reality and they ignore the cultural dimension differences.
The consequences of this, as we see them, are:
limited jobs opportunities,
frustration and social problems,
wasting government money and tragically,
wasting human potential.
At e-Learning Porirua, we would recommend the following:
find a way to give the migrants and refugees' sector in the Ministry of Education the authority to employ qualified ESOL teachers, and bilingual and liaison support people
share the data between all the organisations involved in the processes
adopt a different English language teaching method that fits with the needs of those cultures
provide professional development for all stakeholders in the Cultural Dimensions.
Hofstede, 2001; Kostopoulos, 2011 ¹
Editor's note
Working with the refugee families is an ongoing programme. More stories will follow.