Three graduations in one
Tim Davies-Colley, explained that the families present came together on 21 September from three different courses for the graduation ceremony at the RSA training facility of e-Learning Porirua Trust. On behalf of the students, he thanked Peter Lynch and Ibrahim Raouf-Morton, who had helped with the tutoring and Noel Evans, the Trust's technical expert.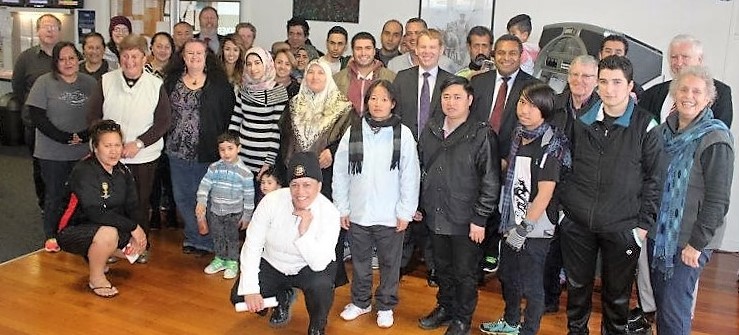 15 Families from Course Number 70
12 Families from a course that was run for Bishop Viard College families
7 'New Kiwi' Families from Syria, and Vietnam.
Present to congratulate the graduates and hand out certificates were: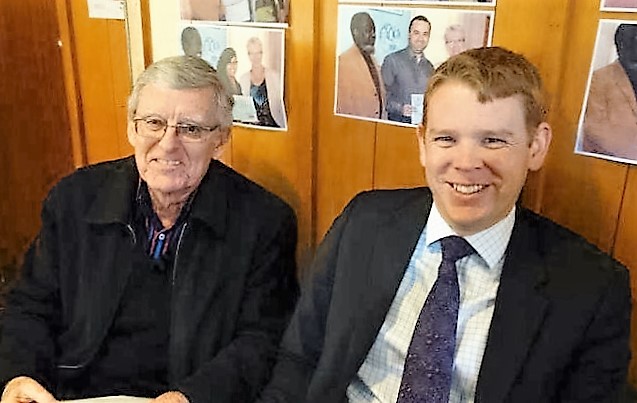 Chris Hipkins, currently ranked number 6 in the Labour Shadow Cabinet, the Opposition Chief Whip, Shadow Leader of the House and the Labour Party's spokesperson for Education, seen here with Chair of the Trust, Graham Kelly, and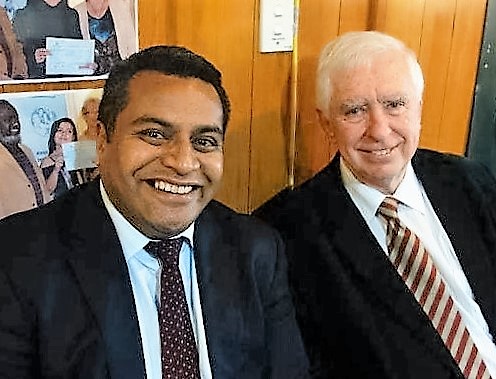 Kris Faafoi, currently a member of Labour's shadow cabinet, MP for Mana, spokesperson for State Services, Racing, Tourism, Associate Broadcasting Spokesperson and Assistant Whip, seen here with the Deputy Chair of the Trust, Phil Major.
Graham welcomed both MPs warmly and thanked them for taking time out to congratulate the graduates.
Graham not only congratulated the graduates but also told them that, based on research over the 16 year life of the Trust, they would now be able to get a job, or a better job. He told them that 65% of children of the families who have graduated from e-Learning courses have achieved average educational attainment for the country since getting a computer at home, and 28% were performing above the national average.
'I hope a computer in your homes will be the success that we expect it to be,' said Graham.
After all the certificates had been handed out, special awards were presented to several of the students who had written 'Their Learning Story'. Here is the story that won the top prize of a Logitech Headphones and webcam set for Skype, and was written by Jane Edwards.
Kia Koutou katoa e Rangatira o E-Learning o Rorohiko I oto nga kainga.
Communicating with past tauira who embraced the opportunity to enhance their learning about Computers for future enlightenments gave me a strong desire to be part of this enriching learning.
I look after two Mokopuna three times a week who attend Te Kura Maori o Porirua School, and understand that, having this extra learning device in my home will enable them to become more proficient in their life's travels of knowledge and understanding.
At first, being the age that I am (78), I became paranoid about whether I could handle any extra learning and wondered if it would sink in, but my upbringing through life, and employments I have been involved in stood out to me as a pinnacle of success.
A motto or taake I have always been guided by is: 'When the going gets tough, the tough get going – do it!'
So here I was climbing the steps of the E-Learning Whare, not knowing whether the Rangatira taking the course would look upon me as a Golden Oldie who should be home, tucked up with a hottie and a blanket.
All I felt when I entered the room was an air of friendliness, a spirit of acceptance and a group of Tauira who were bursting to learn, like me. Nothing was too much for the tutors to be called on for help and understanding.
My Aroha has now changed, towards all. They are skilled men in their professions, family orientated, lots of patience and humility.
May this E-Learning opportunity continue for all, especially throughout Porirua.
Whakatauaki o Te Rauparaha: or a Waiata:
Ka oho te Wairua
Ka Matara te tinana
He aroha, kite aroha
Ka Ka Te rama
When your mind, body and spirit are one, you can achieve anything.
Tena Koutou, Tena Koutou, Tena Koutou Katoa
Pepeha or Toku whanau
Ko Whitireia te Maunga
Ko Tainui te Waka
Ko Parerua Te awa
Ko Raukawa te Moana
Ko Ngatitoa Te Iwi
Ko Te Puta Te Hapu
Ko Te Rauparaha Te Rangatira
Ko Takapuwahia Te Marae
Ko Toarangatire Te Wharenui

Ko Mervyn Edward Kenny toku Papa raua Ko Te Kahurangi Pekahou Parata toku Mama
Ko Jane Ewards toky Ingoa
Tena Koutou, Tena Koutou, Tena Koutou Katoa
One of the new Kiwis, Hussein Smisem, said, 'It is a great opportunity to be here and many, many thanks to all the people who have helped us, especially Tim. God bless New Zealand. We are happy to be here'.
And Tim responded, 'We are very happy that you are here and that you are safe.'