The first of the second 2000
In the absence of Tim Davies-Colley, Noel Evans led the proceedings to celebrate the first graduation since the celebration of the 2,000th 'student' in August.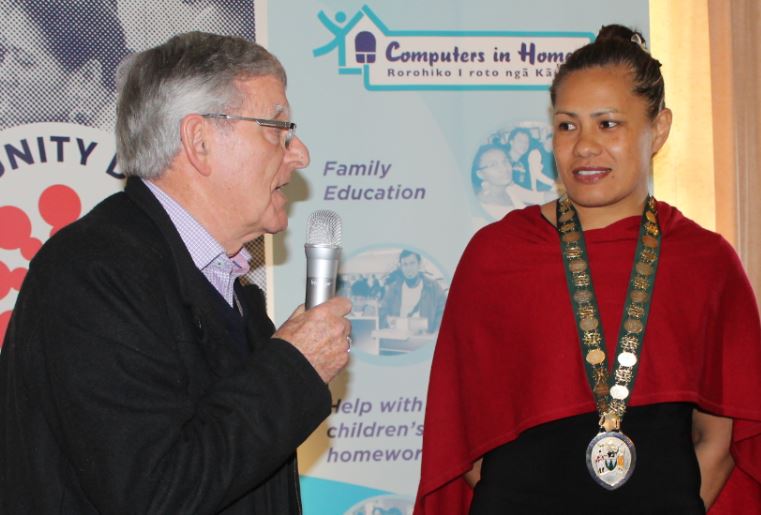 Graham Kelly welcomed Deputy Mayor Izzy Ford, Board members Wendy Betteridge and Martyn Newman-Hall and congratulated all the participants. He told graduates about the history of the trust and the fact that they were part of the growing numbers of people in Porirua East who had become competent in the use of a computer by completing the course. The numbers, he said, have risen from 6% of households when the Trust was first formed in 2000-2001 to over 30% today. Not only that, but 32% of graduates of our courses get a job within a year and 33% of the children of our students are achieving above average attainment levels in education, compared to the levels in the country as a whole.
Before introducing the Deputy Mayor, Graham thanked the hard-working e-Learning who continue to contribute so much to each of the courses run by e-Learning.
Peter Lynch – Tutor/Tech support
Noel Evans – Tech Support
Ibrahim Raouf-Morton – Tutor
Karen Lambert – Assistant Tutor
Sarazita Boyd – Assistant Tutor
Ada Mihi Te Hauora – Assistant tutor
With the cut in Government funding, the future was less certain than it had been for the past few years but Graham said that the Board was doing everything possible to raise funds by other means.
Deputy Mayor Izzy Ford congratulated all the graduates and said that what this Computers in Homes programme has enabled has obviously been to close the digital divide. 'When you succeed', she said to the course participants, 'your family succeeds, your children succeed, the whole community succeeds and, in turn, our city succeeds'.
Following the presentation of the awards, Board member Wendy Betteridge presented prizes to students who had written the best learning stories.
Shaye, Nicola and Kahutatara were commended for their stories and each received a 16Gb usb drive.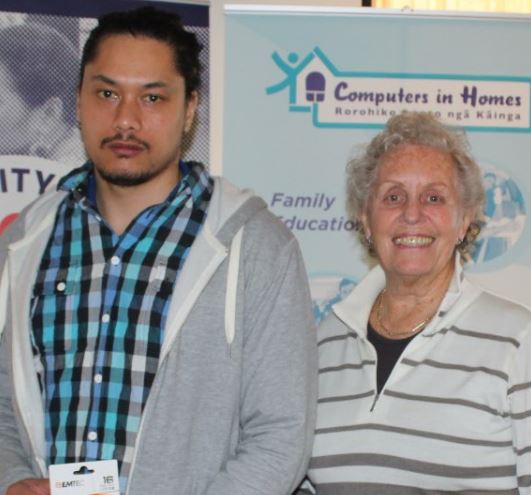 Shaye said, 'Hi, my name is Shaye Taui and I would like to tell you a little about my experience here at e-learning Porirua. I have enjoyed my efforts here and have enlightened myself a lot since I've been a participant. Most of my work here had it limits. Whereas I had to contend with my self-loathing, being a typist had for me it's underlying respects, forthcoming to referendum correcting who I am as a person. It felt as if most of my being here had its effect on me in everyday aspects of life revealing what having computer skills does for me. I liked the examination explained, and can't wait for future opportunities for experimental event time. It had for me permissible tendencies that raised my attention to my response to the logical implication of having my pure being knowledgeable enough or experienced enough to have a pass for being a typist and, being of a different ethnicity, belonging here at e-Learning Porirua. So I thank you for teaching me how to work through outcomes for purity in it as a participant. And in my journey here my unrelenting facts that people have as a partnership revealing the underlying truth in its own. I feel for my future that I can take this away with me for the rest of my time and give greater determination in life respects so I thank you so much for giving me your time and your own place and time in the world'.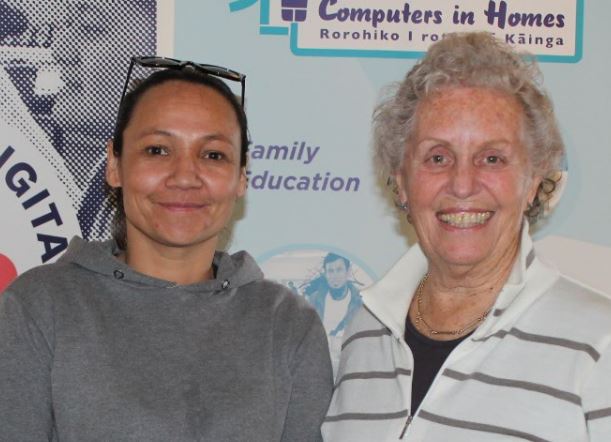 Nichola Brachen wrote, 'To the staff at E-Learning, I am writing to let you know how great the course and tutors are at e-Learning. The course is more than I ever expected - total support, one to one learning and added help to advance if you feel able. This course is just awesome for anyone able to participate in it. I feel funding for this course should increase and it should be almost compulsory for those on WINZ benefits where applicable. Thank you to all the awesome staff'.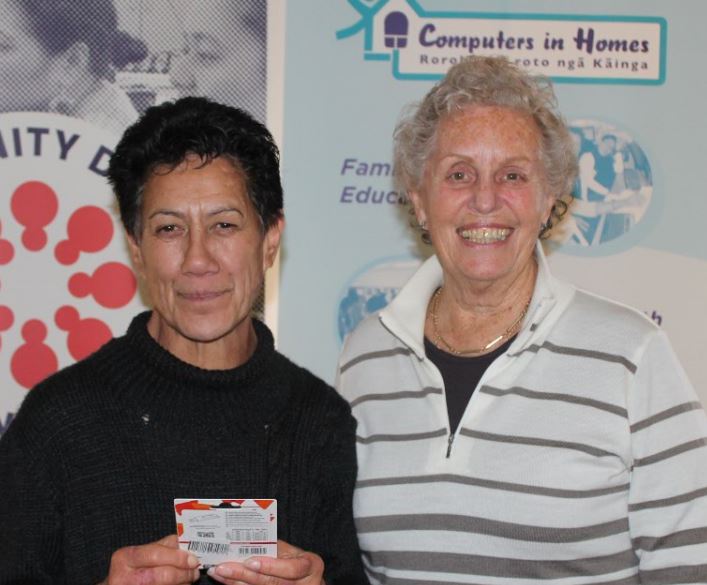 Kahutatara Polly Hunter wrote. 'I have learnt so much in such a short time. I wish I were able to carry on with this Learning Group. I have hope now for future learning even though time is limited for me. It's more for my grandchildren and having a computer in the home is ideal. There is so much more to be discovered, so I will keep on discovering all that I can; sharing, experiencing, learning and loving what I am achieving. So Thank You and Your Bunch of Merry Men for Your Time and Patience'.
Second place went to Tracey and Christine and they each received 32Gb usb drives.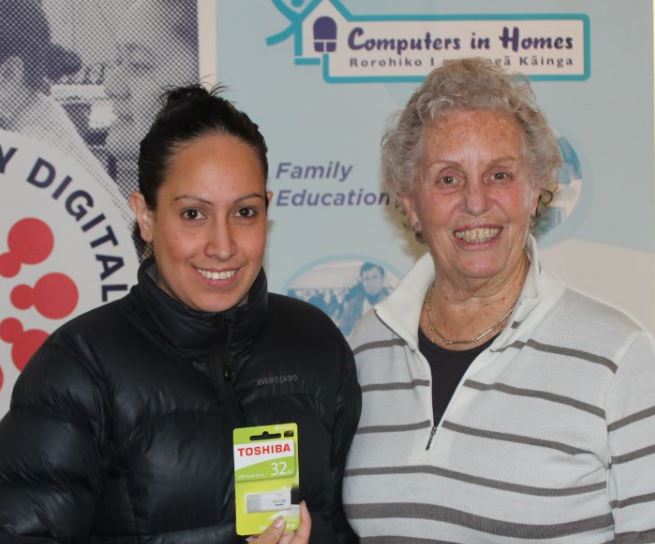 Tracey Wineera-Tungatt wrote, 'My support worker, who is also working with my son, asked me how I was with computers and I was like, "Yeah, I'm OK, I've done a computer course when I left college but never finished it". Then she asked if I would like to do a computer course at the Porirua RSA and I said yes, so she got all the papers and information for me. But I was a bit nervous about starting on my own so I asked my niece if she would like to do it with me and she said yes. So up to today, the 13th September, I have really enjoyed my time here learning new skills, meeting new people and also getting to update my cv for when the time comes that I can apply for some jobs. I'm looking forward to getting my computer home and then it will be helpful to my family, especially my kids. I would like to thank my support worker, Katrina, for getting me on this computer course, and a big thank you to all the tutors at e-Learning. You are awesome. I look forward to continuing my learning with my new computer. Many thanks. God bless you all'.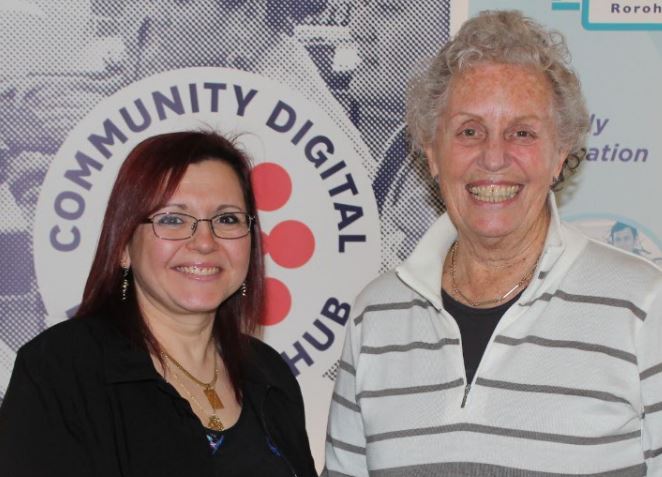 Christine Patelesio wrote, 'I heard about this computer course through a few friends. They highly recommended it to me as they knew I needed to learn and improve my knowledge of computers. I found this course really good. The tutors and helpers take their time to explain for which I am very grateful. I am no longer terrified of computers. I actually look forward to the classes and also when I go home and practise. I was very proud of myself that I even managed to apply for employment via the computer. I would like to thank everybody involved with the Computers in Homes Programme in Porirua. You are helping people like me to move forward. Thank you'.
And the first prize was awarded to Jessica Paki and she received a Skype kit.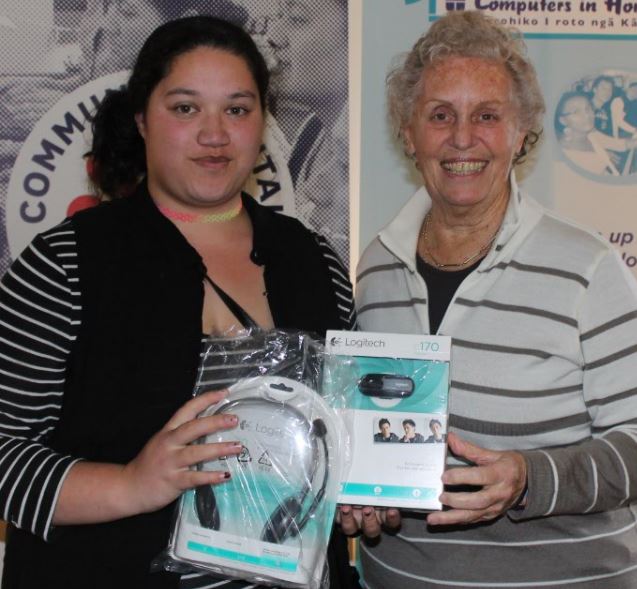 Jess said, 'My aunty told me about this course and at first I was a little hesitant about whether or not to apply since my 2 girls are both younger than 3 now. But I knew I could benefit from this course. I stayed optimistic and was keen to learn something new. So, I gave it a shot.
A few days into the course I was starting to think that maybe this course wasn't quite right for me and I felt far too ahead of the class. But I kept optimistic. I remained determined to learn something new and I did. I learnt how to use Google Drive. I learnt where to save important documents in case my laptop broke down or something. Now I'm glad I came here. School never taught me how to use Gmail, or Google Drive, so that was something new and useful.
I want to be an accountant. I'm good with numbers and computers and I learn fast as well so being an accountant seems challenging and achievable for me. I plan on enrolling with Whitireia Polytech in an accounting course. I heard they have a daycare there as well so if I go there I can take my kids to the daycare. That way we're all going to school and they're relatively close haha. Thanks'.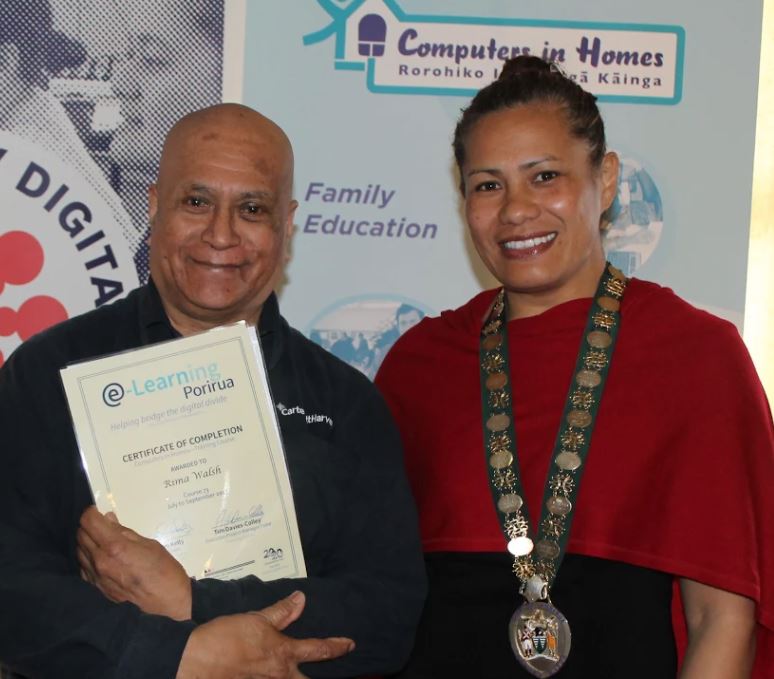 Before the graduates and all their supporters enjoyed lunch and collected their computers, Noel asked if any of the students would like to comment. Rima Walsh gave a speech of thanks. He said, 'I didn't even know how to turn it on and after my first day I nearly didn't come back.We're very glad he did.