Principal attends graduation of parent and family
It is no longer the norm for graduations to attract just one honoured guest to hand out certificates. For the past two graduations we've also been lucky enough to welcome principals from some of our Porirua Schools.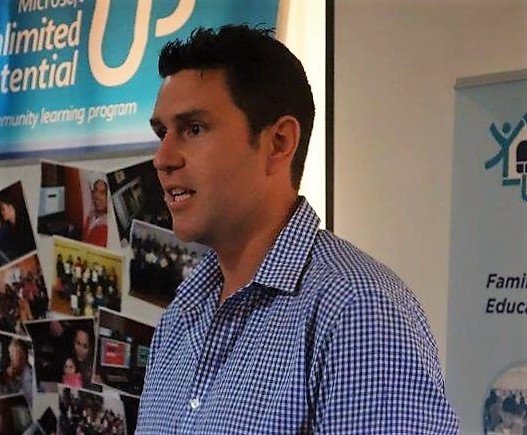 And so it was for the graduates of the 66th Course provided by E-Learning Porirua for the successful graduates. Chris Theobald from Holy Family School managed to spare a little time away from his busy schedule to come and witness the celebration and to congratulate the successful graduates.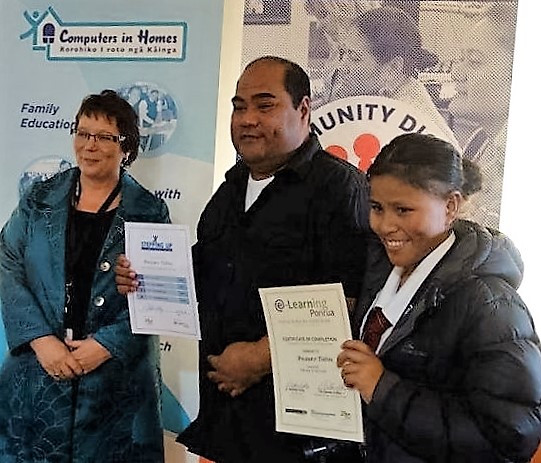 'It was a great way to celebrate the hard work of a group of committed learners', said Chris. 'Technology is becoming more and more pervasive in our society. It is never too soon to equip ourselves with the understanding and technology to better our place in the world. Our young people are becoming more and more capable in the digital world - as adults we need to help them navigate this online space safely and appropriately. We can only do this if we have an understanding ourselves of technology and its reach. The e-Learning Porirua Computers in Homes initiative is an awesome way to assist whānau to bridge the technological divide and ensure that everyone in the community has access to the online world'.
It was particularly fitting that Chris managed to come to this particular graduation. One of the fathers at his school, Bwauro Tiibin from Kiribas, was graduating, accompanied by his daughter, Amemeta. It was a proud moment, both for Chris and for Bwauro and his daughter.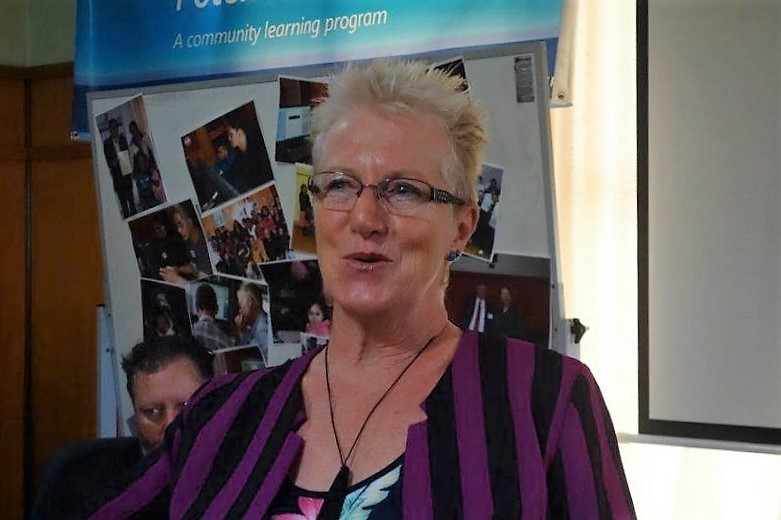 Chris Theobald was not the only special visitor who came to the celebration. The more graduations we hold, the more people are attracted to come along and congratulate our students. As if often the case at these events, we were also delighted to welcome Di Das, the National Coordinator of Computers in Homes. As usual, Di had a few words of encouragement and wisdom to share with the group.
As our main honoured guest, we were delighted to welcome Tracey Martin, New Zealand First MP and spokesperson for Education, Women, Communications & IT and Broadcasting. She proved immensely popular with the students as she told a little about her life history.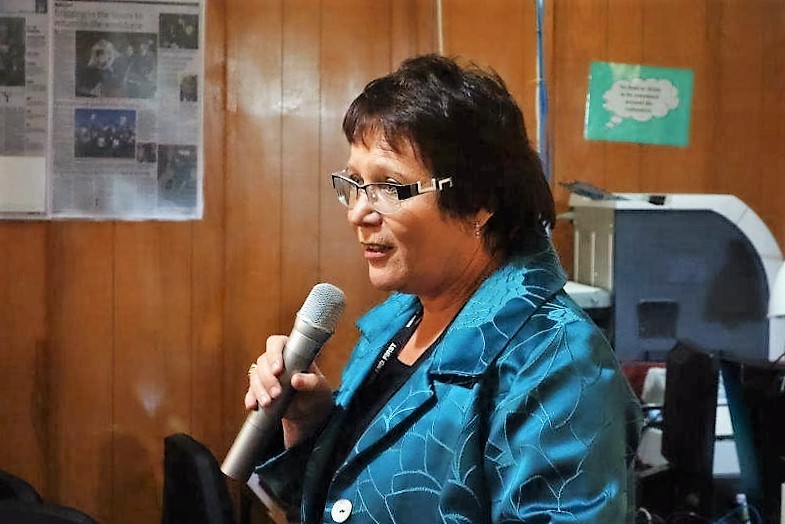 "I love attending a Computers in Homes prize giving', she said. 'One of the bravest things for an adult to do is admit they don't know and put their hand up to learn, to challenge themselves, to push their boundaries, not knowing if they will succeed. And Computers in Homes participants are some of the bravest people I know. The majority of participants don't sign up for themselves, they sign up for their families. They put themselves outside of their comfort zone so that they might upskill to gain higher paid employment, to retrain to gain current employment or to be able to participate in their children's learning. I came to Parliament straight from being a stay-at-home-Mum. I love having the opportunity, in particular, to tell Mums that what they are doing raising their kids is incredibly valuable and that the skills they are learning while doing that are very marketable. Computers in Homes adds some essential skills into that mix with recognised positive results'.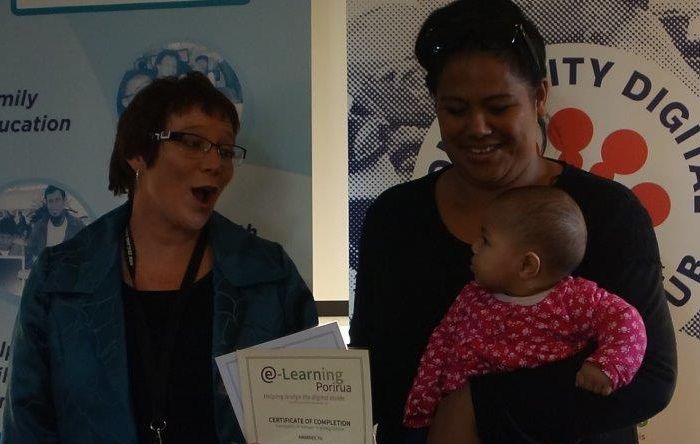 And it was quite clear, as she made the presentations, that children were an important feature of her own life and such an important part of the lives of the graduates. One of the graduates, Kamiria Mullen, spoke to the group and agreed to let us publish the story she wrote just before the end of the course.
'My name is Kamiria Mullen and I am 74 years old. I retired from Teaching 9 years ago.
'About 20 years ago I bought my first computer, and then proceeded to teach myself how to use it. You would not believe the messes I made. I got help from family members and friends to fix things I did wrong. That did not always work but since I was not very financial I could not always afford to get a professional to help me fix my mistakes.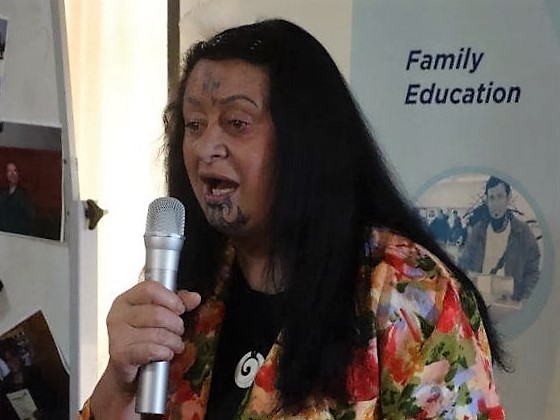 I learned enough to get by in Microsoft Word, e-mail; however I knew that I did not really know how to use everything in Microsoft Word or Power-point and other programs on my laptop.
'When I retired from teaching I tried to learn more about how to use my computer especially to do my whakapapa/genealogy and writing my life story. I am an Artist, a published Poet and writer. I needed to learn how to improve on my computer skills with the view to setting up my own web page.
'I was looking for a way to increase my computer skills; however I did not want to end up with another student loan. Then I spoke to a friend who worked at WINZ and she told me about a free Computers in Homes Course run by e-Learning Porirua in the RSA building in Porirua East. I enrolled in their course and began to learn how to use all sorts of things on my computer. As a retired teacher I saw that this was an awesome way to learn how to use programs on my computer without the stress of exams.
'All the teachers here have been so supportive and helpful to all of us. I believe this method of teaching should be used in high schools to take exam stress off students. I particularly like the "Cheat Sheets" which assist you if you forget what you have learned.
'I graduate next week after completing their 10 week E Learning Course. In my opinion, thanks to all the teachers here, this is the best computer course I have ever done'.
Which all goes to prove, as we say so often, 'you're never too old to start learning!'