Only a small number this time
Although Course 81 started with a large number of students, several fell away during the ten weeks for various reasons so that only twelve graduated on Wednesday, 26 September.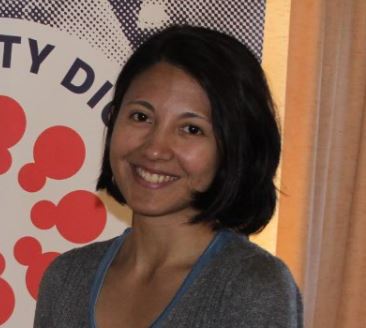 Present at the graduation was Angie Mũnoz Cubillos from Pathways Health. Angie had come along to support two of the students who were graduating but in the event, she agreed to present the certificates to all the graduates.
e-Learning Porirua's programmes have now reached 2,316 graduates and this is all the more remarkable because the Trust lost Government funding in 2017. The work continues, however, thanks to the Board's diligent use of funds and it is hoped that Government funding might be restored in the May 2019 Budget.
Meanwhile, apart from those graduating, the data shows that over 14,000 people in our community have benefitted since the Trust's work began in 2000.
Before the certificates were presented, Chair of the Trust, Graham Kelly, told the students that the skills they had acquired would be transformational both for each graduate and for their families. 'You will be able to look at the world in a way you have never done before', he said.
Tim acknowledged Peter Lynch for his technical support and tutoring and Ibrahim Rauff-Morton, the Trust's main tutor for Refugee Connect, tutoring whole families in their own homes. He also thanked Karen for assisting with the tutoring and Beatrice for catering the event. Beatrice is a successful graduate of Refugee Connect and is now starting her second year of social work at Whitireia.
In introducing Angie, Tim Davies-Colley, Executive Director, said that, in addition to Pathways Health, a couple of other organisations have begun to support our courses and refer people to us.
Angie congratulated everyone and said, 'Keep going, keep studying and keep learning because the future is out there'.
One of the graduates couldn't stay for the presentation because she has just started a new job. One of her first tasks was to employ two new staff. This was, of course, very good news and is just one of the successful outcomes of the work of the Trust.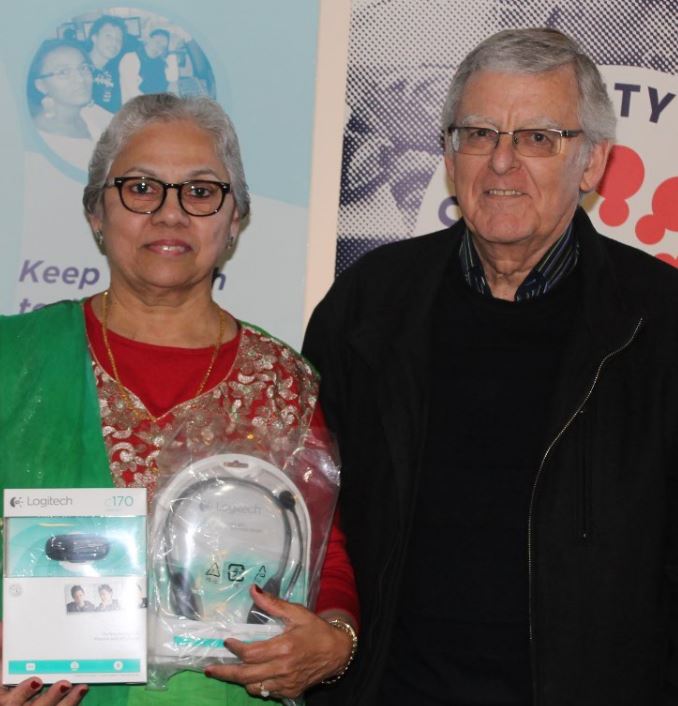 Following the presentation of certificates, Graham presented a Skype Pack comprising a webcam and microphone and headphones to Lila Prasad for her winning story. Other students' stories were highly commended and they received flash drives for their efforts. Her story is set out below.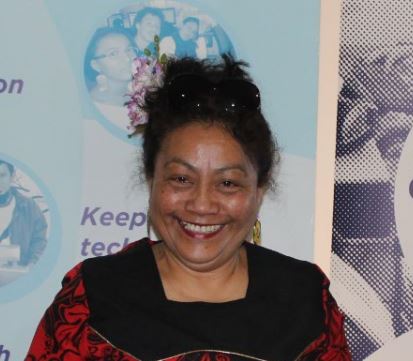 Sailo Masoe offered her thanks, saying, 'thank you for getting involved in my life. Sometimes I used to ask my kids for help and they did it for me. I decided to come for help for my own safety. When I got here I soon connected with everyone. Thank you so much for the programme and for getting involved in my life. Thank you to all my friends so that we can have a safer community together.'
Lila's 'Learning Story'
I am very happy to find the right place after searching for so long. In the beginning, when I came to Wellington, I tried to learn computer at Whiteria. After a while, my eyes started having problems. Then I had to stop.
For so many years I did not think I could succeed and I put myself down. When my grandchildren come home from school, they told me they have been playing with the computer and they were so young. I look at them and think it's so easy for them. I thought to give myself another chance. I did not see any age barrier. I still had interest in it. I thought, even if I do not gain, neither will I lose anything.
Under the canopy there was a computer room so I went there to find out if they are teaching computer. There was a lady at the reception and I talked to her. She was such a nice lady. She started searching on the internet and she found your number and she rang you but there was no answer so she gave me your number. Next day I rang you and talked to a guy. At that time I did not know who he was but he told me all about the course - when it is starting and how long it will be. He told me to come and enroll. I was lucky to find this place at the right time, because the following week the course was going to start and I did not have to pay anything.
That's how I knew about this place. I am so happy to find a place after so many searchings. I have learned and understood so many things here. The way you teach and display on the screen. We all can see at the same time where you are going and we follow it.
You Tutors are so helpful to show us when we are stuck anywhere and when we need your help. You love your students so much and are ready to help. You have so much patience to describe to us even when we do not get it once or twice or even many times. Even at the last minute, you want to give us knowledge as much as you can.
Now I can use the computer for so many useful things like recipes how to cook, health and medicine, cleaning, wishing happy birthdays, even in my free time I can play games or watch good entertainment programmes.
I am so grateful I did not lose hope. It was very useful giving another chance for myself.
And the hot water is always boiling for the cup of tea and coffee whenever we want it is available. You have such a hospitality heart. There was no barrier if we come late or want to leave early. There was no restriction. It was like a family working together.
I enjoyed with other students here. They were very nice and trying to help each other. Above all, I am taking home a computer with me to use it for myself. I am truly blessed.
I don't mind if I don't get the best prize. All I want is to be known as a student that I learned as much as I could. I hope you enjoy this story.