Magic number - 2060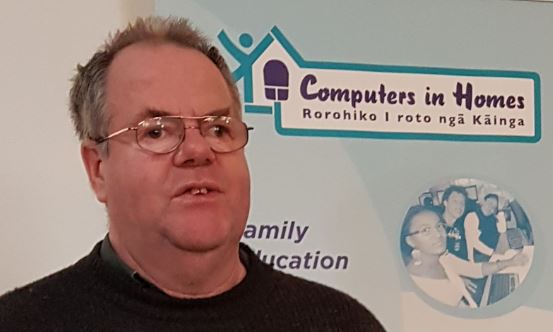 In Tim's absence, Peter Lynch welcomed everyone to the 76th graduation at e-Learning Porirua. Tim had been involved in a Digital Inclusion Workshop where everyone present was trying to work out how to help as many people as possible to become digitally able.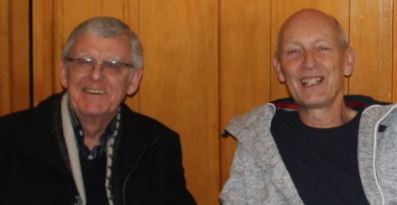 Peter outlined the plan for the graduation and introduced Graham Kelly, Chair of e-Learning Trust, Wendy Betteridge, the Trust's webmaster and Martyn Newman-Hall, the Trust's Treasurer. He thanked Ibrahim, the refugee tutor, for taking the photos, Karen for helping to tutor and Hayneen for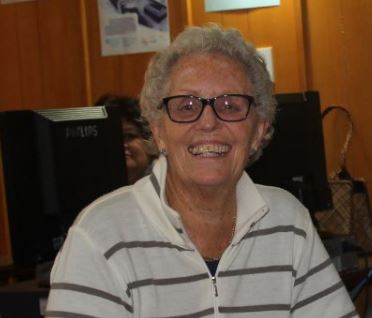 doing the catering with the help of Beatrice.
Graham welcomed everyone and congratulated them for completing the course, saying that it is often harder to be an adult learner, especially when learning to use a computer. 'Once you get the hang of it', he said, 'it is like riding a bicycle. You fall off a few times at the start but once you get your balance, it becomes easier'.
Graham said that what is going to happen to the lives of all the graduates and those of their children is very exciting. 'You have now got the skills to get a job that you wouldn't have got before', he said, 'and it will be a job with higher pay and you will be better off and so will your family. This is especially important for the children because they are going to be able to use this computer that you are going to take home'. He urged families to set some ground rules so everyone had a turn and he suggested that families invite their neigbours and friends to use the computer as well so that the whole community becomes digitally literate.
This graduation means that 2,060 people have now graduated in Porirua and taken a computer home. Each family will be better off because of it. There are still well over 300,000 people in New Zealand who don't have a computer and that's a lot of families and a lot of children. In Porirua alone, there are 1,100 people who do not yet have digital skills.
The children will have homework and assignments to do. When e-Learning was formed at the beginning of the century, we didn't know what the effect would be on the children in the families. Results of a survey done a year ago show that 65% of children who completed the courses have achieved average educational attainments when compared with children across the whole of New Zealand which means they are up with the best. Only 5% of these children were below average. More importantly, 28%, often those from low decile schools, have achieved above average. And all because families have a computer at home.
The Trust has to raise money. Each course costs the Trust about $3K per family. We have to apply for grants from all sorts of places and it is important that we can get that money. In the past, we have got some money from the Government. Unfortunately, the previous Government cut out the funding and we have not yet received any money from the current Government. All the Trustees are individuals who live or work in our community. They have a commitment to Porirua and some have been on our Trust for a large number of years.
Graham offered his congratulations once again. He thanked the graduates for participating in the course and wished everyone good luck for the future.
After Graham had presented the certificates, Tim presented gifts to several of the graduates whose 'Learning Stories' had been highly commended. Learning stories which are the opportunity for students to write about their journey on the programme, their thoughts before they started and their thoughts about what they might do afterwards for themselves and their families.
In no particular order, the recipients were:
Kura Andrews
Fiona Hung Fung
Leoni Phillipa Hamilton
Brian Johnston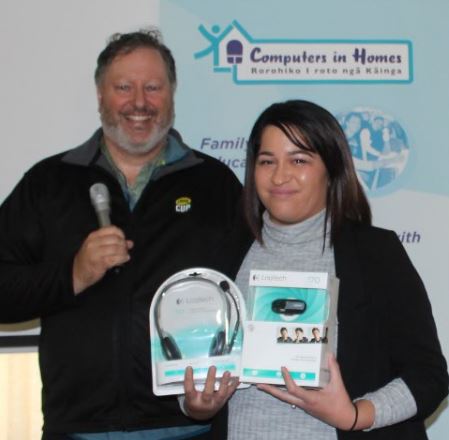 Michaela Rose Hindson wrote the winning story and was presented with a Skype pack or video conferencing facility with a camera, headphones and boom mike.
Here's her story - her journey of hope.
'This Journey starts back in January 2018, homeless, car at the mechanics, and my son due to start school…..
'I had to drop my pride and start again, I also lost my father, first cousin, and nephew weeks apart. I realised my babies were missing out on their mum because I was lost - always on my phone and on Facebook.
'I decided to take all social media off my phone and start reading the weekly Kapi Mana. It was by far the best thing I ever did. I realised I spent way too much time posting about our memories instead of really enjoying the moments with my babies. I saw an ad in the Kapi Mana and rang Tim straight away. Tim was really knowledgeable and made me feel so welcome. I thought I knew quite a bit but boy, was I wrong. Now my boys always ask how school (the course) is which is cool as we have something in common. My relationship with my boys has never been better.
'One thing I love about this course is that I was freaking out on day one but soon realised that it's an awesome, laid back learning environment that I'm loving to be around.
'Next year I will be starting the New Zealand Certificate in Computing (Level 2) at Whitireia. I really believe that this course helped me realise I'm actually really capable of learning and achieving more. This whole journey has really lifted my spirits and paved a way for me and pulled me out of a really dark space that I thought I'd be trapped in forever. I really want to thank Tim and the team for all their help with my journey and as it continues I will be back, hopefully, to give back some of the skills I've learned from Whitireia.
'Long-term, I hope to work in I.T and give back to the community that helped me grow as a person and a mother. Thanks so much, team, and I wish you all the best'!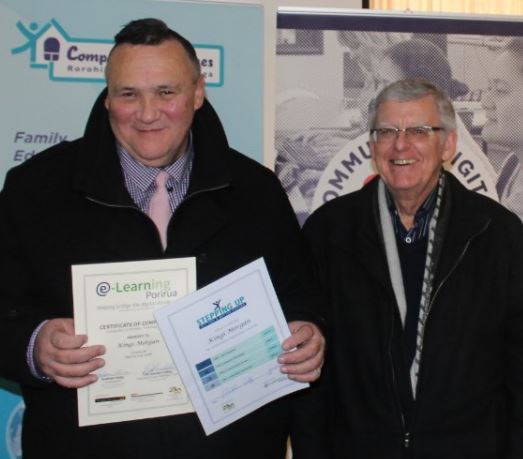 Before everyone headed off to pick up their computers and a group photo was taken, Kingi Morgan, from the Hutt, accepted the offer to speak. He said that people had different levels of understanding and that the class had enabled people with different learning styles to develop. He now knew who to ask for help and other students were more than happy to share their knowledge. He realised that despite an initial fear of the internet, he would now feel safe and secure using it. He would pass his knowledge onto other people who cannot afford to have computers in their homes. He finished speaking with a song and everyone joined in.
And then it was time for the final celebratino photo to be taken. Some photos appear on this page. You can obtain others from e-Learning.