Graduation from Course 85
On 10 April, 20 people graduated from the 85th Computers in Homes course, in Porirua. The certificates were presented to the graduates by local principal, Rhys McKinley (Windley School) after he had spoken to the assembled group.
Rhys encouraged the graduates with their learning and praised them for supporting their children's or grandchildren's learning.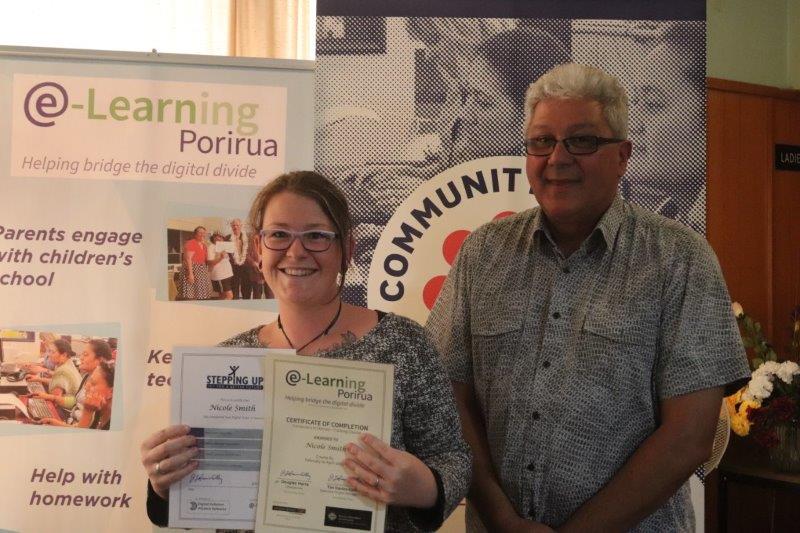 One of the graduates, Nicole Smith (left), is seen here receiving her certificates from Rhys McKinley.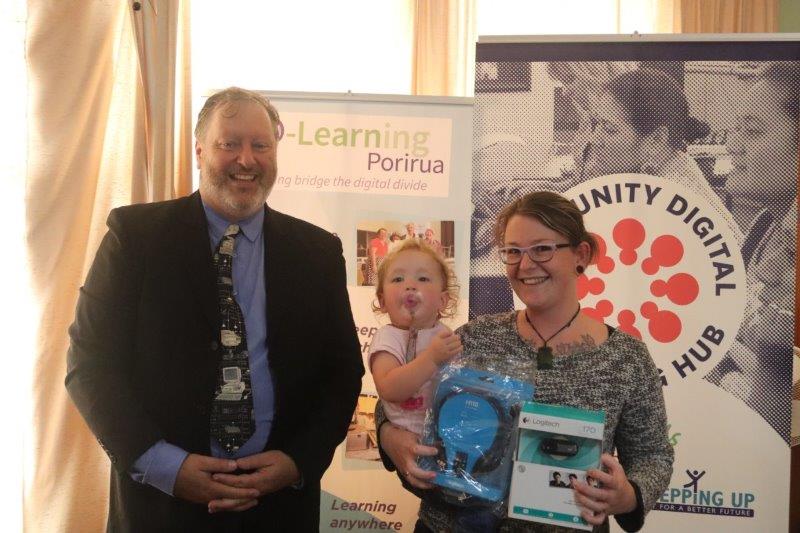 Computers in Homes courses allow people to discover new ways of learning and gain confidence. This is often best expressed by the students themselves in their own "Learning Stories" as they reflect on the course. Here is Nicole's Learning Story which won her a Skype pack (headphones and webcam) for the best learning story. She and her baby are pictured here receiving her 'prize' from Tim Davies-Colley, Project Manager of e-Learning Porirua.
'On 27 February 2019, I signed up for the first course since graduating from my degree two years ago. It has taken me a while to get past the familiarity of doing the same thing day after day especially with my youngest being not quite two years old. So I decided to tell myself I was going to do this and get myself back out there, into the adult world.
'These lessons have been an amazing way of building confidence in myself back up. I have been worried that doing something for myself will negatively affect my children and mean my house will get messy or I won't be bothered to cook tea. However, none of those things has happened.
'This course has refreshed my office work skills, as well as teaching me new website and search abilities. These days almost everything is done with some form of technology help and it is something both young and old benefit from learning. I thought I knew enough about computers but now I even know how to set one up!
'Thank you to Tim, Peter, Ibrahim and Karen for all the non-judgmental, humorous and relatable help over this course. It has been super appreciated, and I have encouraged many people I know to sign up for the next one.
'Many big thank yous!'