Former Minister presents certificates
It was a privilege for the Board and graduates alike when Former Minister of Education, Russell Marshall (seen here with Chairman, Graham Kelly, and Technician, Noel Evans), agreed to present the certificates to the graduates from Course 72 on Wednesday 5 July 2017. As is so often the case when we ask visiting dignitaries to present these awards, Russell expressed his congratulations to all the graduates and wished them well for their future journeys.
Some of the graduates had written stories about their learning journey with e-Learning. Here are some of them: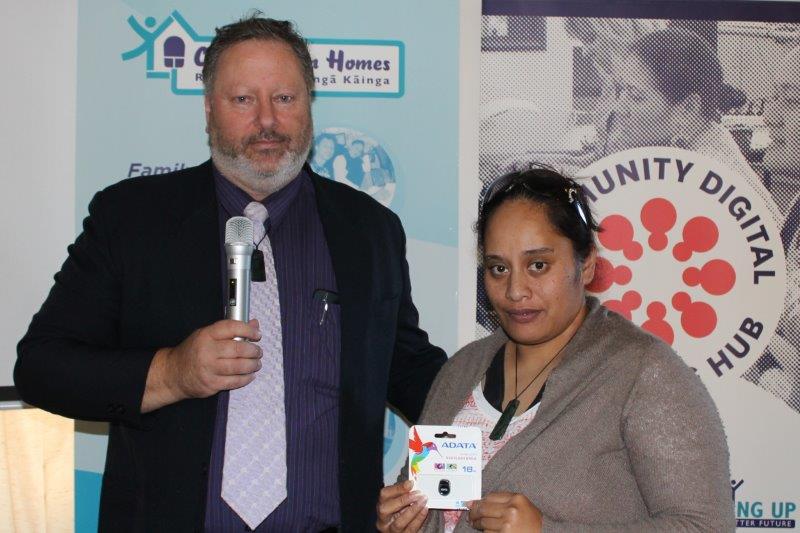 'Hi e-Learning team,
'My name is Caroline Haimona. i am privileged to be able to be here on this course to learn about computers and how to open up my own gmail account and how to do me a c.v. this course has been a good help on things that i wanted to know how to use the google account and how to search for the main things we need and it also help me learn how to look up things for my family.
'This course is the most helpful thin. i never knew that you could also use google drive and google calendar also it has changed my ways on how to use a computer. now i'm more ok to just jump on any computer now and look up things and really am happy to know how to even turn it on was my main one i didn't know how to do this now doing this course has help me so much in knowing what to look for in the computer. i'm so thankful that this course is here for everyone to jump on cause it help me a lot.so from the bottom of my heart i like to thank you for the help you have given me in this course. Thanks'.
Caroline won one of the prizes for her story.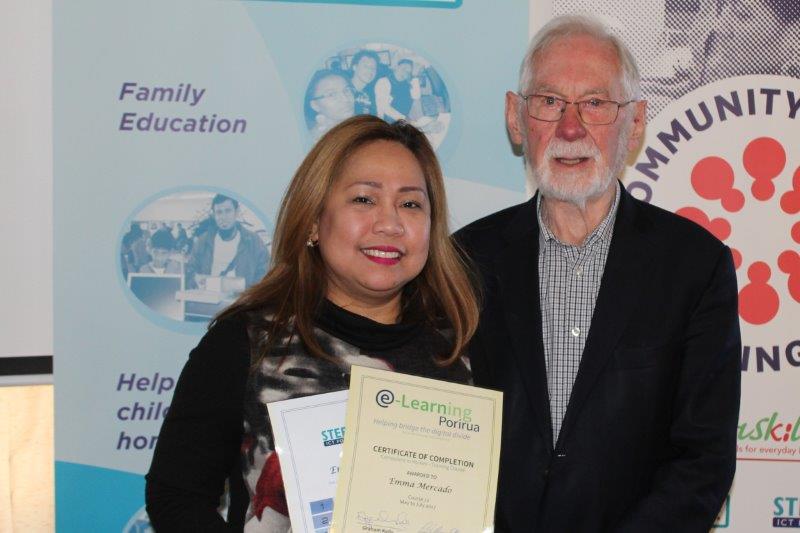 Emma Mercado writes, 'I want to express my sincere gratitude for all the efforts you have taken during this computer course. I enjoyed each and every session and I looked forward to going to class every Wednesday.
'I really appreciate the way in which you guys helped me learn computing, which was one I wanted to learn. However, by making the lessons innovative you not only helped me in getting a good CV but also in developing a keen liking for it.
'I thank you again for all the wonderful work you have done and wish you all the best for your future endeavours'.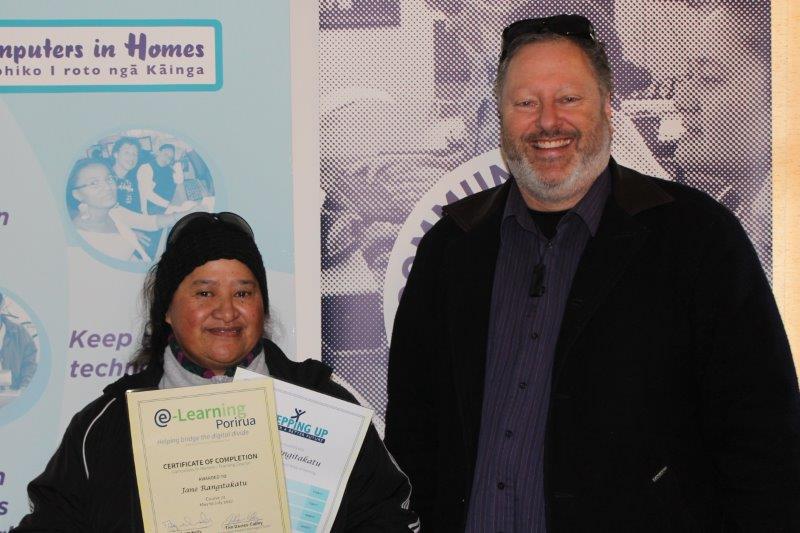 'Hi e--LearningTeam, my name is Jane Rangitakatu. i am most privileged to be able to be here on this course to learn about computers and how to open up my own Gmail account. Also to be able to find my way around on the internet more confidently so that i could be more informed and educated.
I will also be able to keep up with my mokopuna now.
'I have learnt much more on this course then i have ever imaged i would. I've always seen my friends do things on the computer but never understood how to do it myself. I also now know how to create my cv online which is now saved on google drive,how to get in and out of situations that i should not be in, also how to manage getting into google calendar and learning how to write a story big ups for that.
'The course has be absolutely great for me. i've met great students on this journey in the same situation. I appreciate the staff and this course so much for helping me with my learning. And knowing how to take the computer apart and putting it back together also knowing how to get into google drive/turbo typing etc.
'Kind regards to all of the staff members. Big ups to you all. Thank you most appreciated'.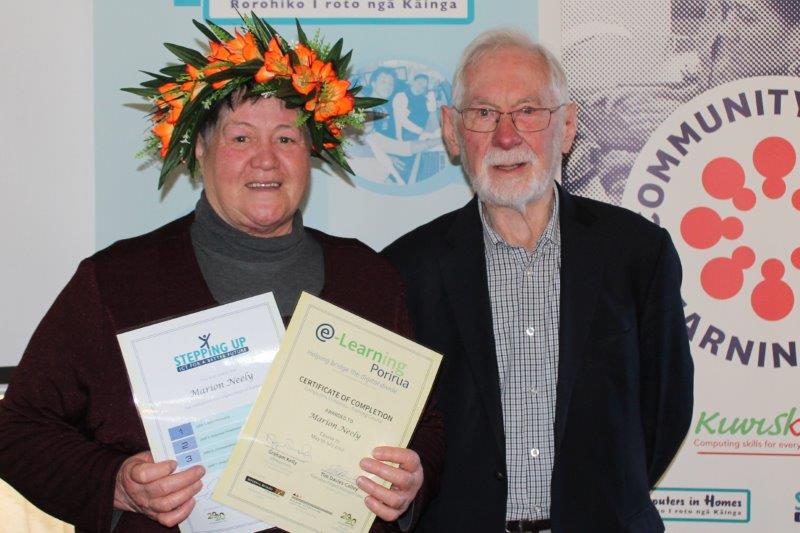 Marion Neeley writes, 'My Journey has been to exercise my fingers and brain in the knowledge of computing. Our Tutor Tim came to the whanau centre in Cannons Creek and spoke to our group about computer learning. I became interested and wanted to learn. I applied for the computer class at E-learning.and was accepted.
'What have I learnt while I've been here? The first day i was learning to operate how to put a computer on and its functions, how to log your name in and be given a password to make it personal for myself.
'Searching for a subject and learning how to use google.I have made mistakes along the way by pressing the wrong key and all my work would disappear which was very frustrating but I'm still learning some of the tools on google. When I go into google .com I'm exploring the subject that I have googled and set my task on what I want. I've learnt to do emails,and understand what is cc and I can multiply my sending to people.
'I've used my career portfolio A/c, only thing the work disappeared. Code org was very interesting.I'm enjoying the class very much and will continue until we finish'.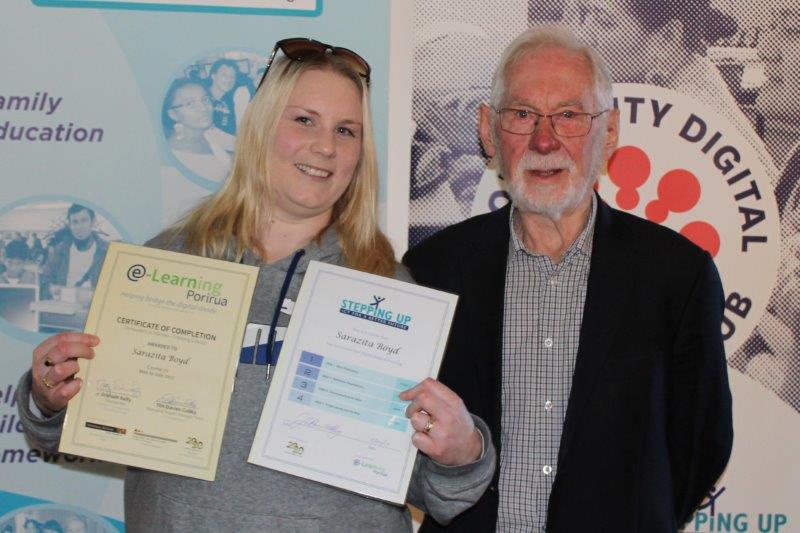 'My name is Sarazita Boyd. I would like to thank the e-Learning team. I am so very grateful to be doing this course and to have met you all and made some new friends along the way. I appreciate all that you all have taught me during this amazing learning journey. I feel a lot more confident using a computer which will help me so much to get to go where i want to be in my future as i plan to study this year, have my dream career as a massage therapist, to run my own business and give my family a better future.
'I did not know much about computers which held me back in applying for jobs in the past, made it hard to study, communicate online and do my own c.v. Now i know how to copy and paste i am unstoppable - its amazing lol. I had no idea how many things you could do on google or the random things you can search, how to fix all your spelling mistakes with a click of a mouse and organise my family's lives. I look forward to being really fast at typing which i have been practicing.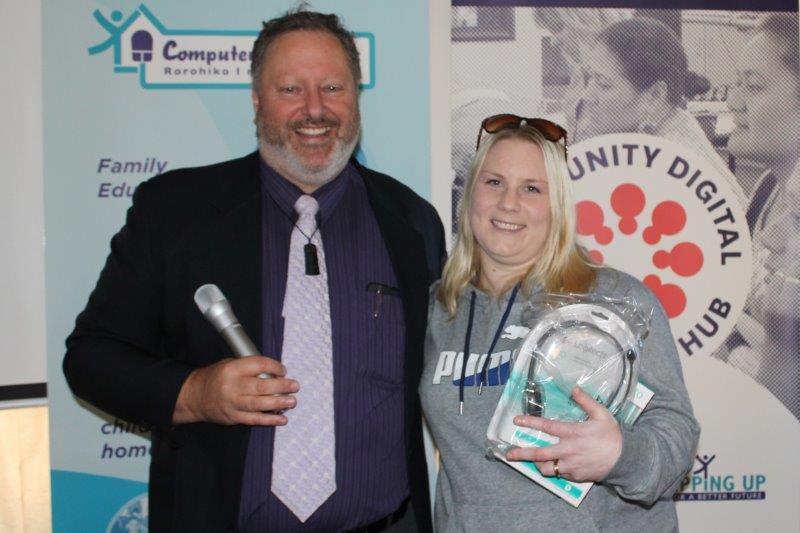 'This course is such an asset to the community. I can't believe the government is going to stop funding it. As it is a great opportunity for those of us that aren't able to afford to do a computer course, or buy a computer or pay for internet as we all go through life's struggles. There are so many of us that never got to learn how to use computers at school. Not that we were to know the whole world was going to revolve around them.
'I have been unwell and am lucky to be alive. I had to put working on hold now i am recovering i have been able to attend e-learning. i feel a lot more confident and positive about where life is going to take me on my journey. I also am looking forward to volunteering here so i can help others with their journey to the future. THANK YOU ALL SO MUCH'.
Sarazita won first prize for her inspiring story.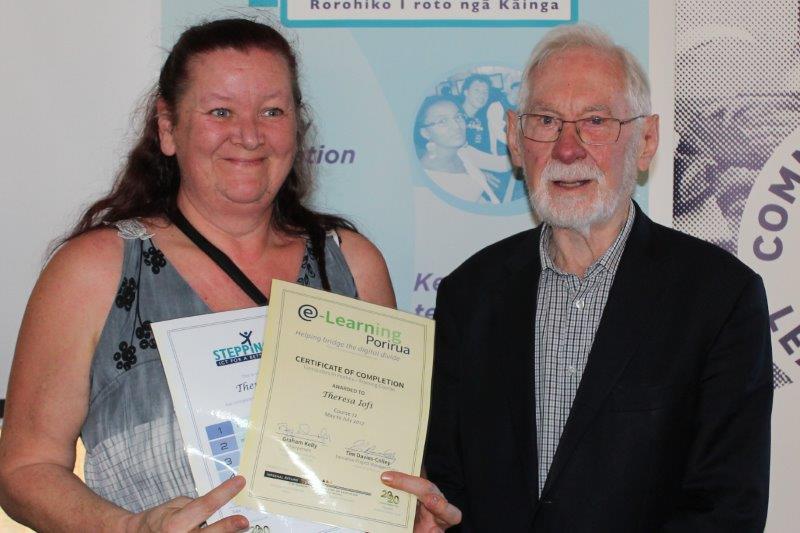 Theresa Lofi writes, 'Just wow! i came in thinking i knew a little about computers. OH NO I DIDN'T. This course opened my mind to things i wouldn't of even thought of in careers. How there is so much more out in the world wide web. I learnt that email is not just email, you have a drive you can store all your important things you need. Create plans with multiple people. I have finally decided i would like to try coding.
'The tutors kept it simple and easy listening i never felt talked down to. i love that about them. No question was too stupid. Everything was explained until you got it. I felt so happy about what i learned every time i left. Every lessen would blow my mind and i would get so excited.
'So thank you all for making this the easiest way to learn about computers'.
And finally, all the graduates, board members and staff enjoyed lunch together before the graduates took their computers home with them to start their new adventures.