Course 70 and still going strong
As is always the case, the training room was filled to bursting with happy students, waiting to receive their certificates as they graduated from Course 70. They looked even happier after their graduation as they gathered together for a group photo.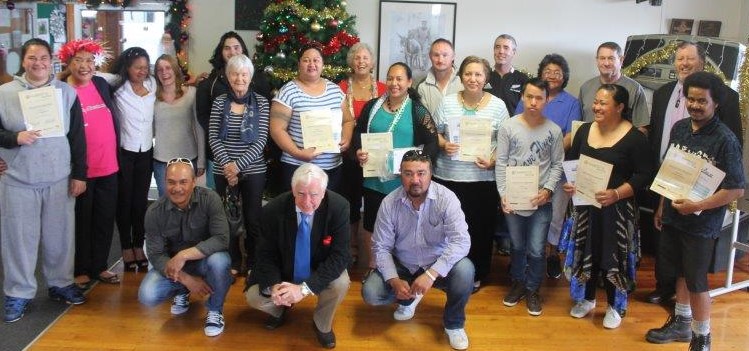 After Executive Project Manager, Tim Davies-Colley went through the all-important safety procedures, he introduced Phil Major, Deputy Chair of e-Learning Porirua, who was ably standing in for the Chair of the Trust, Graham Kelly. 'It's probably the first graduation that Graham has been unable to attend for the past fifteen years,' said Phil, 'and he's sad to be missing it'. 'e-Learning', said Phil, 'is the oldest Computers in Homes Trust in New Zealand, having been in operation since 2001'.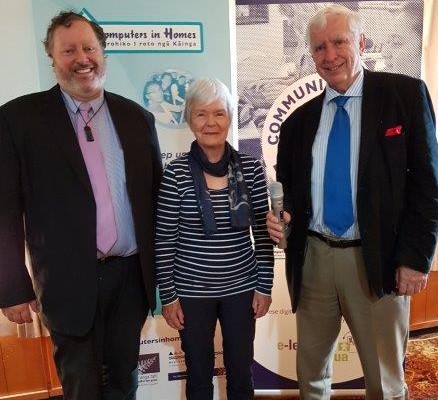 In welcoming and congratulating all the students for their achievement, Phil thanked the tutoring team of Tim and Peter Lynch, Noel Evans for his technical support, including connections at the students' homes, and Ibrahim Raouf-Morton and Karen Lambert for their tutoring assistance. He congratulated the group on their achievements and thanked those who had supported them.
Phil said that he was delighted to welcome Deirdre Dale to present the certificates. Deirdre Dale, together with Graham Kelly, Wendy Betteridge (who was also present) and himself, had all been foundation Trustees. He stressed the value that Deirdre had brought to the Board as CEO of Whitireia Polytechnic which she had helped to grow from very small beginnnings to a very effective community organisation. When Graham had approached her to join the Board, she didn't hesitate. 'Without Whitirea', said Phil, 'the Trust would not be here today and without Deirdre, the Trust would not have prospered in the way that it has'. Students at Whitireia had configured computers and the Trust had used their facilities in the early days, both of which were invaluable.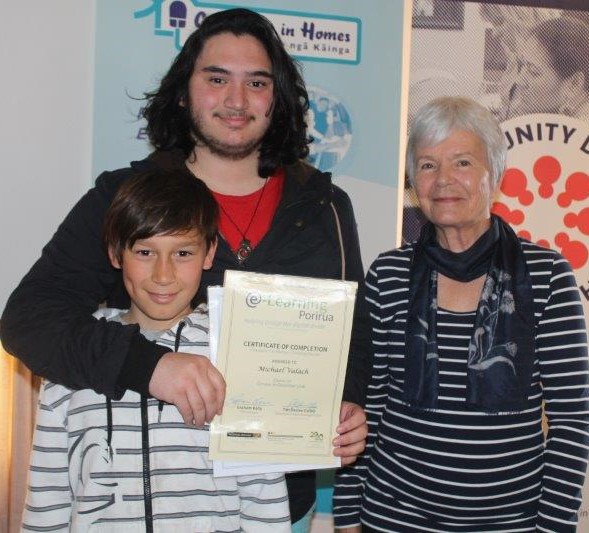 Deirdre had been made a member of the New Zealand Order of Merit in 2004 and was a Justice of the Peace (so everyone should be on their best behaviour!) Deirdre had retired as CEO and was now a Community Leader and remained a champion of e-Learning. 'She is currently researching the history of Plimmerton and planning walks so it is likely that we will continue to bump into her from time to time', said Phil.
Deirdre Dale said that it was wonderful to be at e-Learning fifteen years on. 'Warmest congratulations to all of you for what you have achieved', she said. 'Things have changed and here are all of you, getting on with the new technology. Congratulations!'
Deirdre presented certificates to all the students, including Michael Valach, seen here receiving his certiicate with his brother William.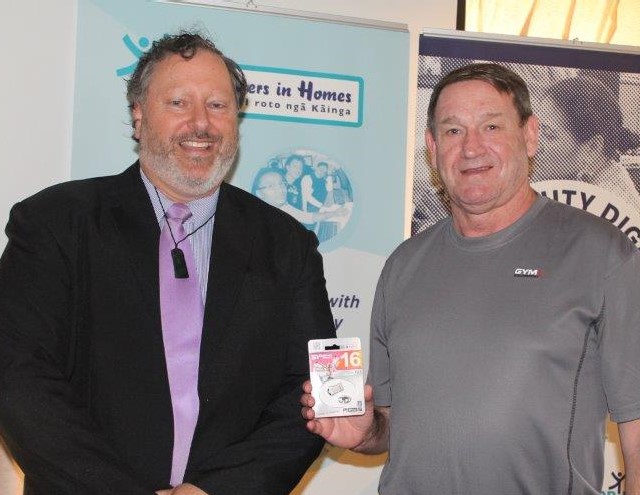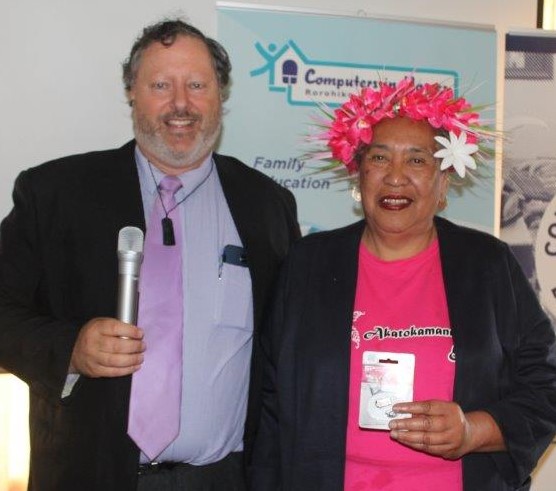 Tim presented five special awards to those who had written their 'e-Learning Story'.
Two graduates, Rob Thomson and Tungane Dean, received 16gb usb drives.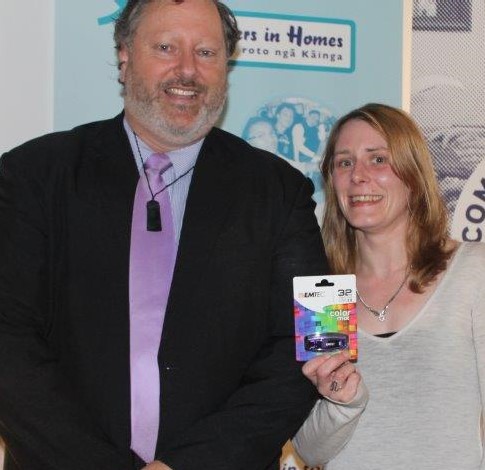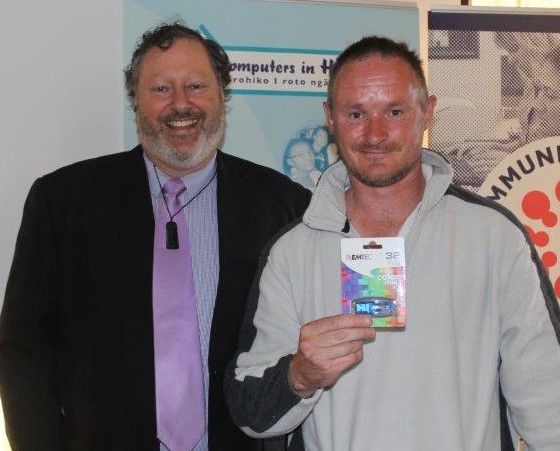 The two runners up, Leanne Rousell and Christopher Blackmore, received 32gb usb drives that could hang on a key ring.
The winning story was written by Vailogoua Futi. She presented Wendy Betteridge with a beautiful lei before herself (together with one of her daughters) being presented with a Skype pack containing headphones and a web cam.
Here is her winning story.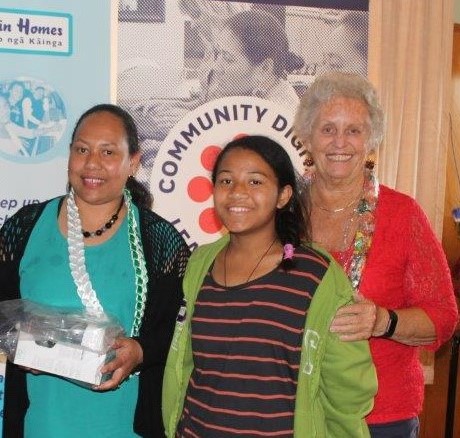 My name is Vailogoua Futi, a mother of four kids, who migrated from Samoa in May 2016. It is a great pleasure to express my gratitude to the great support from this Computer Course to the families who are just starting to live in New Zealand like my family.
When we just arrived in New Zealand in May this year, I found out that it was really hard for me and my kids to re-settle and to begin a new life here. We stayed with my sister and her family in McKillop Street for three months before we found our own house to move to. We are now staying at Cornwall Crescent, Cannons Creek as we moved there in August. Everything was settled after two weeks since we moved except for one thing which is a Computer with Internet to help with my kids' homework.
I felt so sorry for my three kids who are attending Windley School in Years 3, 7 and 8 because I knew that it was hard for them to catch up with the New Zealand system as every child has to use a computer but they didn't have any experience in Computer Literacy. Not only that but it was also frustrating because we don't have any Computer or Internet at home to help them to catch up.
In the first week of October, I was so glad when I received a Newsletter in the mail about the Computers in Homes Course. I couldn't wait to contact the office and I was told to come to the RSA in McKillop Street to enroll and then to start the following week.
I started this Computer Course on the 19th October 2016. I was feeling bit nervous and unconfident when I just arrived and saw all these people like me already working on their own as I actually started in the second week of the Course. However, the lack of confidence that I had, slowly disappeared and I was feeling relaxed when I heard our Tutor, Tim's calm voice and friendly face trying to introduce everyone and everything to us. The way he taught us was so helpful and easy to understand about computer literacy and different programs.
Throughout the Computer Course, I became more confident and really enjoyed attending every week so that I wouldn't miss out on any new thing Tim and Peter taught and shared with us about Computer Programs.
This is the last week of this Course and I have learnt a lot about computer literacy as well as a lot of new things which will be a great help to my kids especially my daughter who will attend Porirua College next Year. My kids are looking forward to learning a lot from their Mum when I finish this Course so that I will share with them the knowledge and the skills that I've got, using the Computer that I will pick up at the end of this Course.
Lastly, I would like to express deep sense of thanks and gratitude to Tim, Peter and Noel for your time and the great work that you have done. Thank you for sharing your knowledge and skills to us parents in order to support our families and our future generations. God Bless you all.