Counting down to 100 - 23 September 2020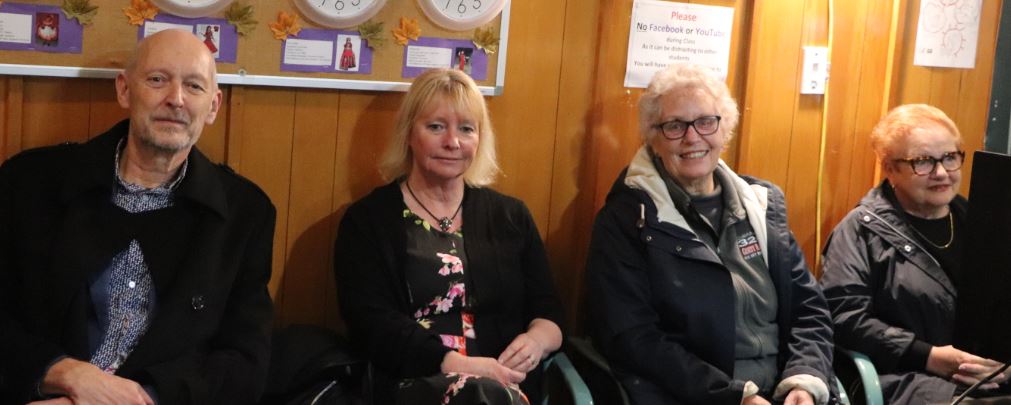 It was something of a party at the graduation of the 97th e-Learning course. Three brothers graduated together, and a visitor (who spoke later) told us that her brother would be on the next course. Added to that, we were blessed with the presence of Jo Seddon, daughter of former Porirua City Council CEO, John Seddon, who presented the certificates. Three of the e-Learning Trustees, Martyn Newman-Hall, Wendy Betteridge, and Sue Couch were also present. Tim Davies-Colley thanked the e-Learning team of Peter Lynch, taking the photos today, and Beatriz Buitrago, a former graduate who had provided the catering. Beatrice has also been helping with the classes, answering questions, and offering encouragement.
Tim welcomed everyone and reported that we are now close to celebrating the satisfactory conclusion of 100 courses from which 3,000 attendees have graduated, both from Computers in Homes and other courses. Tim was sure that Graham Kelly, the original founder of e-Learning Porirua, would love to be present for the 100th graduation, which will hopefully take place before the end of the year.
Tim explained that the e-Learning course provides a full digital inclusion programme. Digital inclusion involves a number of aspects including obtaining the skills. Although the only Computers in Homes organisation that has survived nationally, we have recently had to fundraise for many of the funds we need although we hope that we will be partially funded by the Government in the coming year.
'This is all about you', said Tim. 'This is only a part of your journey and you are welcome to keep coming back on a Thursday morning when we run our Stepping Up programme. You can continue to learn more IT skills in those classes from 12.00-2.30 pm during term time. If you, your friends, or your whanau would appreciate doing the course, let them know. The next course, Course 100, starts on Wednesday 14 October.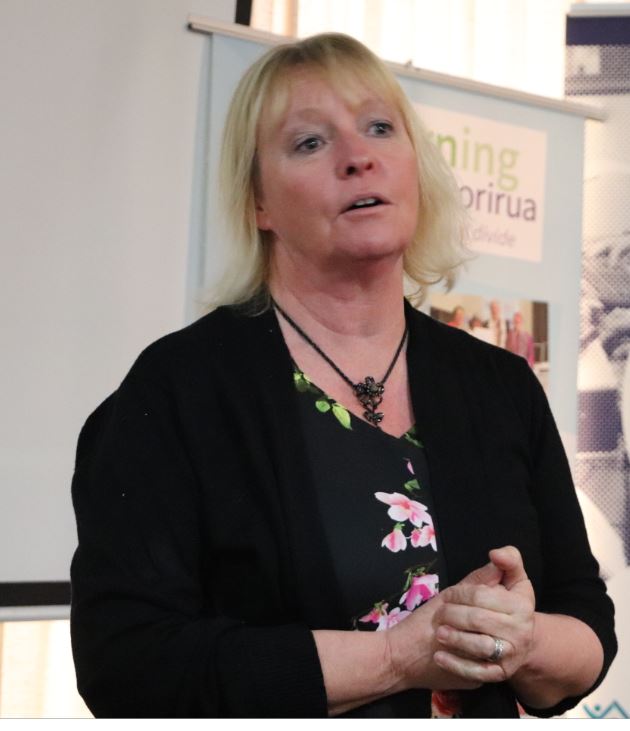 Having dealt with Health and Safety and Covid-19 information, Tim invited Jo Seddon to present the certificates. Jo is the Community Relations Manager from Chorus and Chorus has recently given us a very generous and unexpected gift of money which is very much appreciated, especially while future funding is always uncertain. Jo wrote a lovely story following the celebrations and you can read it here.
All course participants are given the chance to write a learning story. This could be about what the conversations have been like at home with their whanau, what they are going to do next with their lives, and how they are going to use their newfound skills.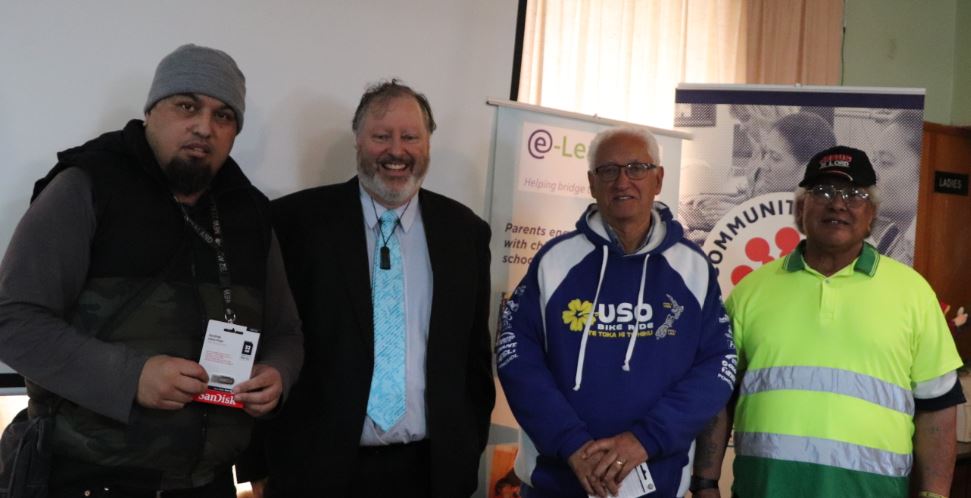 Three graduates received highly commended commendations and each received a 32 Gb flash drive. They were Matenga Baker, Roydon Wineera, and Phillip Smith.
It is always heart-warming at graduations to hear what graduates have to say. Although they all speak about the skills they have learned, it is often obvious that it is not only their skills but also their confidence and belief in themselves that have undergone a transformation.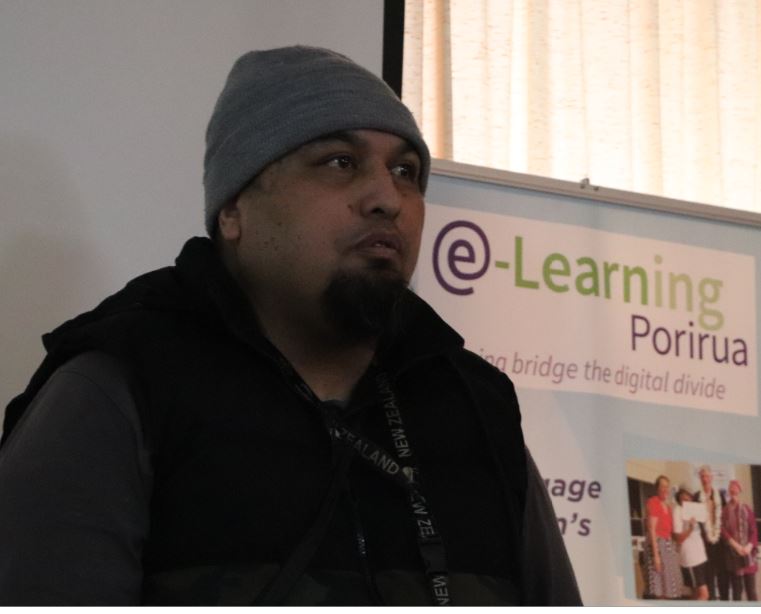 Matenga thanked Tim for everything he had been shown, Beatriz for her aroha, and his family for being coming to the graduation. He said, 'thanks for the certificates and for the gift. When the course started, I didn't know how to turn on the computer and now I can send emails – this journey has just started!'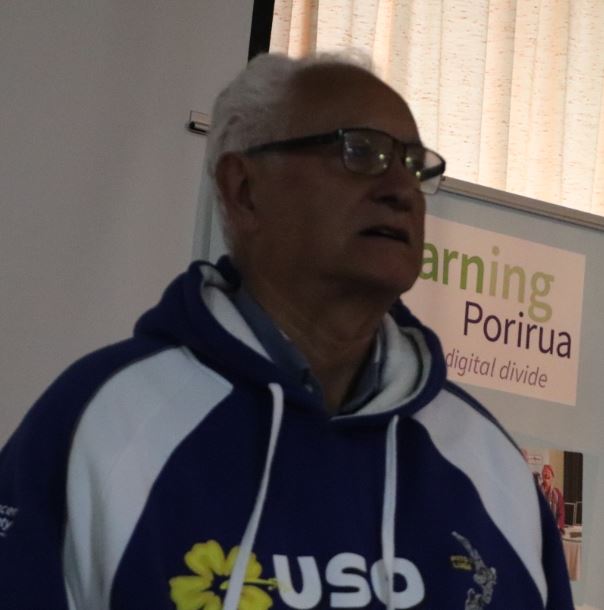 Roydon thought he knew a little about computers at the start of the course and he really appreciated the involvement and the learning experiences he has had. 'What I have really learned', he said, 'is that it is now up to me and maybe I have got to get my act together and put in a little more mahi to make it work for me. It is up to me to take advantage of the experience and involvement. I am also looking forward to Beatriz's kai!'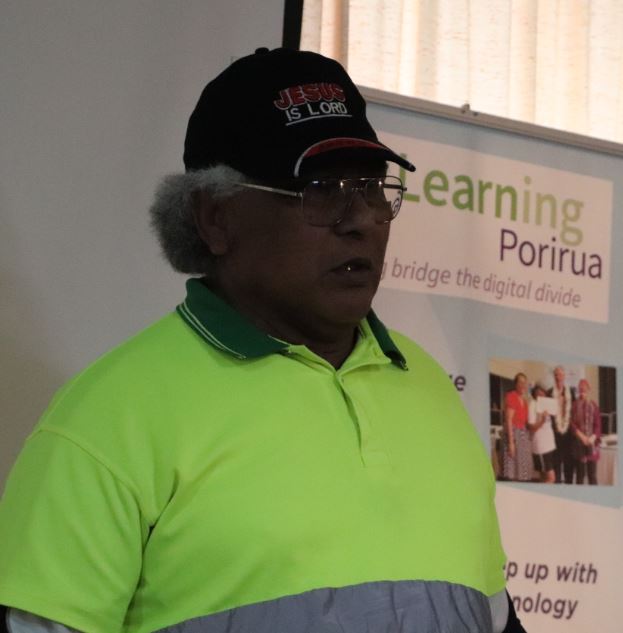 Then it was Phillip's opportunity to speak. 'When I arrived on the course, I didn't know anything about computers. I would like to say thank you to Tim and Peter. I came here from Samoa in 2018.' He thanked everyone for encouraging everyone in whatever we do.
A 64gb flash drive was awarded to the winner of the learning story, together with a 64 Gb SD card to expand her phone memory. She prefers to remain anonymous but you can read her learning story here.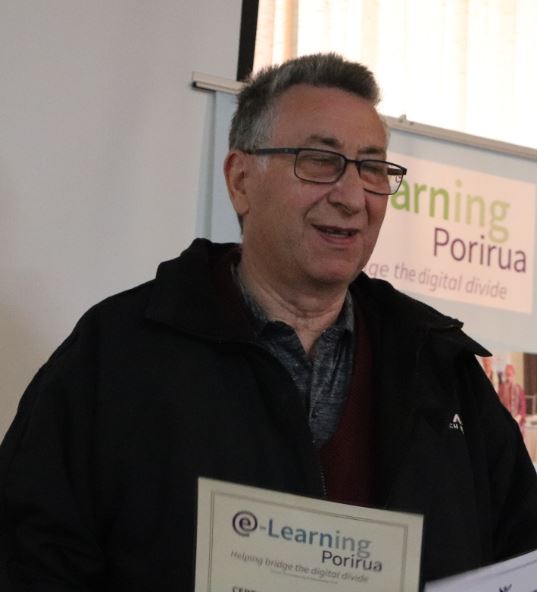 There were others who also spoke. Bryan Wineera said, 'I haven't had many certificates over the years but I have got two today. I did a course in the 1980s. There was no mouse then. I have forgotten all about that which is why I came here. I have learned a lot and now I am quite confident about buttons. Sometimes they don't do what I want them to do. I usually get somewhere though and now I know I can come back and see Peter or Tim if I need more help.'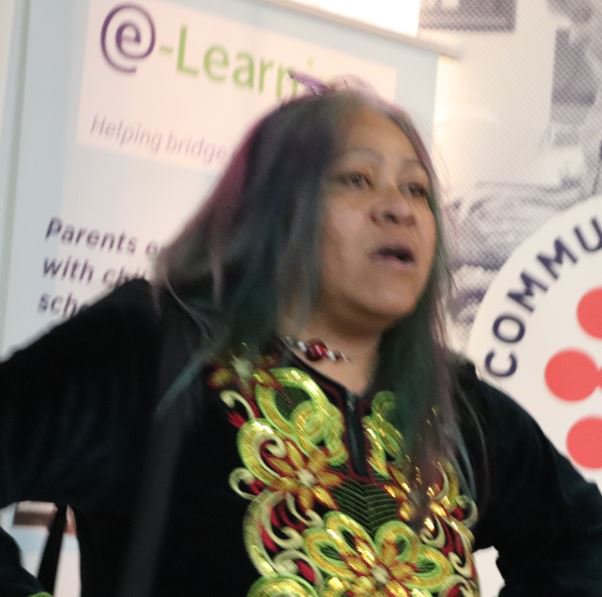 Rhonda Samoa, a visitor whose brother will be attending the 98th course spoke of her background around gangs and how she had turned her life around when she realised that she could do whatever she wanted with her life and was now successful and financially secure. (Apologies that this photo is blurred)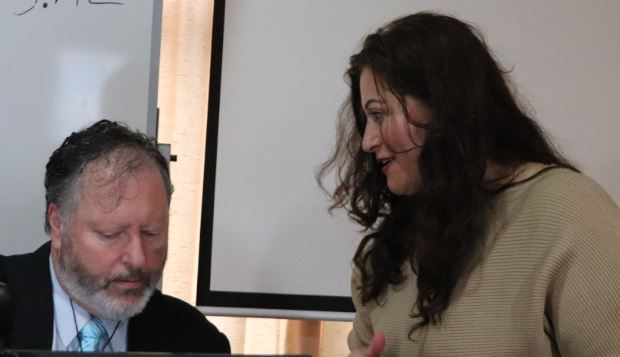 Former graduate, Beatriz (originally from Columbia) said, 'when I came to New Zealand, I couldn't speak any English. I didn't know anything. Peter, thank you so much. I am very happy to return something to e-Learning. Thank you so much for the opportunity to learn new things.'
The final speaker was e-Learning member and Treasurer, Martyn Newman-Hall, who said that over 20,000 lives have been touched out of the 3,000 students we have trained over the 20 years since e-Learning was founded. He said how grateful we are to Chorus, saying that without funding from outside, it would be very hard for the courses to continue. He also thanked Tim, Peter, and Beatriz - they are the ones who make it happen.'
Finally, it was time to enjoy the kai that Beatriz had lovingly prepared and for all the graduates to find the computer, keyboard, and mouse assigned to them and take them home to begin t new chapter of their digital-enabled life.