Congratulations to Beatriz
Beatriz Buitrago Agudelo arrived in New Zealand from Ecuador with her two children, Alex and Alysson, in June 2014.
She was a Colombian Refugee, gaining the opportunity to come to New Zealand after 11 years in Ecuador. Although Beatriz has not told her whole story we know she had completed 80% of a law degree before she had to flee Colombia. In Ecuador she had to start again from nothing and that is exactly what she did. She eventually got a job cleaning at a "grilled chicken" restaurant. After a few years she worked her way up to become the manager of this main restaurant as well as the other two restaurants owned by the same owner in the city of Ibarra, where she lived.
When Beatriz came to New Zealand she had to leave her elder daughter (Katherine) in Ecuador, as she was already married with a child. On arrival in New Zealand, she spent six weeks at the Mangere Refugee Centre, before being settled in Porirua. Once in Porirua, Alex and Alysson settled into school and Beatriz started English lessons and courses like Work Focus (a work preparation course run by e-Learning Porirua), Computers in Homes (e-Learning Porirua). During this time, she looked for part-time work.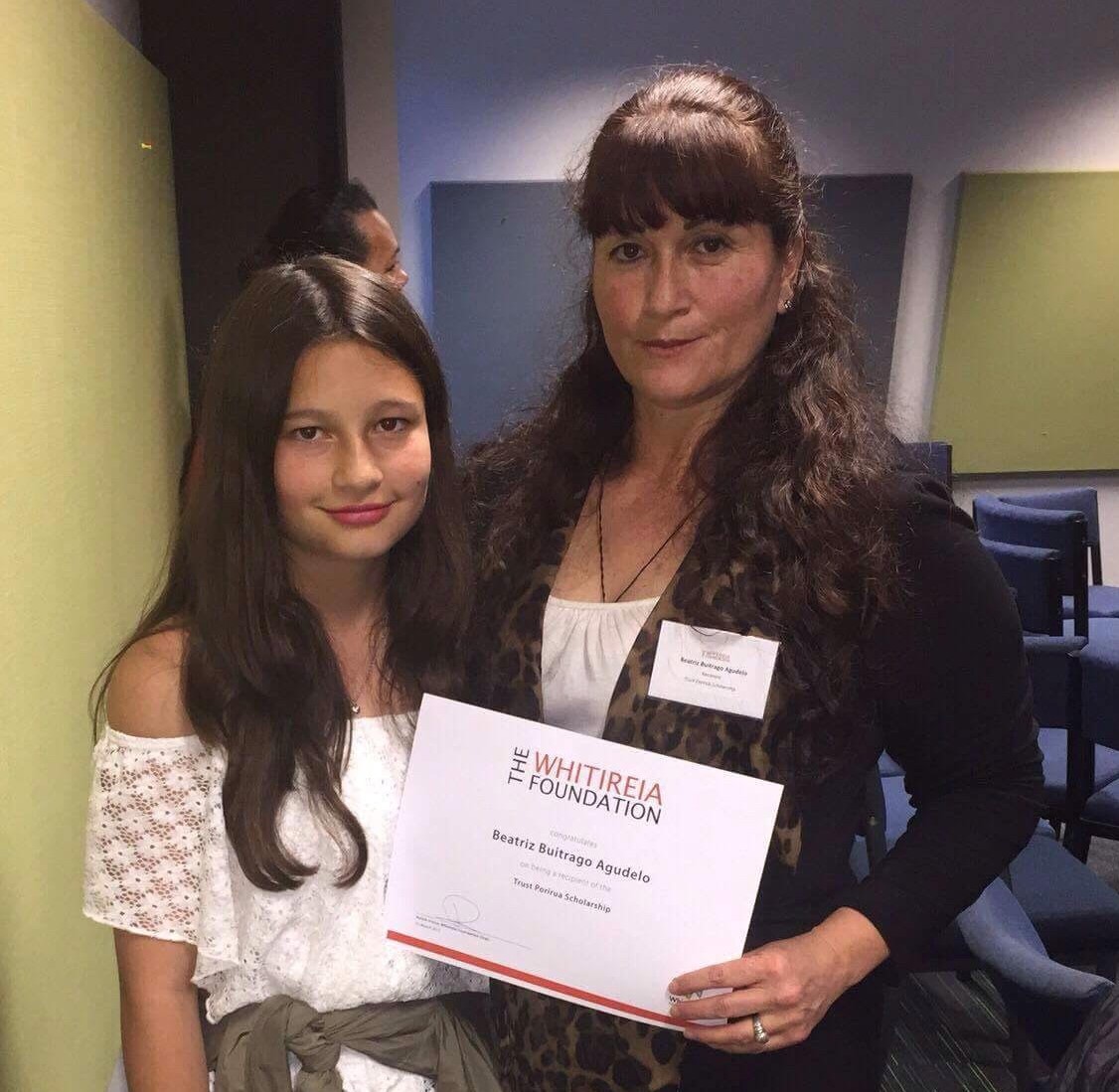 Over the last three years Beatriz's English has improved dramatically and in 2015 she completed her level 3 English certificate at Whitireia Polytechnic. In 2016 she completed her Foundation Studies levels 3 & 4 in social work, even achieving A+ marks for some papers. With her improved English and increasing confidence, she has already 'given back' to e-Learning by volunteering as an interpreter for our Refugee Computers in Homes programme as well as doing some cleaning.
This year Beatriz started her Bachelor of Social Work degree and has just been awarded (22 March 2017) a Whitireia Foundation Scholarship for 2017 at their annual awards ceremony.
We are very pleased and happy for Beatriz's success and want to congratulate her for her hard work and inspiration. We also wish her and her family all the very best for the future