Another graduation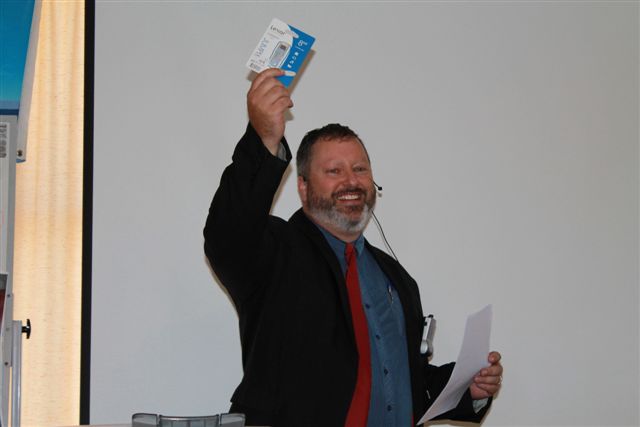 Tim Davis-Colley, Executive Director of E-Learning Trust, told the graduates of Course 75 that the e-Learning adventure had started in Porirua in 2001. One of the first course participants in 2001 has now graduated as a teacher, becoming an ICT lead teacher. He said that we have had a lot of stories like this over the years and we hope to have many more in the future.
Tim went on to say that we are now the only Trust in New Zealand doing new training because of a shortage of funds. Hopefully, when the budget comes out in July, some of these trusts may start up again.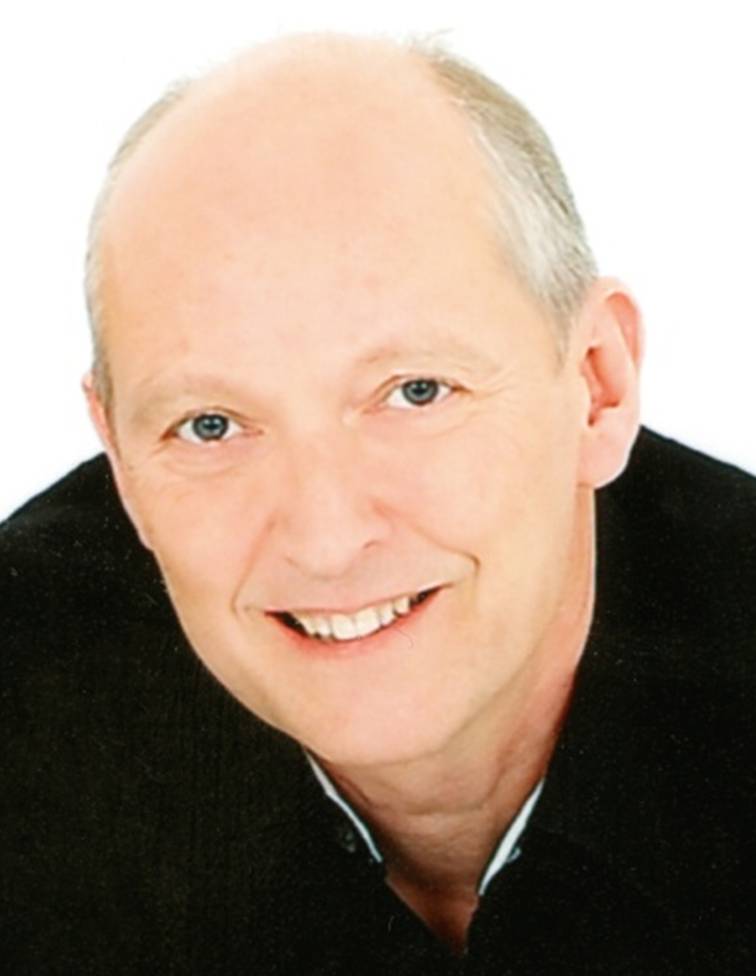 Tim introduced Martyn Newman-Hall, Board Member and Treasurer of E-Learning Trust. Martyn said he was delighted to be at the celebration and congratulated the graduates for their courage in joining the course and having completed it. He said that it was quite an achievement on everyone's part.
'It has been a difficult year for E-Learning', said Martyn. 'The Trust had managed to secure funding from places other than the Government which has enabled it to continue while waiting for the coalition agreement and for the funding to come through so that the work of the Trust can continue.
'As you graduate today', he said, 'I hope each of you feels that the course has been beneficial to you. Please encourage your friends and family to come along to future courses because we know there are many families in Porirua who are still not connected and joining a course would benefit them too. The next course begins on 2 May'.
He went on, 'I'd like to wish each of you very well for your future and hope that what you have done here in the last ten weeks will help to make that future even brighter'.
After the presentation of certificates, Tim presented prizes to graduates who had written really great stories about their experiences. Two stories were highly commended, those of Ryan Dick Carson and Vaine Whanau. They each received memory sticks. The winner of the best story, Virginia Williams, received a Skype pack. You can read all the stories below.
Tim Invited graduates to speak if they wished. Ryan said, 'thank you to our tutors and for the opportunity to have the technical help. It was a great experience'.
Virginia said, 'I just want to say thank you to you guys. It is the first time I have done something for myself and I really appreciated this course. It has really helped me this year. The tutors are awesome and the students are so good. I really appreciated the opportunity for us to reach our goals.'
Here are the three winning Learning Stories.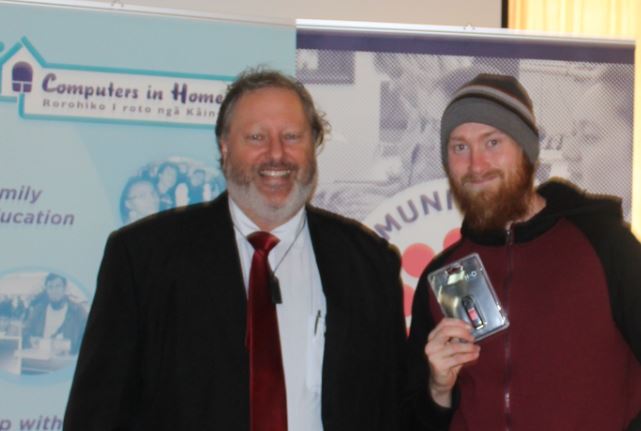 Ryan Dick-Carson wrote 'The time I have spent at e-learning has been exceptional. I believe I've learnt a lot from the experience and would encourage others to try it out. I have gained the skills to further my computer knowledge on my own via the internet. I think the tutors are wonderful and encouraging people who truly want to help others to broaden their horizons in the ever-growing world of technology'.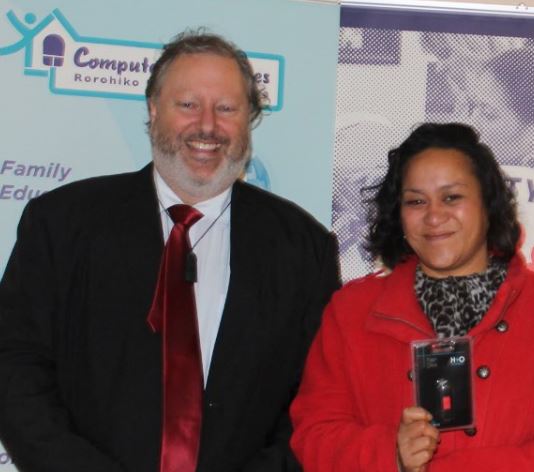 Vaine Whanau wrote, 'My time here with computers in homes has been a stepping stone for my family. I have learned a lot about Google and how the applications work. I managed to update my curriculum vitae and safely stored it to my google drive. I have learnt to search in search engines properly, getting the results I needed What I liked about Computers in Homes is what it offered my family - how we can use this technology at home. There are new educational websites for the whole family to use and a refurbished computer to bring me out of the dark ages in a safe environment for learning in this new age order. I am thankful to Tim and his team for this opportunity of support and learning to move my family into the future. Otherwise, as a solo mother, I would not have had the funds to do this all alone. I appreciate this opportunity - a blessing. Where to from here? I am interested in furthering my computer skills with a course called "Stepping Up". It's an exciting program that helps you take your computer skills to the next level'.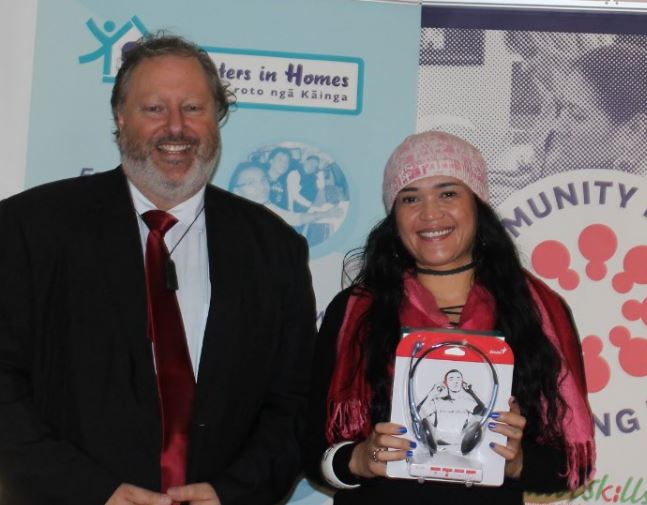 Virginia Williams wrote, 'Kia Ora my name is Virginia Williams and I am one of the students from the e-Learning Course between February - April 2018.

'Firstly I would like to give you a brief background about myself. I am almost 40 years of age and have four full-blooded children, three daughters and one son. My son is almost 21, my daughters are 9, 5 and 2 years of age. I consider myself blessed to be given the opportunity to be a full-time, stay-at-home mother to my children when they were all infants and now that they are of an age where they can have a little independence with school and kindergarten I looked upon the beginning of this year with a bright, new, and positive outlook.

'Feeling a bit out of practice and wanting to do a refresher course where I could also possibly upskill, I stumbled across the e-Learning Course (Computers in homes) advertisement in the local paper. I thought "wow" this course is exactly what I have been looking for. I believe that the incentive for this course has huge benefits, not just for ourselves but for the whole family. Being able to give my children the access to a desktop at home so they are able to do homework and so much more good appropriate learning activities is a huge benefit for my family as we do not have a computer at home.

'Living in Porirua Cannons Creek I see the daily struggle our community goes through first hand and just knowing that there are people out there that are willing to help and reach out to others in need is inspiring to me and I will forever be grateful. I have found our tutor Tim to be very informative and I enjoyed listening and learning about things on the internet, and about Google drive. A whole new world opened up to me when I learnt about Google drive. The people are friendly and the atmosphere is welcoming so thank you too, Tim and your Team it has been a great journey!

'I would recommend this course to anyone who wants a little challenge in their life! Take on the e-Learning Course and discover the world at your fingertips! Thank You'.

With speeches over it was time to share a lovely lunch before the graduates set off for their homes with their new desk tops – but not before they posed for a memorable photo with each other and some of the Board members.