A gathering of United Nations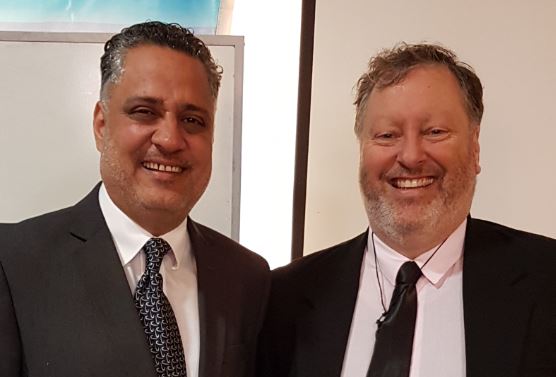 Tim Davies-Colley (seen here with Ibrahim) wasted no time in welcoming the large gathering of graduates and their families. Working through Ibraham Raouf-Morton as his interpreter, Tim explained that this was a Refugees-Connect Graduation and brought the numbers of refugee families who have graduated through e-Learning over the past three years to 147. The In-Home programme started in Porirua after it was discovered that many of our refugee families were waiting, sometimes as long as a year, before it was possible to get sufficient numbers of groups of families speaking the same language to have a class ready to do a course. E-Learning believes that this is far too long.
e-Learning's work with the refugee families is very different from the usual training regime practised in Porirua and in different parts of New Zealand. Using the new approach, the whole family can participate. When classes are held in the training room, only one member of the family can come. By running the programme in homes, everyone can learn together. Ibrahim travels to the homes of the refugee families so that everyone in the family can participate.
Tim thanked Ibraham, not only for his tutoring skills, but also for acting as an interpreter. In addition to Ibrahim, who comes from Egypt, the families graduating today have come from eight countries - Syria, Columbia, Palestine, Myanmar, Equador, Iran, Iraq, and Jordan. Thanks to the help of Titus, who translates for the Burmese, Viviana for the Columbians and Hassan who can help with those speaking Farsi, all the refugees can be helped to learn in a language they can understand.
Tim offered additional thanks to Karen, Hanin and Beatrice for their help with the set up and the catering of lunch, mentioning that Beatrice, herself a former refugee, is one of the stars of the e-Learning programme and an inspiration to other refugees. She is currently studying a Bachelor of Social Work and has already achieved three marks at A+ and one at C+ this year. Tim also offered thanks to Peter for helping with the technical work required as well as picking up families and bringing them to the training room, and taking the photos for the day.
Before introducing the guest of honour, Lawrence Millar, Chairman of the 20/20 Trust, Tim acknowledged two members of the Board of e-Learning, Phil Major, Deputy Chair, and Wendy Betteridge who manages the web site.
The 20/20 Trust is one of the four partners with whom e-Learning provides this refugee programme and includes the Ministry of Education and the Red Cross. The 20/20 Trust is responsible for providing the computers and access to the internet.
Lawrence Millar (seen here with Deputy Chair, Phil Major) responded by saying, 'I am full of admiration that you have chosen to make your lives anew in a new country and congratulate you in choosing New Zealand where you have ended up. In order to continue to develop your lives, having a computer and the internet is very important, both for your lives here and also for connecting back to the people you have left behind'. He went on to say, 'I think the learning at home is a very innovative approach and e-Learning leads the way in helping refugee families to settle in New Zealand. We also provide this programme to 120 families across the country. One of the most valuable parts of learning at home is that the children can help the adults to learn because the children learn so much more quickly. Thank you everyone', he said, 'and very well done. We hope you will use these new skills for yourselves and for your children and that they will benefit you and help you to find work as well.'
Following the speeches, the graduating families received their certificates from Lawrence Millar and then enjoyed a shared lunch together. Photos of some of the families are shown on this page. Other photos can be obtained directly from e-Learning.