Continued from e-Learning stories from 10 April 2013 graduation
'My name is Teresa. What brought me here to this computer course was pure laziness at home. I needed to get myself out of bed and do something. My cousin Ivan told me ages ago about how stunning this course was and how it had changed and made a huge impact on his life.
'I've learnt a lot of interesting technical stuff that has helped me create letterheads, a calendar, go onto face-book with images and I've looked up family members and friends who I haven't heard from in ages.
'I'm picking up speed on turbo typing and getting better at it. I feel like my typing has improved heaps as well as my spelling.
'I've met some interesting people and lots of laughing goes on at the back of the class. That's where the fun happens! The women I've been introduced to are funny, creative, and very passionate about this computer course. I feel exactly the same way. We share a common past and that's how I can identify with each individual. I'm so glad to have met some fantastic wahine - "friends for life".
'I've learnt a ton of endless techniques with the tutors. They are very good at what they teach. Tim Davies-Colley is our team leader. What a wonderful man he is, so gifted and talented. He gives out so much information from A to Z. Tim was able to take the class step by step and I was able to follow his instruction perfectly. Micheal Sefo, I take my hat off to you. You've taught me so much. You are really hilarious and your teaching technique is a crack-up. Thank you for supporting me. Faafetai lava uso.
'A special thank-you to our fantastic team of talented tutors, Executive Project Manager, Tim Davies-Colley, Technician Noel Evans, and Assistant Tutors Micheal Sefo and Ibrahim Raouf-Morton.'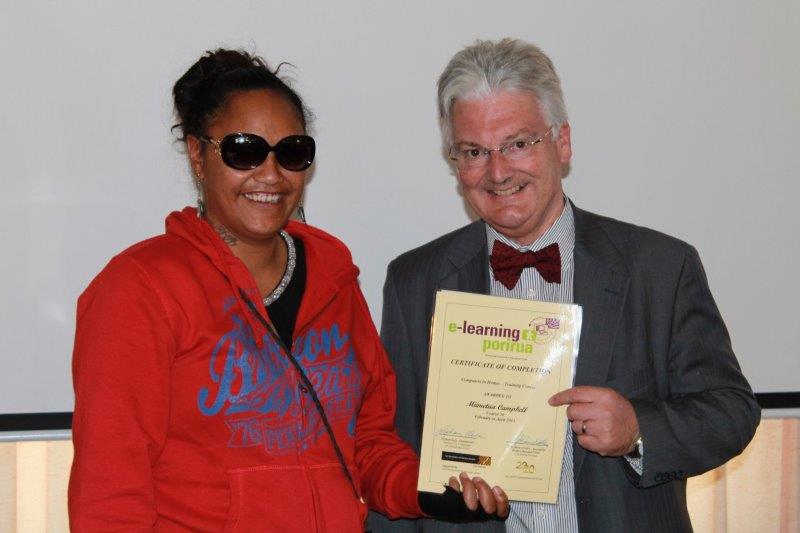 'Kiaorana classmates. My name is Miimetua Campbell.
'I came across this course through my part-time job at Corinna School. I had no idea how to use a computer and the Deputy Principal recommended Computers in Homes to me. She even went out of her way to get me in and I'm so grateful to her! I needed to learn how to surf the net, send e-mails and other important stuff, in order to move up the ladder at my job.
'This course is amazing, such a friendly atmosphere and a lot of support from all the tutors. And it's taught me how to be a confident person using a computer.
'My children are happy that we're going to gain a computer and six months free broadband when I graduate, as we've never had a computer or internet before. It's so exciting for my five children and my partner, because we can all benefit through having the computer and internet, to learn and achieve goals as a family.
'I've learnt so much at Computer in Homes, like accessing anything in the world at the click of the mouse. Like learning how send and receive e-mails, turbo typing (which I'm getting a little faster at). I can't wait to introduce my children to an awesome learning site called GFC learning. Their schooling will benefit from this site. I'd recommend it to everyone.
'I've really enjoyed this course, made new friends, had heaps of laughs and enjoyed lots of positive energy in the room. I'd like to thank Noel Evans – Technical Support, Tim Davies-Colley our tutor, who I must say really fills your brain with information - ha! Ibrahim Raouf and Micheal Sefo who are awesome Assistant tutors and Tekira Marsters who was always helpful whenever she was asked. One more thank you to Christine Farnell, Corinna School Office Manager, who encouraged me to take this course on, and believed in my ability to learn how to operate a computer. My goal as an office person is not that far out of reach now, as I have gained some very valued skills.
'GFC learning is a great opportunity to gain skills with a computer, and to go forward with your goals'.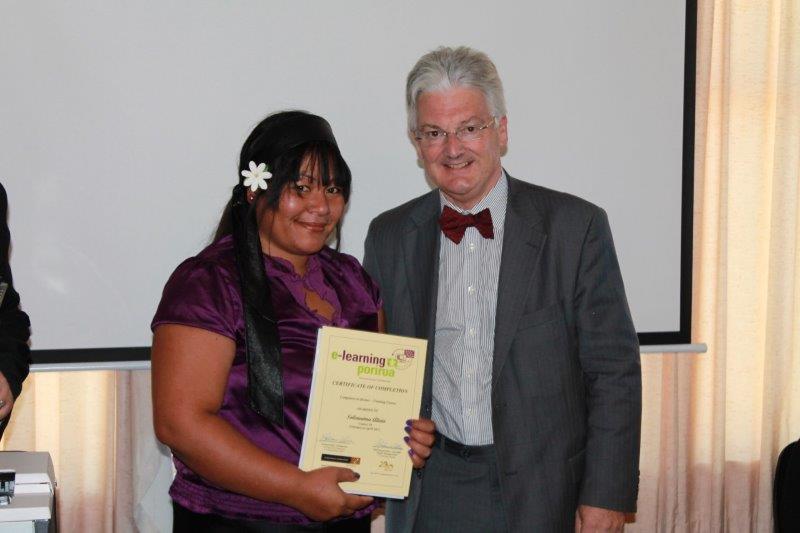 Solonaima Aluia says, 'Before I came to do this course, I only knew a little about Computers. I can't believe that my children knew how to use computers better than me. I used to think to myself, how could this happen? I'd ask my son, aged 9, to help me if I was stuck. If he wasn't available my daughter, Lili Seirosa who is 7, would help me. Now I know that learning about computers from a young age gives you a better chance to learn more.
'This course has really changed the way I look at the world of computers. There'll be no more asking my daughter and my son to help me. Guess what, they'll have to ask me for help.
'Writing a cv is one of the most important things we've learned in terms of looking for a job. I can ask any question on Google search. OMG. It's amazing. I can ask for a recipe and the computer will give me the recipe I want. The computer I'm taking home after the course will help my children do their homework and help them to learn more and more about good computing.
'I will make sure that I sit beside them while they use my first computer ever. Please don't break it! Parents need to keep an eye on their children at all times while they use computers. I will teach my children educational stuff about computers and share the knowledge that I've learned from this course with them. I love everything that I learned while I was doing this course. Thank you team you have done an awesome job.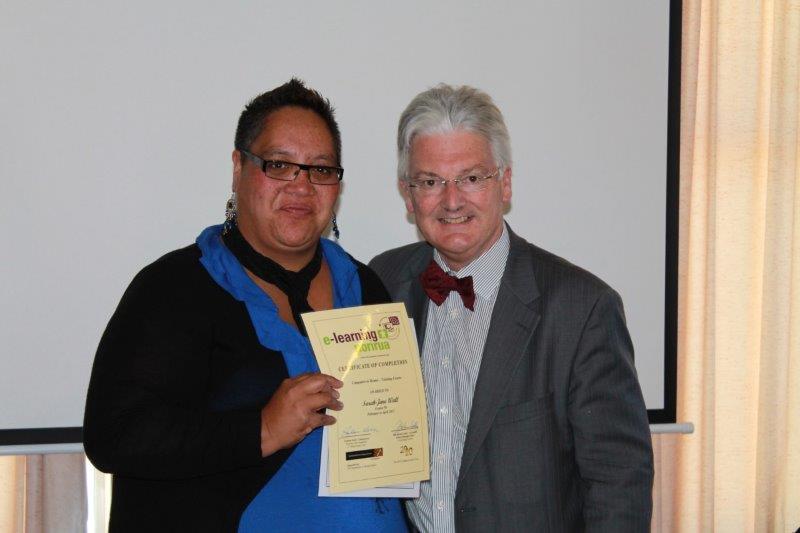 Ko Tongariro te maunga
Ko Taupo te Moana
Ko Tuwharetoa te Iwi
Ko Sarah-Jane Wall toku ingoa
'This has been a great experience for me personally', says Sarah-Jane Wall. 'I always thought I'd break the computer. My kids gave a little laugh when I told them I'd enrolled.
'The course has given me confidence to explore the internet, use all the applications and I loved making the calendars. Power Point was fun and it was great to complete a cv after so many years.
'Tim has been a great mentor and tutor for me. I've understood all his many examples of wisdom in the computer world. The team of tutors have made it easy to ask a silly question. They've also given me inspiration to learn more. Thank you!'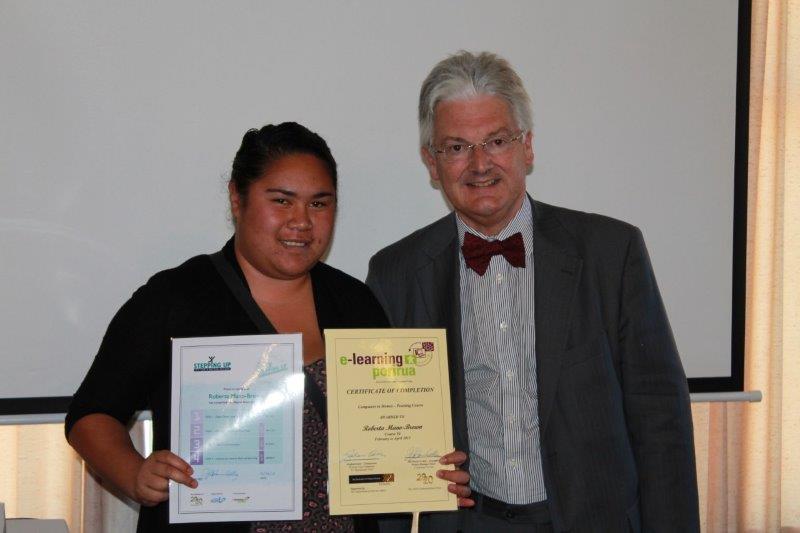 Roberta Mano-Brown
'At the beginning of 2013, I never thought I would end up with the knowledge that I have. This is just the start.
'Before I came to this course, the only knowledge I had with computers was what I had when I left school five years ago.
'This course has given me the confidence to complete any kind of task that has been given to the class as a whole. This ten-week programme has given me a lot of knowledge and skills and it has also triggered a few old skills that I learnt years ago.
'I know now that with the completion of this programme I can complete any task that I put my mind too. Being able to know how to use this piece of technology is a very big step into the future as technology plays a big part in our world today. If you don't know how to use technology nowadays, you're going to get left behind.
'This course has been a great help to me and without what the CIH tutors have shared with me I wouldn't be able to do the things I can today. So my acknowledgement and many thanks go out to Tim, Noel and the team for having such warm and open hearts and sharing their knowledge with the community of Porirua.
'It's good to see that somebody out there cares about the less fortunate people of Aotearoa, and has the heart to help us out.' Thank you.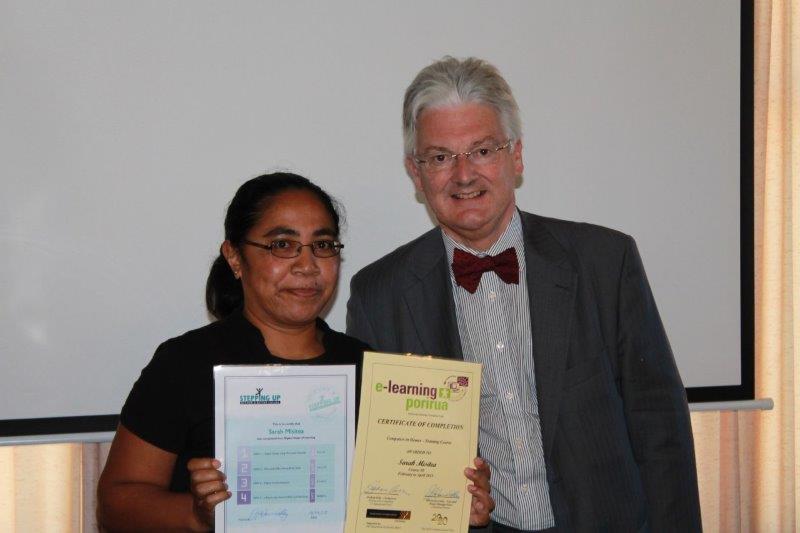 'My name is Sarah Misitea. I was very excited when I first heard about the Computers in Homes programme in Porirua. I really wanted to enrol on this course to learn more about how computers work.
'I have three young children at home, so receiving a free computer as well as six months free broadband on completion of the course was a great opportunity for all of us to learn more as well as have fun together as a family
'I would never have been able to afford a new computer for us as I'm not working at the moment. My kids either use their school computers or public library computers so enrolling in this course came at the right time for us. They can now happily use the computer at home to help with their homework.
'Attending the course one day a week also suits me with a young baby at home. The ten weeks have gone by so fast. I'd like to give a big thank you to Noel, Tim, Michael, Ibrahim and the rest of the team for all the hard work and support they have given me over the last ten weeks. Without their patience and knowledge there was no other way that I could have learnt about Power Point, Desktop Publishing and Microsoft Word.
'I can't wait to have the computer at home so that I can further my knowledge, practise what I've learnt on the course and let my kids have access to the internet to complete their homework.
'Once again, thank you for the opportunity to attend this course. Keep up the great work! I hope that many more people have the chance to enrol, enjoy and complete this course to get the experience I have.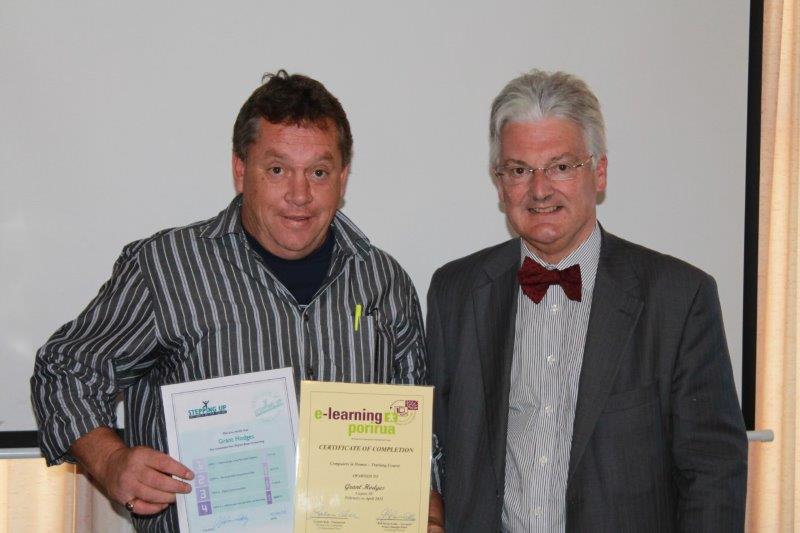 'My name is Grant Hodges and I've spent the last few years convincing myself that I didn't need to know anything about computers or the computer world. But the longer I ignored it the worse I felt and the more embarrassed I became. I became embarrassed in front of my work colleagues too because everyone around me was able to use technology to help them at work and in their everyday life. I had to ask people to look things up for me which made me feel like a nuisance. I also felt that I was being lazy because I was intimidated by computers. Ignoring it all was the easy way out for me.
'One day at work one of my work mates told me about the computers in homes course and explained it all to me. It sounded like a wonderful opportunity to finally have a go. The next day I called in to pick up an application form and spoke to Tim. He was very reassuring when I told him I was a complete novice and he said everyone had to start somewhere.
'During the course I've struggled at times and the tutors have been a massive help. They make you feel good about learning. The other students have also been a big help and we feel as if we're all in the same boat. I'm excited about how the course is going for me and now I can share this knowledge with my kids and nieces and nephews. I feel as if I still have a long way to go before I feel confident but I am able to attend the stepping-up course on Thursdays to keep learning and look forward to the day that I feel confident on the computer.
'I feel a lot better about myself and my work mates have a laugh when they see me on the computer at work. They help and encourage me because they can see I am trying to improve myself.
'So thanks very much to Tim and all the tutors at CIH. You guys do an awesome job and have helped me come out of the stone-age and introduced me to a new world.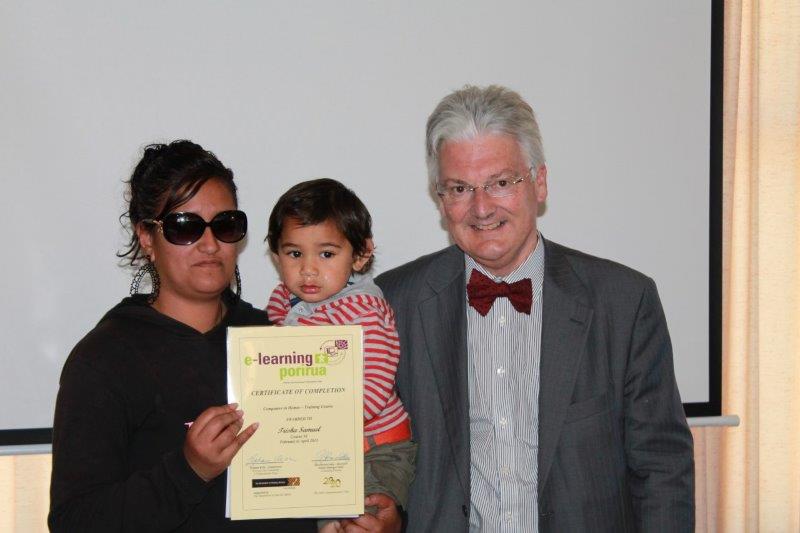 Trisha Samuel
'My journey through being on this course, computers in homes, has been a really excellent learning adventure. I've been on many computer courses but never got as far as I've come throughout this course. We started with turbo typing which was a buzz for me because I haven't used a keyboard for nearly ten years. I got to learn my home keys all over again and then remembered what's above and below the home keys.
'We learnt how to do email and how to make our own addresses. I have seven children and five of them are connected to Facebook. When they don't come home or I need to get hold of them I can jump on Facebook and my worries are over.
'We learnt how to use Google. I'd never understood what Google was or what it meant but my 11-year-old daughter did because they get taught that at school and that's how she does her homework. I've also learnt how to make my own cv and covering letters on the computer.
'I'm so surprised and proud of myself. I've had the chance to meet new people, had a lot of laughs and we've learnt a lot with each other. I'm glad I came and joined the computers in homes course, because I have taken that step to learning about computers and what they can do and teach us, especially for my kids' homework. I can help them if they get stuck or maybe they can help me.
'I'd like to thank everyone who has helped me through my learning journey. Thank you so much and to the tutors, thank you for teaching me the computer skills I've achieved and to the class buddies, it's been fun.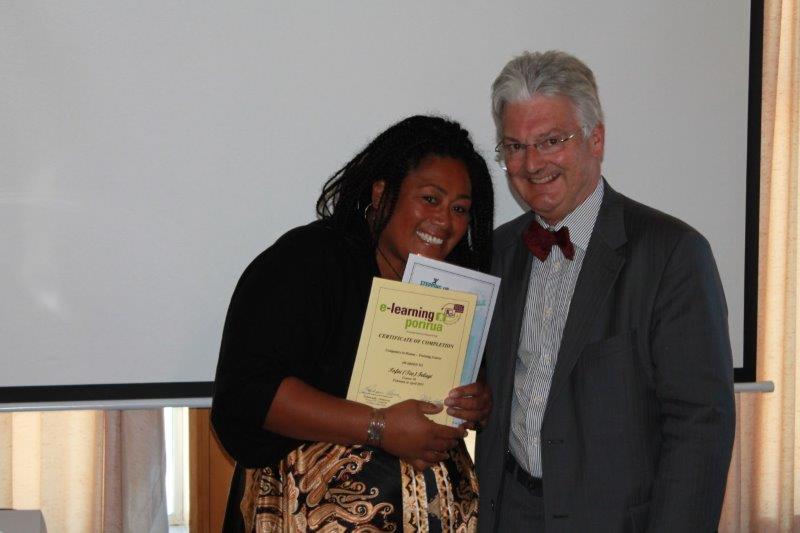 Tee Felagi
'On the day that I found out there was a computer course in the Porirua area, I thought OMG, how exciting. I thought to myself, this is my chance to learn how to use a computer.
'When my kids came home from school, I told them the good news, that their Mum was going to do a computer course and told them what I'd get after the course finished. A FREE computer to take home and six months FREE broadband! My kids were over the moon! They're learning to use the computer at school.
'I'm so grateful that I took this course because now I have the knowledge and understanding to use the internet, get onto sites which I had no idea how to before.
The course motivates me to turn up every Wednesday 9.30am, sit at my computer (that's got my name on it) and learn.
'Now I've got this opportunity to teach my children and to show them all the useful sites to further their learning abilities. On this course I've met wonderful people. I'm thankful for that. I'm so relieved that I finally know how to do a cv! And finish it.
'My journey here has been fun, exciting, awesome, overwhelming, and 'sad' that it has come to an end! I've met and made new friends. Thank you from the bottom of my heart (and my kids' hearts) that I competed this course. I thank God that I got to meet four wonderful, beautiful, cheerful, tutors who gave me strength, so much knowledge, skills, encouragement, and helpful lessons. Thank you for the hand outs it will help me and my children so much. I wish to take this opportunity to thank Tim, Michael, Ibrahim, and Noel for their patience, and wish them all the best in the years to come. God blesses them and their famiies. Keep up the awesome work that you're all doing.'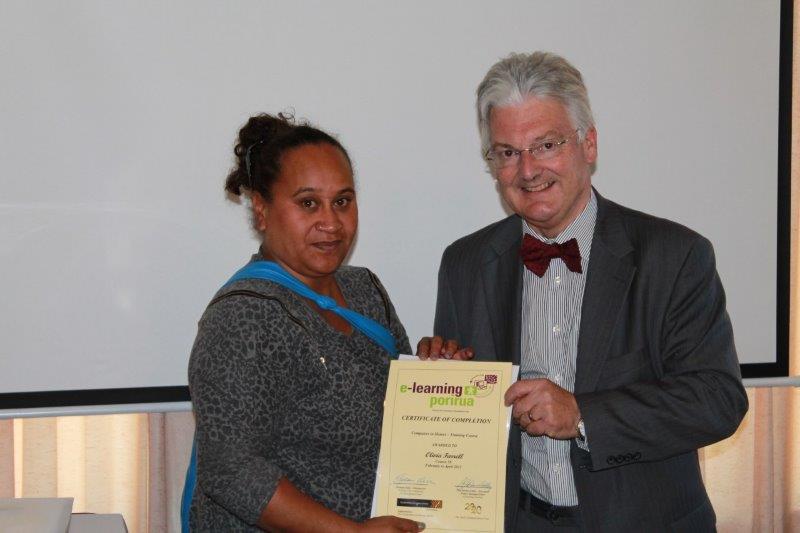 Olivia Farrell
'Over the years of knowing about this programme at the RSA, it never dawned on me, the importance that computers would eventually have on my life and how it would affect my kids' learning and the general skills that we could improve on.
'I finally got myself on the programme and have enjoyed it so much. I am a stay-at-home Mum, always trying to find ways of improving my kids' learning. I'd have never considered myself to be so caught up in the learning of computers. I was so wrong and have enjoyed it so much.
'As my children became more capable of operating a computer I thought to myself, well if they can do it, so can I. So here I am today and revelling at every opportunity I can find with computers.
'The experience of coming here and meeting these awesome tutors and meeting new friends has been great. I will definitely spread the word to everyone I know to come join in on the computers in homes programme. I am very grateful to those who have tutored me in my learning and really appreciate Tim, Noel, Michael and Ibrahim. Thank you'.