The catalyst for success
Here at e-Learning Porirua we get our students to write a 'Learning Story' before they graduate from our Computers in Homes course. These are reflective accounts of how they have found the course, what they may have learnt or gained from it and what they and their family may do next. Many of these stories inevitably talk about the transformative effect of the Computers in Homes course on the student and their families. The growth in their confidence is particularly noticeable and is often mentioned by the students in these stories.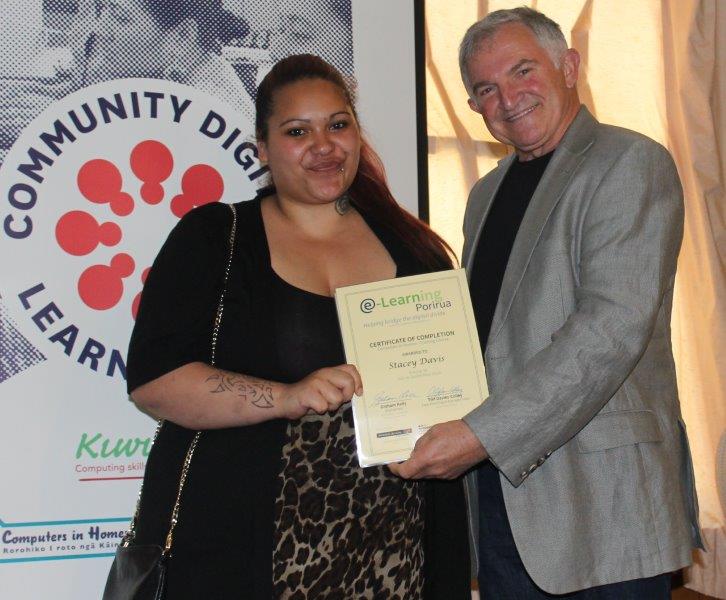 Stacey's concluding paragraph from her Learning Story (seen here receiving her certificate from Chris Kirk-Burnnand, Chair of the Porirua Foundation)) states this outcome very clearly. Stacey Davis was a 21 year-old-solo mother of two when she graduated from Course 58 in September 2014. She concluded her "Learning Story" with these words:
"I have learnt to be more independent. I have more confidence in myself to do things for myself and my family. I have more confidence in becoming employed in the near future. I have learnt so many NEW things I did not know. I am overwhelmed to proudly say that, I am not a failure, but a young woman striving for success".
What follows are a few short extracts of some of our "success stories" from the last three years.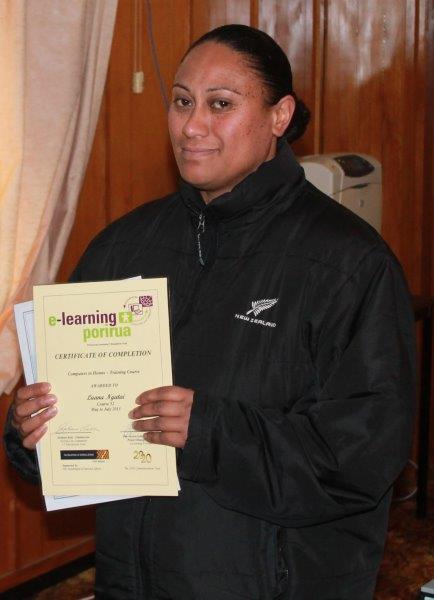 Luana Ngatai was a 35-year-old, solo mother of two children when she did our Computers in Homes course in 2013. She graduated from Course 52 in July 2013 and in her 'Learning Story' Luana wrote:
"Everything I have been taught on this course I never knew how to do before and I am proud to share with my kids the things I have learnt and show them the things I have done like: making a card and a calendar, copying and pasting pictures and using power point; even learning how to use Google Search properly was a good buzz. I couldn't help but laugh when they say; "yeah we do that at school mum" and grin, but it feels good telling them I'm going to my course, because they are definitely my motivation, and having a computer is going to make such a big difference for all of u;, we will be able to learn together and I'm very excited.
"From being on this course I have decided to carry on studying and I have started a National Certificate in Computer Studies level 2 in Information Technology at Whitireia polytech, which wouldn't have happened if I didn't come here (Computers in Homes) first."
Luana completed her Level 2 course and then did the level 5 IT diploma course. She is currently halfway through her second year of a Bachelor of IT degree at Whitireia.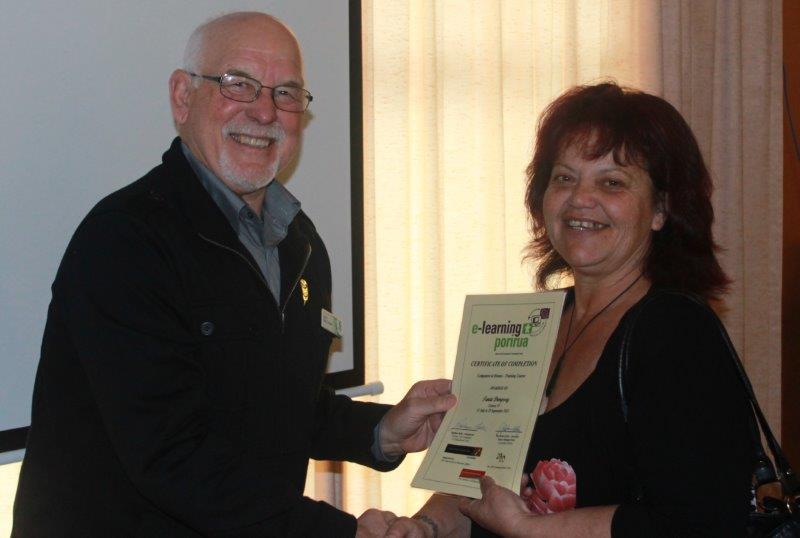 In the learning story Tania Dempsy (seen here receiving her certificate from Councillor Denys Latham) wrote:
"I am a 50 year-old-mother of two, aged 23 and 24, and grandmother and full-time caregiver to my deaf 7 year old grandson.
"For the first time in many years I am feeling proud of the fact that I am finally making some positive progress toward what I know is a whole new future opening up for myself and my grandson. He is as excited as I am and asks me every Tuesday and Wednesday if I'm going to my 'Computer of course' today. He is very excited at the thought that he is soon going to be able to access the "Lexia" program that is available at his school, from home. His progress due to this program has him excited about learning. However it is so popular the children are only allowed half an hour per day in order for everyone to have a turn. His progress is now going to be in leaps and bounds with having a computer at home.
"I am now able to navigate my way around the computer with the confidence that all of my grandson's issues are now an email or a google away from being addressed and my future job prospects are looking so much brighter because I have access to job sites and know how to email my cv to prospective employers.
"….. providing a relaxed easy-going environment in which to learn and explaining the processes in a way that allows us all to grow at our own paces and yet together we all arrive at the same place at the end of our course, with the knowledge to go confidently from here in the direction of our dreams".
Since writing the above and then graduating from Course 53 in September 2013 Tania went on to enrol at Whitireia Polytechnic for a Bachelor of Social Work degree and completed her second year of this degree in November 2015.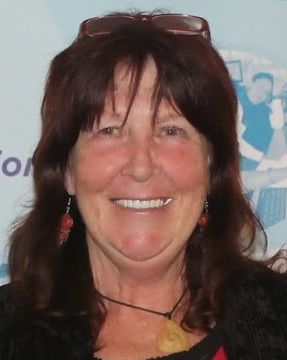 Cheryl Browne wrote another excellent Learning Story when she graduated in July 2014.
"I am a 59 year old mother of two girls and have three grandchildren who also live in Titahi Bay. When I was asked by my WINZ case worker if there was something I felt I needed to help me in my search for work I told her I would love to do a computer course.(I had noted that a majority of positions requested a certain level of computer literacy which I did not have.)
"When the case worker told me about the 'Computers in Homes' course I was excited but had a 'that sounds too good to be true' feeling.
"However, it was true and here I am at the end of the course and still absolutely amazed that such an opportunity has been made available not only to myself but to the many fortunate people before AND those who will come after me.
"I have a ten-year-old special needs daughter, Kasadi who I adopted from birth. Kasadi has severe learning difficulties and the ability to read and write is something she will probably never master.
"Within the school system Kasadi has had access to computer programmes that have helped her to recognise key words and without the need to physically form letters she has even been able to compose her own stories. The delight and pride Kasadi shows, when she has achieved something new on the computer, makes all her hard work so worthwhile and gives me a real sense of hope for her future. Kasadi is so hungry to learn that I want her to have access to anything that will help.
"The school has given Kasadi her own password to access the programmes at home and she is disappointed that she has not yet been able to do so. Just to see the smile on her face when I told her we would soon have a computer at home was reason enough for me to be hugely grateful I was able to take part in this course.
"With a computer and Internet access, plus a mum who is now confident using a computer, I know we will see Kasadi advance with her reading, writing and mathematics.
"For myself, I have learned so much in such a short time and feel a hunger to learn more. The more I learn the better my chances of obtaining employment. If I am not successful getting a job I am still hopeful about my prospects as a result of this course.The options for me and my family are numerous!
At the beginning of 2015 Cheryl sent a follow-up email (seven months after graduation) to let us at e-Learning Porirua know how she was doing. In it she says:
"I thought I would just update you on what has happened since I completed your course. I have a job! I have worked four months in Mental health and Addiction Support. The job of my dreams! I didn't think I would ever get a job like this! I applied online, did four assessment tests online, and now in my workplace my computer learning has been a necessity for the amount of documenting we undertake.
"Kasadi is going forward with her reading skills and can now read books to a level we thought would not happen at all! This has been helped enormously by her being able to access online learning".
While these stories of success are clearly impressive, they are not unique. We have several like this every year and these are just the ones we know about! Sometimes we hear, years later, for example, that one of our students is now the head chef at Columbus Cafe (Mitre 10 Mega, Porirua) or that a Burmese refugee (who did our normal CIH course with his wife because his English was quite good) got a professional welding apprenticeship. What is obvious, and always acknowledged by the ex-students, is that Computers in Homes has been the catalyst for this success.
The e-Learning Board, its tutors and technical staff, are proud of the achievements of all their graduates. It was delightful that Cheryl (seen here second from the right flanked by two of our tutors) was able to join some members of the Board when e-Learning received the 'Best in Sustainability Sector Award' at the Westpac Porirua Business Excellence Awards in November 2015.