Twenty-nine families graduated from e-Learning Porirua Course 52 on Wednesday 10 July 2013. This second placed learning story was written by a graduate and linked from this blog post.
Otu Ahaio's story
Posted 13 July 2013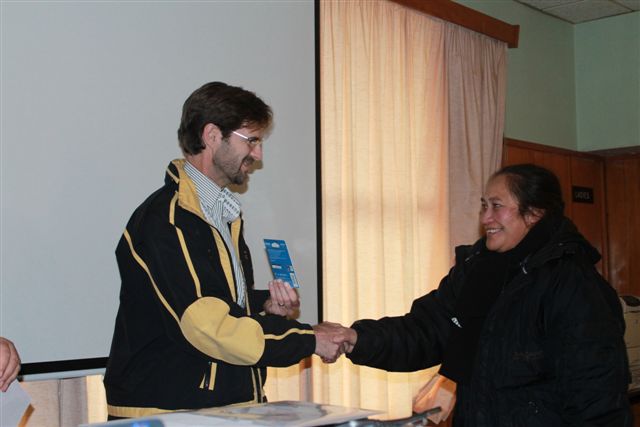 Kia Orana my name is Otu Ahaio I first heard about the course from my daughter in law. She completed this course and she told me to give it a go. I was not confident at the time. I had never touch a computer in my life. I have been to college where my kids went. They would show me what they did on it. I would just look and say ok and I just carry on like that. When I pay my bills, gas, rent and even bank would say do you have internet or do you have computer at home. no I would say I still do things old school. Then I started at play Centre where my grandkids go. The parents there nominated me as president even though they knew I couldn't use a computer. I just write things down. It was slow. I was like that for many years until my daughter said to me, mum there's a computer course starting. You need to learn so you can know how to use computer. I said ok but if I break the computer I'm going home not coming back. But when we enrolled and started the course I just sat there and stared at the keys computer. My daughter said its ok mum you can't break the computer. Even Tim said people you can't break the computer. That gave me a little encouragement because I still didn't have confidence in myself.
It took me 3 Wednesdays to trust myself that I can do it and plus my little boy tells me, mum I am happy you are doing this, and hearing that as well just gives that extra boosts. For the last weeks I can come and put the computer on and not be afraid to touch it. Also Ibrahim and Michael are there if we get stuck. They have been great tutors to us. Noel and Tim have also given us a lot of encouragement and help. For me this has been a big learning now I know what a computer is how it functions and works and also I won't break it. I have learnt email, what it does how it works. l even have my name on email. Turbo typing doing it and following the keys was really hard but I am still learning and making my own cv. Tim going through with us slowly was really good and I haven't got the hang of it yet but it takes time. We learnt to make calendars. I had to finish mine the following week and I finished my cv the same time as well. For many years I was scared to touch computers. I always felt it wasn't for me. Friends families would have it in their homes. Even my grans try to get me to look up people on it but sadly I say no. But now having been on the course I have felt I can do this and it all thanks to Tim, Noel, Michael and Ibrahim for teaching and being patient with us and their guiding me in to a new place. I just want to say thank you. My mokopunas will benefit from this computer and also they can keep on teaching me still as well.