Twenty-nine families graduated from e-Learning Porirua Course 52 on Wednesday 10 July 2013. This winning learning story was written by a graduate and linked from this blog post.
Luana Ngatai's winning story
Posted 13 July 2013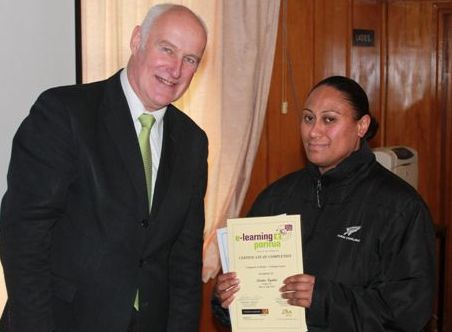 Kia Ora, My name is Luana Ngatai. I decided to do this course because it was free. I needed some skills to help me find a job and mostly for my children. My son has just started Tawa Intermediate and technology plays a big part in their learning. I sent him there because of this but I didn't realise how much he would have to rely on having a computer at home to keep up with not only his homework but just knowing what's going on at school as well. I was a bit frustrated at the fact that I was missing his school meetings because I didn't realise that they were being sent by e-mail and by the time I was able to read them it was too late. I am very proud of my son because he has been doing his best to keep up with his work at school but I know how much he has been missing out as well and I want him to get 100% out of the learning that is being provided for him.
I was so happy when I was accepted onto this course and I told my kids that we would have a computer and the internet in 10wks, you would have thought we just won the lotto! Every Wednesday when he gets home from school he tells me how many lessons I have to go before we get our computer.
Everything I have been taught on this course I never knew how to do before and I am proud to share with my kids the things I have learnt and show them the things I have done like making a card and a calendar, copying and pasting pictures and using power point, even learning how to use google search properly was a good buzz. I couldn't help but laugh when they say yeah we do that at school mum and grin, but it feels good telling them I'm going to my course because they are definitely my motivation and having a computer is going to make such a big difference for all of us, we will be able to learn together and I'm very excited.
I would like to thank all the tutors for providing this course for people in Porirua who need a helping hand and this course definitely does this. The atmosphere makes it easy to learn and I have enjoyed my time here.
From being on this course I have decided to carry on studying and I have started a National Certificate in Computer Studies level 2 in Information Technology at Whitireia polytech, which wouldn't have happened if I didn't come here first.
Very grateful, Thank you.